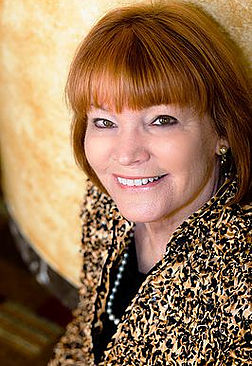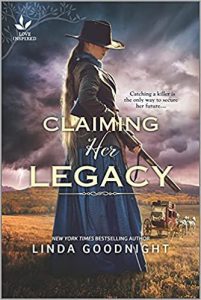 NY Times bestselling author Linda Goodnight writes heartwarming stories of faith, family and love. Her novels have won numerous awards, including the RITA. Linda's great passions are her faith and her large blended family. In her spare time, this small-town girl loves to bake and travel. A former nurse and teacher of the year, Linda lives in rural Oklahoma with her rancher husband and a spoiled rat terrier.
Tell us about your newest book.
I'm so excited about this book that I'm in danger of being gushy, but here goes. Claiming Her Legacy is an American west historical romance starring an unconventional heroine and an even more unconventional hero. When I first "saw" Gideon Hartley sitting on his horse overlooking a cotton plantation with hate and hurt in his heart, I knew I had to write his story and help this lost soul find hope and healing. I knew he was well-educated and that he hated his father.  By the time the story opens, Gideon has spent years numbing his pain with whiskey. Now, another tragedy has ended his trail-guiding career. That is, until he's awakened from a drunken stupor by a little brown sparrow of a woman who needs his help to find her father's murderer and collect the hefty reward she simply must have or lose the only thing of value she and her sisters own-their land claim. The woman both annoys and intrigues him, but, fearing another disaster, Gideon refuses. Willa can't take no for an answer. The result is an adventure into dangerous territory where the two must learn to trust and rely on one another (or die) and, hopefully, find redemption and love along the way.
What inspired you to write Claiming Her Legacy?
As a native Oklahoman living in Indian Territory, I've grown up hearing the wild and wooly stories of our state's turn-of-the-century history. The Land Runs in particular fascinate me. While other states became increasingly modern in the late 1800s, the twin Oklahoma and Indian Territories were very much still the wild, wild west with a fascinating mix of rich and poor, black, white and Indian, and opportunists and outlaws. When I saw an old photo of a woman standing outside a tent with a rifle, holding fast to the land she'd claimed in the Land Run, I just had to write her story.
How would you describe this book to someone in a 30-second blurb?
Determined to earn the bounty that will save her land claim and provide for her younger sisters in 1890's Oklahoma Territory, a tomboy spinster convinces a handsome, poetry-quoting trail guide, who is fighting his own demons, to track her father's murderer…. But first she has to get him sober and pray she can trust him to guide her safely through the most lawless territory in all of America.
What genre do you focus on and why?
I normally focus on contemporary Christian romance, but this new book reverts to my early career that began with historical prairie romance.  I enjoy the freedom to write both.
Why do you write?
As someone who has always written and who's had a 20-plus year career as a published novelist, this is my job, my way of earning a living. But it's more than that. I'd have to say I'm compelled. Called, if you will.  There's such beauty and power in words and I'm fascinated by the ability to manipulate them for effect. Writing is a gift God gave me and I cannot let Him down by ignoring it. And then, there's also those pesky characters swirling in my head that won't hush until I let them out!
Who is your main character, and how did you choose that name?
The main character in Claiming Her Legacy is Willa Malone. I chose the name Willa, first, because it's a pretty word, but also because it sounded like willow, a graceful, soft-appearing tree with deceiving strength.  Like her namesake tree, Willa is deceptively strong. Life bends her in outrageous ways, but she does not break.  In the beginning, Willa doesn't know her own strength, but like the willow, she not only survives but thrives with grace and beauty under the most challenging conditions.
What is your work schedule like when you're writing a book?
My general goal when under contract is to write a minimum of 5 pages per day, 5 days per week with holidays and breaks penciled onto my calendar so that I can make my deadlines without missing out on life and family.  Sometimes I write more but never less, and I can usually get those pages written early in the day and then move on to other things.
What is the hardest part of being an author?
This isn't something I think about often because I am truly grateful to be able to do what I love for a living.  But because I live in a very rural area and mostly see no one other than my husband, I'd have to say the most difficult for me is the isolation from people. People are interesting and their views and experiences often stir ideas for books. I feed off their energy, if that makes sense. We are created to be social beings and though I'm an introvert deluxe, I still need people.  Facetime and Zoom is convenient but nothing takes the place of face-to-face friendships. My Bible study group is a god-send in the most true sense of the word.
What's the best part of your author's life?
The freedom and flexibility to set my own schedule and to write what I want to. Yay! So, so nice. Going to work in sweats and fuzzy socks isn't bad either!
What's one thing your readers should know about you?
I'm about as ordinary as they come, but people are often interested in my parenting journey. I have nine children-three biological and the rest are children of the heart, including three daughters adopted from Ukraine. As a result of our adoptions, three of those now-adult children have adopted and others are planning to. I love that because I truly believe adoption is the heart of God.
How have you changed or grown as a writer?
Oh, my! I've grown and changed so much in these twenty years. Writing is an ever-evolving craft and the industry has really, really changed since those early days of my career. To stay current and keep working, I've had to keep abreast of the trends and tropes and learn social media and promotional techniques that didn't even exist back then. Also, I've learned who I am as a writer, what my strengths and weaknesses are, where my niche in this writing world is, and hopefully, I've learned more about the actual craft of creating reader-worthy stories.
What is your favorite pastime?
When I have time, I take a busman's holiday and read, read, read. There are so many excellent authors out there that I enjoy. There's just not enough time!  I also LOVE to travel.
Do you have other books? We'd love to know.
I've written upwards of fifty books and still counting.  A pdf file of most of them is available on my website under the "book" label.  Hopefully, you'll find something you just have to read.
What are you working on now?
I just finished a three-book series for Love Inspired, titled Sundown Valley. One of the books-To Protect His Children-is available now. To Keep Them Safe is scheduled for April and the final, untitled story appears later in 2022.  Right now, I'm starting a brand-new contemporary series for Love Inspired about three sisters and, of course, the men who love them.  No titles yet but that info will be on my website when I have it.
Website:  www.lindagoodnight.com
Social media link: www.facebook.com/linda.goodnight.1