Meet Janine Mendenhall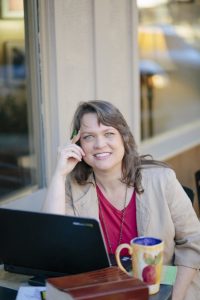 If you enjoy historical romance, Janine is a kindred spirit who finds herself Lost in Austen or Somewhere in Time way more often than she should, according to her husband, Tom. Notwithstanding this, she also love sharing the Gospel, and you won't miss it in her books.
Tell us about your newest book.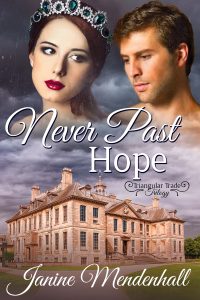 So many readers despised Sir Steven Likebridge from Starving Hearts, Book 1 of my Triangular Trade Trilogy, and in a way, I hurt for him. In fact, he reminds me to stay humble because no one is better than another. We are all broken and sinful, and that's why I had to write Never Past Hope.
Why do you write? What drives you?
I write to share the Gospel, which might seem ironic because I'm writing in a different time period. But so many people love historical fiction, just like I do, and they want a solid Christian message too. Of course, I truly enjoy anything Jane Austen so researching her general time period is really fun too.
Who is your main character, and how did you choose that name?
There are a few different main characters. Miss Mary Hope Adsley, Peter's sister from Book 1, is the female lead, and I gave her this name to be sure I always had a visible example of hope for Steven. Sir Steven Likebridge, who is also known as Mr. Slike, the horrible slave-trading villain from Book 1, is her leading man. His real heritage is a bit of a question, and he truly needs and wants a bridge to get back into a right relationship with Christ and his all those around him. (I have to say, you will be very surprised to see how Mary Hope and he have a history and get along, despite the terrible things he had done.)
What is the hardest part of being an author? Why?
You mean besides the fact that there are only twenty-four hours in the day and many other responsibilities besides writing? I'm just teasing. The truth is we all of busy days and heavy responsibilities. Those things aren't hard for me, but everything else, like keeping up Facebook and social media, is challenging. I would so much rather go into that other world I write, see, hear, and love. In fact, I could get lost there, but if I did, then no one would know about my books.
What's the best part of your author's life? Why?
Every time I write, I get to go live in another world, and I love listening to my characters talking to each other. It's like eavesdropping on a great period drama movie. And I don't even know what's going to happen next.
What is the craziest thing you've experienced as an author?
My friends would say that being an author hasn't caused me to experience crazy. I've been there for so long I don't know what it's like to be normal. Of course, you'd never notice it from the outside—unless you call sewing an entire 18thcentury gown in one night just so I could dress up like Emma Swann, Jack Sparrow's sidekick in Pirates of the Caribbean,the next day.
What is your favorite pastime?
I wish I had some time I could call free. Then I'd try to figure out what my pastime would be, but in the meantime, traveling into a different time and place while I write is so fun I don't want to explore anything else.
Do you have other books? We'd love to know.
Yes, I have another book, and you probably want to read it before you read Never Past Hope. Starving Hearts, a Selah and Carol Award Finalist, is Book 1 of the Triangular Trade Trilogy, and you can begin reading it right now. Click here.
In my imagination, I also have If She Could Speak and Of Days Gone By, both offshoots of the Triangluar Trade Trilogy as well as a time-travel piece that will be about a modern woman like you or me experiencing time travel back to my favorite late Georgian or Regency Era, but those are still in my mind.
What are you working on now?
You guessed it! I'm working on what I call Perseverance, the last book in the trilogy not a physical fitness test. If you'd care to sign up for my newsletter and blog post, you can get a free prequel story and receive updates about my book progress at www.janinemendenhall.com.
Website: www.janinemendenhall.com
Link to book: https://read.amazon.com/kp/embed?asin=B07FB77866&preview=newtab&linkCode=kpe&ref_=cm_sw_r_kb_dp_DhVLBbAZBETAA
Follow me on social media!