Meet Elizabeth Ludwig
Note: For those of you who are writers, you'll enjoy this interview. For those who aren't, here's a free peek into our crazy world of writing plus, you'll hear about the fiction she writes. Smiles, Susan
Elizabeth Ludwig is an award-winning speaker and teacher, often attending conferences where she lectures on editing for fiction writers and conducting successful editor/agent interviews. Recent honors include a HOLT Medallion Award for A Tempting Taste of Mystery, part of the Sugarcreek Amish Mysteries series from Guideposts. Her latest releases include Don't Rock the Boat and Shifting Sands, part of the Mysteries of Martha's Vineyard series, also from Guideposts. To learn more, visit ElizabethLudwig.com.
Tell us about your newest book.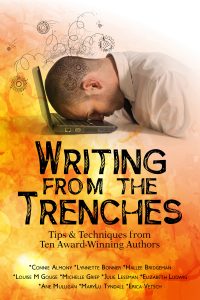 I really excited to have two books releasing from Guideposts this year. The first is a return to the Sugarcreek Amish Mysteries that ended last year. The series was so popular that Guideposts decided to extend it by five books. Mine is titled Secrets Plain and Simple and will release this month. The second book is my final installment in the Mysteries of Martha's Vineyard called Sheep Passing in the Night (and yes, it's a fun play on words). That one comes out in October.
But what I am most excited to tell you about is a project that is a complete departure from fiction. I recently collaborated with nine other authors to put together a writing craft book called Writing from the Trenches: Tips and Techniques from Ten Award-winning Authors. This really is a heart project for me. I have been so blessed in my writing career and was excited to be a part of something that might help others who are on the same path.
What genre do you focus on and why?
I have two passions—historicals and mysteries. Most of the time, when I want to sit down with a good book, I choose a historical. So, of course, I want to write them. But I'm also a huge fan of Agatha Christie. I love figuring out "whodunit". I drive my family crazy, because we can't sit down to a movie without me solving the mystery before they do. I'm rarely surprised, so when I am, I chalk it up to a very skilled storyteller. That's what I strive for in my own mysteries.
Why do you write? What drives you?
I have a funny story about that. Years ago, I was sitting in church and was shocked to realize that I had missed most of the sermon because I was daydreaming a story. That made me sad. God was and is deserving of my attention and so much more. So I asked Him what I should do with the story rattling around in my head, and He told me to write it down. That was almost twenty years ago. I've been writing down stories ever since.
Who is your main character, and how did you choose that name?
In the Sugarcreek Amish Mysteries, the main character's name is Cheryl. In the Mysteries of Martha's Vineyard, it's Priscilla. These series are very much like the Nancy Drew or Hardy Boys Mysteries. They are continuity books, with each story being a stand-alone mystery, so I didn't have a lot of say in naming those characters. But when I do name my characters, I always take their age and ethnicity into account, as well as the time period. And then I work on getting to know them a little bit. What do they like? What are their fears? After that, they usually name themselves!
What does a day in your writing world look like?
To be honest, it depends on the time of year. Besides writing, I work full-time as an administrative assistant in a public school. My busiest time of year is August and September when school is starting up. That makes it really hard to get any quality writing time, so I'm lucky to eek out a few minutes every day. But when I'm on a deadline, I'm much more disciplined. I write at least 1000 words every night even if that means staying up past my bedtime and paying for it the next day.
What is the hardest part of being an author? Why?
Being a writer means living on an emotional rollercoaster. There are very high "highs" and very low "lows". Reviews, contracts, book sales…I've had to learn to live with all of those things. What brings me stability is knowing I wrote the very best book I could and then leaving the rest to the Lord. I won't lie…it's hard. I keep trying to take things into my own hands. So thankful He's patient!
What's the best part of your author's life? Why?
There is so much satisfaction in writing "The End." I read a quote once that said, "Writers don't like writing. They like having written." I guess that's true for me too. Once I see that book in my hands, and hear from readers that it meant something to them, that makes all the work and struggle worthwhile.
What is the craziest thing you've experienced as an author?
I ran into a lady once who was a very enthusiastic fan. She raved about my newest release, but the more she talked, the more confused I got. Nothing she said sounded anything like my book. I finally asked her which of my titles she liked the best and…you guessed it. She was talking about another author. Trying to save us both from embarrassment, I thanked her for being such a faithful reader and walked away. LOL!
What are you most proud of?
I am so proud to write books that anyone can read. I have grandchildren now, and I never want them to be embarrassed to say that I'm an author. Plus, I always strive to write books that bring glory to God. Heaven knows, I stumble often enough. Hopefully, He is pleased.
What is your favorite pastime?
Reading, of course! I wish I had more time to read for enjoyment. Lately, I'm so busy judging contests or reading for endorsement that I rarely get to pick up a book "just because." My other favorite pastimes are crafting, skiing, or playing with my dogs.
Do you have other books? We'd love to know.
I wrote a historical suspense series for Bethany House called the Edge of Freedom. Book one in the series is No Safe Harbor. Books two and three are Dark Road Home and Tide and Tempest, respectively. This was a challenging series for me because I had to double my research. The series starts in Ireland and follows a family to America through Ellis Island. It was a lot of fun though, and one of my favorite series to write.
What are you working on now?
A couple of years ago, our pastor preached a sermon based on one of King David's psalms. In it, David writes that he is like a green olive tree in the house of God. As our pastor preached on the process of pruning and harvesting and curing olives, a story idea formed about a man who learns about the goodness of God through caring for an olive tree left to him by his dead wife. The book is titled, fittingly, I think, The Olive Grower. Of course, I don't always get to keep my titles. Sometimes, the publisher changes it, but this is one I'm hoping will stay.
Website: www.elizabethludwig.com
Link to book: https://www.amazon.com/Writing-Trenches-Techniques-Award-Winning-Authors-ebook/dp/B07G5PS8CH
Social media links:
Facebook: https://www.facebook.com/elizabethludwig102
Twitter: https://twitter.com/ELudwig_Author
Blog: http://theborrowedbook.blogspot.com
Follow me on social media!