Picture Books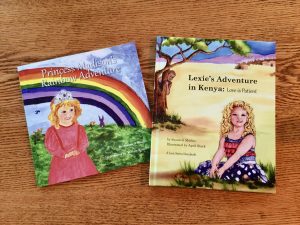 Susan loves children, children's literature, and the wonder of childhood, so she's created picture books for children 3-8 years old. Both can be purchased on Amazon.com.
Susan is a former preschool owner and operator, a language arts elementary school teacher, a missions curriculum writer for the Association of Christian Schools International, and is now a grandmother of four. As the Founding Editor of Thriving Family magazine and the former Editor/Editorial Director of 12 Focus on the Family publications including the Focus on the Family magazine and the Focus on Your Child newsletters, her heart for family and children runs deep. Both books teach character traits every parent, grandparent, teacher, or friend would like children to learn.
~ ~ ~
Princess Madison's Rainbow Adventure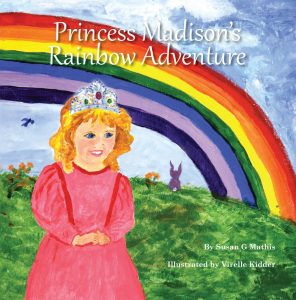 Princess Madison loves rainbows. She wants her colorless kingdom to be beautiful and vibrant, like rainbows. When Princess Madison follows mysterious footprints into the forest, she meets Rainbow Roy. The two work together to grow an amazing garden, fill the kingdom with wonderful fruit, and bring beauty back to the entire kingdom.
Princess Madison's Rainbow Adventure teaches children about the colors of the rainbow and the fruits of the spirit, while enjoying a story of cooperation, friendship, and love.
What people are saying:
"A fun story of faith about Madison learning clever fruit analogies from ROY G BIV that tell of promises to spread color back into her kingdom. The story ties in a princess on an adventure, a little science lesson, God's promise with a rainbow, fruits of the spirit, Gods creation and love and fun activity ideas all in one great little book. Perfect for a child, family or anyone at all!" —Q.C.
"This sweet story teaches is colorful, sweet and peaceful. The simplicity of the pictures hint at the purity of childhood while engaging young children in brilliant colors and themes. It also provides wonderful lessons about God's love in some of it's many forms. Very sweet and engaging!" —R.H.
"This imaginative tale of a young princess teaches young children about the fruits of the Spirit through a sweet story of friendship. A fun read!" —B.W.
~ ~ ~
Lexie's Adventure in Kenya: Love is Patient
What's more fun than taking an exciting adventure to a far-away place with friends while learning how to love others as God does? Lexie's African Adventure: Love is Patient is a beautiful watercolor picture book that tells the story of a little girl and her family who travel to Kenya, Africa, to visit missionaries and the Maasai tribe. Lexie learns how to be patient when she meets a mischievous boy who becomes a bully to her.
What people are saying:
What a precious book that sweetly illustrates the I Cor. 13 attribute of love's patience. I highly recommend this beautifully written and illustrated storybook for anyone with young children, grandchildren or friends who have or are children. We look forward to reading more of Lexie's Adventures around the world as she learns all the characteristics of God's love! —Amy S.
The author, Susan Mathis, cleverly combines two levels of teaching in this engaging picture book. The reader learns about the character quality of patience while also learning about a different culture. My favorite quote from this book is, "Having patience often means waiting to see what God will do." —Ava P.
This is a wonderful book! Children enjoy the beautiful illustrations while absorbing a story line they can relate to. Adults appreciate the depth of the messages, including the challenges of learning about different cultures, how to deal with people who aren't being nice to you, and how the lessons are grounded in Biblical truth. This is a new go to for the children on my gift list. An exciting find! —Ericka C.
Great Book! A beautifully illustrated book that will keep children's interest as they learn about patient love. The art work does a wonderful job with showing the Kenyan culture. A two for one! —Roland B.
And here's one from the model for Lexie's Adventure in Kenya:
 ~ ~ ~
Follow me on social media!