Meet author Joan C Benson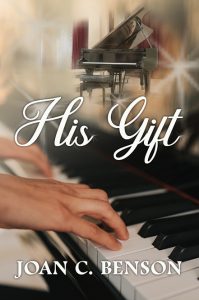 Joan C Benson is a wife, mother, grandmother, and author/speaker. She has been writing professionally for over thirty years, in addition to her career as an educator, serving primarily as a reading specialist. Her debut historical fiction novel was released in 2020. She has been published in multiple Christian magazines including LifeWay's "ParentLife," and Regent University's "The Christian Leader." She has published devotional writings on CBN.com. Joan also wrote children's ministry curriculum for LifeWay Publishing.
Tell us about your newest book.
His Gift is historical fiction based on a true event in my mother's life as a teen growing up at the cusp of The Great Depression. I was able to travel to her home in Royal Oak, MI, and did major research of the era and location for the setting. The nugget of the story conflict centers on the main character winning an audition to play the Rachmaninoff Concerto #2 with the Detroit Symphony. Molly, who was a senior in high school in the fall of 1929, was a gifted pianist with big dreams to concertize and travel the world. Though the book reveals her tender first love relationship with a good-natured boy named Jack, her main sights are to advance her dream of professional music. When the stock market crashes, her dream is threatened when her family has to move to Chicago, and even sell her beloved piano.
What inspired you to write His Gift?
His Gift was inspired from reading my mother's diaries after she passed away. Through those short entries, I was able to imagine her as a young woman, hear her voice, and feel her heartbeat of aspiration and desperation when her world turned upside. I wanted to write the story because I felt it would enlighten anyone who had dared to dream and found themselves disappointed. Where was God in her turmoil? How did she reconcile her faith in a loving God despite her loss? The timing of the release of His Gift seems Providential as we have struggled with losses in the world-wide pandemic of 2020.
How would you describe this book to someone?
Brace yourself for a thrilling race through the twists and turns of a young woman determined to see her dream come true. On the cusp of the stock market crash of 1929, seventeen-year-old Molly has aspirations for a career in music after high school. With the passion of an athlete preparing for the Olympics, she trains relentlessly to become the best she can be.
As her world collapses in unimaginable ways, she is left to find peace and purpose in the midst of her crisis. The message of His Gift is universal to anyone who has ever dared to dream in spite of uncontrollable circumstances. The reader will discover with Molly, the hope and peace in a life when yielded to the Giver of all gifts.
What genre do you focus on?
I am currently working on a new contemporary fiction novel, so historical fiction is not my sole focus. I knew I had to share the story of His Gift, and it is obviously historically based. Though His Gift has a late teen main character, I have had great reviews from adults of all ages so I believe it is a book which transcends the classification of YA/NA to adult readers.
Why do you write?
I love to write to encourage people in their faith and give them hope … all ages of people. I love historical fiction because it provides an emotional and relational connection when facts don't. However, I mostly am driven to write about things about which I feel passionate. My new novel is about the value of life, all lives.
Who is your main character, and how did you choose that name?
My main character is Molly, and I chose the name because my mother was Mildred/Milly. I had trouble creating my fictional character when I tagged her Milly! It seemed like I didn't have the leeway to flesh out this character when I used my mom's true name. It was kind of funny, actually, and I had family members tell me I should have named the character Milly. I considered changing the name back to Milly after the novel was finished, but by then, I was in love with "my Molly."
What is your work schedule like when you're writing a book?
Because I still do contract work, my schedule is not consistent, but erratic. At the end of a contract writing day, my creative juices are spent. So, I work it in when my schedule is slack, or I am not writing for someone else.
What is the hardest part of being an author?
For me, it is discipline to finish, and faith to believe you can do the job you feel you've been called to do. I found myself stuffing my manuscript back in the drawer many times without believing anyone would find it worthy of publishing. His Gift is historical fiction, which I was told is not popular as a genre these days. I also was told "Nobody would like to read about The Great Depression." Honestly, God kept opening windows and doors that I kept shutting. I also find marketing and the heavy load social media plays to be daunting. Yet, I persevere.
What's the best part of your author's life?
My favorite parts of being an author are the creativity and being able to work from home. I love being able to invent the outcome of events in my characters' lives. As you know, we can't do that in real time, so it gives an author freedom and a measure of control we don't often experience. I tend to be a home lover, and working from my own space on my own time is a joy. My two little Bichon Frisé pups sleep under my corner desk as I work, and my husband has his own computer desk in the same office. I find it very pleasant and peaceful to all be cozy in our space without the demands of the greater outside world intruding.
What's one unusual fact about you?
I have four adopted now-grown children: a son and daughter adopted as infants, and two sons adopted at age twelve. I am also the stepmom of two lovely daughters. We have a total of eight precious grandkids from 26 to 8 years old. Sadly, they live in four different states, scattered from the east coast to the west coast.
How have you changed or grown as a writer?
I believe God once planted the seed of destiny to write in my life when I was a young child. I crafted a little booklet when I was about eight called, "The Keys of Gold," referring to our Christian faith. Now as a grandmother, I believe He has called me to write His stories to a greater audience. My mechanical craft has improved through many years of educational writing projects, so now I can better glorify God and allow the creativity to flow.
What is your favorite pastime?
I have too many "favorites"—spending time with my family, walking at the beach, sunsets, music, swimming, reading, writing!
Do you have other books? We'd love to know.
My other books are trade books for children which were published for the educational market. There are many more, but two of these are on my Amazon author site:
A Woman of Action: Jane Addams (SRA/McGraw Hill- 2008 ASN: B003Y2QDTI)
The Unsigned Oath (McGraw Hill 2008 ISBN 978-0076087501
What are you working on now?
My contemporary fiction novel with a working title of Eva's Choice. Having served as an advocate for our pregnancy resource center for a few years, I have many stories in my mind and heart. This first one is about my fictional Eva, who has a most difficult decision to make. She knows the consequences will be painful to someone she loves. What will she decide and can she find healing and hope?
Website:
Link to book:
https://www.amazon.com/dp/1649490305/
https://www.barnesandnoble.com/w/his-gift-joan-c-benson/1137413827?ean=9781649490308
Social media links: https://www.facebook.com/YIHAVEHOPE
Twitter: https://twitter.com/11Ccaj4life
Instagram: https://www.instagram.com/joancbenson/
Goodreads: https://www.goodreads.com/author/show/20555254.Joan_C_Benson
Blog: www.bensonjj.wordpress.com
Follow me on social media!