Meet author Julie Lavender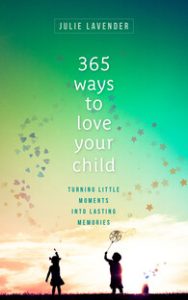 Julie Lavender is a journalist, author, and former homeschooling mom with an Early Childhood Education Masters Degree. Her book, 365 Ways to Love Your Child: Turning Little Moments into Lasting Memories (Revell), released in October. Julie also co-authored two devotionals, authored a homeschooling devotional, and wrote several educational work-for-hire books. Julie writes newspaper articles, monthly blogposts, and magazine articles. A winner of Guideposts Magazine's 2014 writer's contest, she contributes to their publications and website.
Tell us about your newest book.
If you're looking for a new way to say "I love you" to your child, turn the page and you'll find 365 suggestions for memory-making moments that'll warm your child's heart.
365 Ways to Love Your Child: Turning Little Moments Into Lasting Memories offers creative suggestions for activities, gestures, and expressions of love to show your child how much you treasure him or her every day. With simple ideas and heartwarming tokens of affection, 365 Ways encourages you to spend quality time with your child every day to create a treasury of warm memories to savor throughout childhood and beyond.
With each expression of your love, your child gets a glimpse of the unfathomable love of our Heavenly Father. Along the parenting journey, help your child recognize God's love through your own devotion and attentiveness and verbal affirmations.
What inspired you to write 365 Ways To Love Your Child: Turning Little Moments Into Lasting Memories?
I loved finding unique ways to show love to my kids when they were growing up, and I collected a host of ways to do so. In today's busy world, adults often get busy with daily responsibilities and forget to make memories with their kids. I wanted to encourage other parents and adults to show love to kids regularly, making memories to last a lifetime. And by doing so, I hope kids get a glimpse of the love of their Heavenly Father.
What genre do you focus on?
I typically focus on my writing on family issues, that include but aren't limited to family, parenting and homeschooling subjects.
Why do you write?
My treasured memories of family adventures and time spent together motivates me to encourage other families to collect little moments and turn them into lasting memories, too. I also love sharing others' special moments, and have written over 900 newspaper articles that turned little stories into headline news events.
What is your work schedule like when you're writing a book?
I am a night-owl. I got into this habit when my kids were younger, and I either had to wait until the baby was asleep, or even years later, I waited until all my little homeschooling students were tucked into bed, and then I could write in a quiet house. So, I love to stay up late and write until the wee hours of the morning. Now that my kids are adults and I have an empty nest, most of my day is spent writing – still late into the night – but, I also fit in my cooking and household chores in the daytime hours.
What is the hardest part of being an author?
I think marketing would top my list there! I know it's expected for me as a writer, but that's sometimes hard to fit in my writing schedule, because it can be very time-consuming to keep up with as much marketing is necessary.
What's the best part of your author's life?
I think meeting other writers and supporting their works is one of the best parts about my writing journey. I love how Christian writers encourage and support one another, and I like to return the favor. However, I'll also admit that I appreciate when someone mentions to me that they've enjoyed something that I've written and that it blessed them.
What's one thing your readers should know about you?
I loved being a military spouse, even though at times it was very challenging and sometimes brought fears into my mind. But, I loved knowing that my husband was serving our great country in that manner. And, I also think it's a bit unusual the responsibility that he had while in the Navy. David was a medical entomologist for the Navy, and when he first decided to join the Navy, I even jokingly said to him, "How can you do anything with insects for the Navy – you'll be on a ship in the water all the time." Well, it didn't work out that way at all, and it was a fascinating career, and I'm really proud of his time in the service. And, I'm a firm believer that the entire family "serves," so, I'm proud of the sacrifices that my children made, and that I feel like I often had to make.
How have you changed or grown as a writer?
Oh, goodness – I continue to grow daily! That's why I love reading about other writers' journeys and attending conferences. I've learned that it takes so much patience and persistence to pursue a writing journey. And, I've learned that it's important to keep learning from those that have come before me!!
What is your favorite pastime?
Well, when I'm not doing something for my writing, I feel like I'm hanging out with family, so I guess that's my favorite pastime! But, with and for the family, I love to cook and bake, and I love when our family goes hiking! I'm not super-athletic, so it can't be too strenuous for me – I'm more about taking in the scenery around me in an enjoyable way!
Do you have other books? We'd love to know.
*Be Still and Take a Bubble Bath (BroadStreet) – coauthored with Michelle Cox, 2020
*Come and Behold Him (BroadStreet) – coauthored with Michelle Cox, 2019
* Three teacher resource books for the religious division of Carson-Dellosa: Super Men of the Bible; Wonder Women of the Bible (2007) and Scripture Adventures (2006)
*365 Days of Celebration and Praise: Daily Devotions and Activities for Homeschooling Families (Jossey-Bass/Wiley), 2003
Creative Sleepovers for Kids! (Prima/Random House), 2001
What are you working on now?
I'm working on a couple of children's board books about nature and wildlife.
Website: https://julielavenderwrites.com/
Link to book: https://www.amazon.com/365-Ways-Love-Your-Child/dp/0800738845
Social media links: https://www.facebook.com/julie.lavender.10/
Instagram: https://www.instagram.com/julielavenderwrites/
Twitter: https://twitter.com/JLavenderwrites
Follow me on social media!