Meet author Jennifer Hallmark

Jennifer Hallmark writes Southern fiction and her website, Alabama-Inspired Fiction, and the group blog, Inspired Prompt, she co-founded, focus on her books, love of the South, and helping writers. Her debut novel, Jessie's Hope, is a Selah Award finalist for First Novel. When she isn't babysitting, gardening, or exploring the beautiful state of Alabama, you can find her at her desk writing fiction or working on one of her two blogs.
Tell us about your newest book.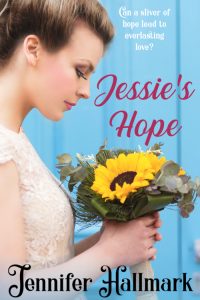 First, Jessie's Hope is a story of forgiveness and redemption. Jessie is a young woman who, at the age of ten, lost her mother and her mobility in an accident. Shortly after, her father walked away also. She is now twenty years old and getting ready to marry. She wants to find her father and peace before the wedding. Her grandparents, who've raised her, are struggling to find the resources to provide her with a wedding and a dress that they think will make up for the past. While planning for her wedding in the middle of tornado season, Jessie discovers weather isn't the only obstacle to living happily ever after.
What inspired you to write Jessie's Hope?
My local writing group assignment. I was given three writing prompts: a wedding dress designer, a dusty baseball cap, and faded coveralls. I wrote a short story, which turned into a novella, then finally a novel.
Who is your main character, and how did you choose that name?
The two main characters in my novel are Jessie Smith and her grandfather, Homer Smith. Jessie is in memory of my father, Jesse Dison Jr. and Homer is named after my maternal great-grandfather, Homer Gautney.
What is the hardest part of being an author?
My biggest struggle is time management. I'm not good at multi-tasking and will flit from email to novel writing to blogging. I don't make much progress at times. Add in an aging mother and six grandchildren and it makes planning a challenge.
What's the best part of your author's life?
The people I've met along the way. From writers to editors to readers to publishers, there are some amazing men and women out there that I now call friends. They are encouragers, cheerleaders, and add accountability to my writing.
What's one unusual fact about you?
For twenty years, my husband and I owned two different chicken farms and raised more than a million chickens. We now live on a mini-farm and raise calves, turkeys, peacocks, and chickens.
What is your favorite pastime?
I love taking day trips with my husband and friends to different places in Alabama and Tennessee. We also enjoy camping…
What are you working on now?
I have finished the sequel to Jessie's Hope, tentatively titled Angeline's Dream and my agent is busy shopping it. I'm also working on a Southern fiction historical and a medieval fantasy.
Website: https://www.jenniferhallmark.com
Link to book: https://www.amazon.com/dp/B07QV41QT1
Social media links:
Follow me on social media!