Meet author Cher Gatto

Tell us about your newest book.
My debut novel, Something I Am Not, was published by Lighthouse Publishers of the Carolinas and released January 2019. Originally titled Billy, Something I Am Not won the American Christian Fiction Writer's (ACFW) Genesis Award for contemporary fiction. My second novel Regent is due out this year.
What inspired you to write Something I Am Not?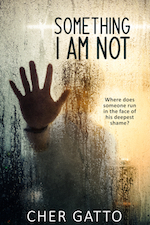 I never meant to be a writer. It's something that happened to me when I wasn't looking. Our family served as missionaries in Mexico developing a horse ranch for kids from the nearby villages. Our coworkers ran a shelter for battered women. I say women loosely, most could barely be called that. They were babies themselves—13, 14, 15 years old—many of them with children of their own, the pregnancies resulting from abuse, rape, or incest. Some had been rescued out of trafficking. One girl I knew better than the others had been sold by her mother at five years old for child porn so her mother could get her next fix. Tragic and incomprehensible.
It wasn't until later, I realized Billy's journey gave me the key to heal from those things I couldn't change. Things that broke my heart. Tragedies that couldn't be righted. I needed a different ending–a redemption story.
How would you describe this book to someone in a 30-second blurb?
 Something I Am Not is a story about coming home. It's a story about living under the wrong father—believing the lies that tear us down—and the freedom of finding the right one. It's about knowing deep down you were made for something more.
Billy McQueen works hard to keep his life together … and concealed. At seventeen, he dreams of an escape from the barroom, his father's manipulation, and the advances of his father's girlfriend. On his eighteenth birthday, he is introduced to a younger brother he never knew he had. An eight-year-old barely capable of navigating the corrupt world of his father's boxing club.
In order to secure his own freedom, Billy must fight for it. But to save his little brother who is next in line for the slave trade … he must be willing to die for it.
What genre do you focus on and why?
Interestingly, I write Young Adult with a very strong reader group of women over forty. With a house full of teens and a teaching job in a high school, I am drawn to live vicariously through them. It allows me to go back, to relive those tumultuous years, the pressures of youth and learning to cope within a world that feels upside down. To make sense of love and suffering. It's wonderous and most times simplistically complex. My stories flow from a Christian worldview without being overt. My writing tends to dump us into the well of depravity and climb us back out with the hand of Grace.
Why do you write? 
There are so many of us out there who live on the fringe of who we were meant to be. So many of us defined by our mistakes or faults or shortcomings. So many of us who live like orphans, though we've been adopted into kingship. The message is universal … we can never be too far gone or too far out of reach to be rescued and brought home. Those are the stories that come out. Those are the ones I love to tell.
Who is your main character, and how did you choose that name?
I don't know. He was just always Billy. His little brother, who he finds midway in the story, was Toby right from the start. Later, after I had written it, my mother shared with me stories of her cousin whom she adored as a teen. He died in his early thirties, and it broke her heart. His name was Billy. When he was a young boy, he dragged around a worn teddy bear. The bear, he named Toby.
What is your work schedule like when you're writing a book?
Because I am a full-time teacher, mother of five, and have a husband in full-time ministry, most of my writing happens in the early morning. My thoughts flow better in the quiet before anyone stirs. I try writing later in the day, but nothing comes out … or nothing worth reading anyway.
What is the hardest part of being an author?
The hardest part of being an author is remembering why I write. It's so easy to forget. I can get caught up in the highs and lows of the process. The roller coaster is ever present to take us up to the shimmering top and drop us down into the black hole. It's relentless and can rob my joy for writing with the swift arm of discouragement. The real ride is every day, every moment, and best taken while tucked in the arm of Jesus. My identity has to come from Him or it changes with the tide.
What's the best part of your author's life? 
The coolest thing about writing is coming to walk and live with your characters so closely that you stop telling the story and just start following. I tried several times to end both my novels a different way, but the characters would not allow it. And rightly so. It was their story.
The other thing I treasure about being an author is when someone tells me my story affected them deeply, helped them see something new, or even changed their life. Sometimes I can't fathom it—that something I could write could possibly have an impact like that.
What is your favorite pastime?
My toes in the cool sand and a great book on my lap! I also love to horseback ride and learned on the back of a belligerent pony when I was six years old. I've been riding ever since, though lately I am more afraid of what my bones will do if I hit the ground!
Do you have other books? We'd love to know.
My second book Regent is finished and in its last edits before submission. This one has all the edge-of-the-seat suspense Billy's story had but without the heavy topic of trafficking. Regent's back-cover blurb reads something like this …
Justin has never known family. His mother died when he was born. His father disappeared. And the foster care system has failed him. At seventeen, he arrives at Regent in upstate New York, a shut-down psychiatric hospital turned boarding school, to rehabilitate from a crime he never committed—and hide a secret he vowed to keep.
Website: www.journeywithwords.com
Link to book: https://www.amazon.com/Something-Am-Not-Cher-Gatto/dp/1946016691
Social media links: Visit me on Facebook and Instagram (chergatto)
Follow me on social media!