Meet author Elva Cobb Martin

Elva Cobb Martin is a wife, mother, and grandmother who lives in South Carolina with her husband and a mini-dachshund. A life-long student of history, her favorite city, Charleston, inspires her stories of romance and adventure. Her love of writing grew out of a desire to share exciting stories of courageous characters and communicate truths of the Christian faith to bring hope and encouragement. Connect with her on her web site at http://www.elvamartin.com.
My newest novel is an inspirational historical romance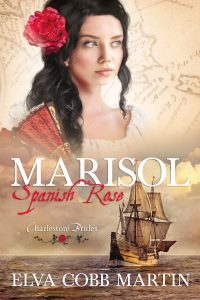 —Marisol.
She is my first heroine in                                                                              the Charleston Brides series. Marisol flees Spain for the New World after murdering the nobleman who molested her. She ends up for sale on the indentured servants' block in Charles Town harbor—dirty, angry and with child. Captain Ethan Beckett, once a Charles Town minister, now a privateer grieving the death of his wife, brings her home as a governess to his young son. As their paths intertwine on a journey filled with danger, intrigue, and romance, only the grace of God can overcome the past and ignite a new beginning for Marisol and Ethan.
What inspired you to write Marisol?
I love the colonial area, privateers, and pirates. And I became intrigued with the issue of indentured servants. I also wanted to show how God's love can overcome the worse experiences tossed to us by life. I pray for God's plan and theme for each novel.
30-second blurb: Escaping to the New World is her only option…Rescuing her will wrap the chains of the Inquisition around his neck.
What genre do you focus on and why?
Historical Romance: Because I've always loved history, which truly is stranger than fiction.
What is your work schedule like when you are writing a book?  It is kind of chaotic. I tend to do research and plot storming any time I can, then write the first draft fast without much editing. In draft 2 I do editing and adding of details. I write on the ms three afternoons a week usually. I may go out of town to finish the first or second draft, to cut down on distractions. I have a sweet husband, household and church responsibilities, ACFW-SC chapter presidency responsibilities, and social media I have to fit in somewhere.  
What is the hardest part of being an author?
Bouncing all the balls listed in the previous item and still having quality time to write. But I do find the Lord helps me find it.
What is one thing your readers should know about you?
I am a highly motivated, get-it-done-early type person who loves the Lord and tries to give God the first place in my life. And I am 76 years old and had my first contracted book published at age 74. I wrote that first novel 30 years earlier, was called into the ministry, and put it up in the attic all those years until retirement. God is so good. My advice to writers is never give up!
What is your favorite past time?
Spending time with my grandson and hubby, and reading good novels or watching movies in my genre. I also love mysteries like John Grisham's, Agatha Christy, classic Sherlock. These get my mind into a totally different orbit, and it's restful.
My other published books on Amazon:
Summer of Deception (2017) – a contemporary romantic suspense set in Charleston.
In a Pirate's Debt (2017) – historical romance set in the Caribbean and Charles Town.
Power Over Satan (2014)– a short Bible study on our authority in Christ.
What are you working on now?
I am currently in the publisher's editing stage for Georgia Ann, Book 2 in the Charleston Brides series. It's to be released later this year by Wild Heart Books. Also working on Book 3, Anna Grace, in the research and plotting stage.
Author Website Link:  http://www.elvamartin.com
Author Blog Link:   http://carolinaromancewithelvamartin.blogspot.com
Author Facebook Link: http://www.facebook.com/elvacobbmartin
Author Twitter: http://twitter.com/ElvaCobbMartin
Pinterest Link:  https://www.pinterest.com/elvacobbmartin/
Follow me on social media!