Meet author Renea Winchester
Renea Winchester is a first-place winner of the North Carolina Press Association Award, the recipient of the Wilma Dykeman Award, and a two-time winner of the Appalachian Writer's Award. She which was nominated for the SIBA award and received the endorsement from The Pulpwood Queens, the largest book club in the country. Renea has served on the Atlanta Writers Board, Georgia Writers Association, and judges multiple literary awards. Set in her hometown of Bryson City, North Carolina, Outbound Train is nominated for the Crook's Corner Prize and Best New Fiction (American Book Fest).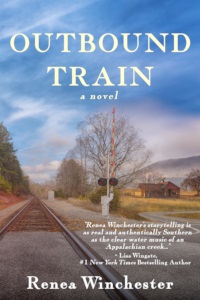 Tell us about your newest book.
Outbound Train is a Southern fiction title, set in my hometown of Bryson City, North Carolina. It is the story of three generations of Parker women: Granny Pearlene, her daughter Barbara, and Carole Anne – age sixteen. These three ladies have known their fair share of hardship, but they are "make do" women. Women who can take a little scrap of nothing and create a work of art.
What inspired you to write Outbound Train?
I love to tell the story about Outbound Train during the infancy stage. My brother actually encouraged me to write this story after we traveled past a trailer park where mobile homes sat end-to-end. There, I saw my Carole Anne, a young girl peering outside the window dreaming of more. "That's your book," my brother said. "You need to write about Bryson City and the way it was when we were growing up. Only you can tell people about the way things once were, before the tourists came and land became so expensive the locals could no longer afford to live here." After seeing the young girl, I just couldn't get Carole Anne out of my heart. Wedged up against the train tracks, close enough to almost touch the cars as they passed, I knew Carole Anne's story deserved to be told.
How would you describe this book to someone in a 30-second blurb?
A triumphant story of women overcoming tragedy, fear, and poverty.
What genre do you focus on and why?
Having transitioned from non-fiction stories based in the South, I now write Southern fiction.
Why do you write?
I write with a fierce determination to tell the stories of my people, those who are misunderstood, unseen, underrepresented and often mocked. I write to show the humanity of blue-collar workers, especially women who have a long history of being able to take a whole lot of nothing and turn it into something beautiful.
What's the best part of your author's life?
The absolute best part of a writer's life is meeting readers. I do not write for myself. I write for them. I want words to open a window that readers can look through.
What's one unusual fact about you?
During my life, I have rescued hundreds of thousands of daffodils from certain death due to development.
How have you changed or grown as a writer?
I believe if you aren't learning, you are essentially stagnating. This is my philosophy about writing, and life. I have an insatiable hunger to learn, and this hunger allows me to grow as a writer. Also, one of the best words of advice I can offer any writer is to read outside of your genre. Support lesser-known-authors. Tell others what you are reading. Don't be on your cell phone all the time. Get caught reading while waiting in the doctor's office or at the airport.
Do you have other books? We'd love to know.
Outbound Train is my debut novel. My first book, In the Garden with Billy, and its sequel, Farming, Friends & Fried Bologna Sandwiches are still available.
What are you working on now?
Thank you for asking about my latest work. I'm currently working on another Southern fiction title called, The Mountains Remember based on my grandmother's displacement from her land in order to form the Great Smoky Mountains National Park.
Website: http://reneawinchester.wordpress.com/
Link to book: https://www.amazon.com/gp/product/1645262413/ref=dbs_a_def_rwt_bibl_vppi_i0
Social media links:
Instagram https://www.instagram.com/reneawinchesterauthor/
Facebook: https://www.facebook.com/Renea-Winchester-Author-162590877104288/
Follow me on social media!