Treasure Hunting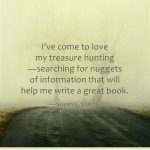 When I was teaching, there were two subjects that I loved the most—English and history. Now that I'm writing historical fiction, I get to apply both of these subjects to my work everyday. Researching history for my historical novels is like going on a really fun treasure hunt into another time.
Not only do I get to spend time at the library, scour the internet, and search for lost treasures of information, I also get to jump into the time period and imagine what it must have been like to live in that day and time. I have to examine the various aspects of life, think how they thought, and feel how they felt. And my respect for those who lived in the past grows every day.
And then I have to take all that information and figure out how my characters would interact according to the historical details I have learned. What did it feel like to not have heat in the wintertime? What did it smell like before the days of trash removal? How did they read at night when they didn't have electricity? And what did it feel like to be on an immigrant ship for over a month?
The craft of writing historical fiction is a challenging and fun one, and I get more and more engaged in the desire to understand the larger context of my character's world. It's a thrilling journey for me. What was the bigger picture of that day—the social, cultural, political, and spiritual world they lived in? Knowing all this helps me understand my characters on a deeper level.
I've come to love my treasure hunting—searching for nuggets of information that help me write a great book. I take walks and wagon rides and drives thanks to Google Maps. I see the cities and mountains and ships and people of the 1850s in books and on the internet. I experience Celtic music concerts and see step dancing on YouTube. They inspire and inform me, and I'm grateful all the wonderful technology and resources at my fingertips, which can enlarge my vision for whatever I'm writing.
So I encourage you to go on a treasure hunt of your own. What historical tidbit would you like to know about? Give it a Google search and see what you find on your hunt. I'd love to know what you find.
Follow me on social media!