Meet Kate Breslin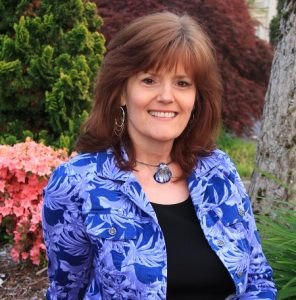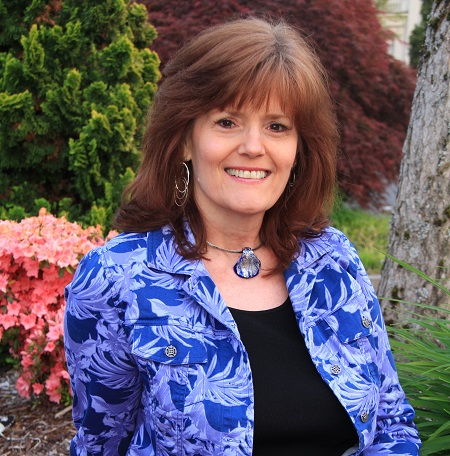 Kate Breslin enjoys life in the Pacific Northwest with her husband and family. A writer of travel articles and award-winning poetry, Kate received the 2015 Christian Retailing Award for First Time Author, and her debut novel, For Such A Time, won the 2015 Carol award. Kate's third novel, High As The Heavens released in June 2017. When she's not writing inspirational fiction, Kate enjoys reading, enjoying Washington's beautiful woodlands, and traveling to new places.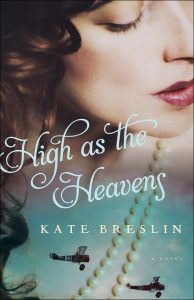 Tell us about your newest book.
High As The Heavens is my second novel set during the Great War and takes place in 1917 German-occupied Brussels. My heroine, British nurse Evelyn Marche, works at a Red Cross hospital by day, waitresses at her family's café by night, and carries out secret missions for a Belgian resistance group while living among the enemy. In constant danger of being betrayed, Eve is as clever as she is daring and thwarts the Germans while working to save her mother's Belgian people. She is also a woman haunted by the past. A war widow grieving the loss of her husband, and her missing brother and sister who were taken at the onset of the invasion, she lives with her nightmares and carries a dark secret, an awful burden for which she struggles to find absolution.
When a plane crashes one night as she's en route to a rendezvous, Eve is the first to arrive on the scene and is shocked to recognize the badly injured pilot as British RFC Captain Simon Forrester. While she risks her life to conceal him from the Germans and tries to get him out of Belgium, she unwittingly begins her journey toward redemption, and the discovery of God's unfailing love and mercy through those she cares about most.
What genre do you focus on and why?
I write historical fiction because I love history and the research involved, and I write stories about war, both the Great War and WWII because I am inspired when I read about ordinary people who rise above themselves to do the extraordinary; even sacrificing their lives for others.
Why do you write? What drives you?
I simply cannot not write. I've been working at novel writing for twenty-five years and it's been a love story with words. I think I have always written, be it a diary, poetry, song lyrics, and of course stories. I may not churn out a book each year, but I work at my craft constantly.
What does a day in your writing world look like?
I have a spiral staircase leading up to a library loft that also serves as my office. My writing sanctuary overlooks our small bay and has two large windows that afford me plenty of light. I have ancient Celtic weapons and old maps of England hanging on my walls and a floor-to-ceiling bookcase filled with books that take up the entire end of the loft. I enjoy instrumental music playing softly in the background while I write, usually in the mornings 5-6 days a week. My cat sleeps in the chair beside my desk. It just doesn't get any better than that.
What is the hardest part of being an author? Why?
I think trying to juggle writing deadlines, marketing, social media, and staying connected to my family and community are the most challenging. There is a lot more involved to being a published author than I'd ever imagined. Learning time management and being more organized are constants with me, and I hope one day to achieve those goals.
What's the best part of your author's life? Why?
I love hearing from readers. Knowing that my stories have made a difference in someone's life, whether it's simple enjoyment, helping them through a difficult time, or offering the strength of God's message makes all of the time and hard work worthwhile.
What is your favorite pastime?
Spending time with my grandson is way at the top! I do love working in my garden though, and I make my own herbal vinegars and oils, usually for friends around the holidays. The recipes are easy and fun and they taste pretty good, too!
Do you have other books? We'd love to know.
I have two other published novels with Bethany House, For Such A Time, a retelling of the Book of Esther set during WWII, and Not By Sight, my first Great War novel set in Britain.
What are you working on now?
I'm working on my fourth novel for Bethany House, another story set in Europe during the Great War. It's spring of 1918 and my handsome lieutenant and his unconventional sidekick are on the hunt in France for something precious. Spies lurk around every corner however, and they soon find themselves caught in a web of intrigue. Can love and a leap of faith set them free to finish their quest? This new adventure, scheduled for release in spring of 2019, involves a character from Not By Sight, so readers may want to read that book first. I don't want to spoil anything!
Website: www.katebreslin.com
Facebook: https://www.facebook.com/KateBreslinAuthor/
Twitter: https://twitter.com/Kate_Breslin
Pinterest: https://www.pinterest.com/katelbreslin/
Instagram: https://www.instagram.com/authorkatebreslin/?hl=en
Purchase links: http://katebreslin.com/books-2-2/
SaveSave
SaveSave
SaveSave
Follow me on social media!