Meet Jen Turano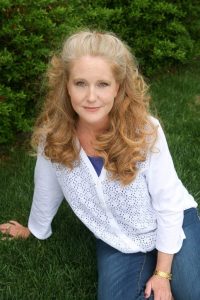 Jen Turano is a USA Today Best-Selling Author, known for penning quirky historical romances set in the Gilded Age. She's been a finalist twice for the RT Reviewers' Choice Awards, had two of her books named top ten romances from Booklist, and was named One of the Funniest Voices in Inspirational Romance by Booklist. When she's not writing, she spends her time outside Denver, CO.
Tell us about your newest book.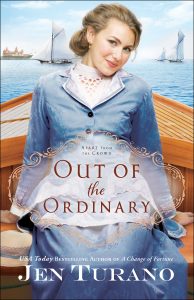 Out of the Ordinary, released yesterday and is the second book in the Apart from the Crowd series.
Miss Gertrude Cadwalader hoped her position as the paid companion to Mrs. Davenport would be easy. But as she becomes acquainted with her employer, she realizes the wealthy Mrs. Davenport has a strange tendency to be a bit light-fingered with other people's trinkets. Gertrude is relieved when Mrs. Davenport decides to have a quiet summer away from the social scene—until the woman changes her mind in order to help a young socialite launch into society.
When Gertrude is caught in the act of trying to return one of the trinkets by Mrs. Sinclair, the mother of shipping magnate Harrison Sinclair, the woman jumps to an unfortunate conclusion. Harrison is determined to mend fences with Miss Cadwalader, but he's unprepared for the escapades a friendship with her will entail.
What genre do you focus on and why?
I write historical romance set in the Gilded Age, having fallen in love with that time period after reading about Alva Vanderbilt's famed costume ball of 1883. I've always been drawn to high society, and the New York Four-Hundred as it was called was filled with so many outlandish members that I have enough fodder for stories for years to come.
Why do you write? What drives you?
I've always had stories in my head and I've always had a knack for the written word—it just took me a long time to figure that out. As for what drives me—deadlines drive me these days. As long as I keep my writing steady, I can normally avoid chaos, but I have to maintain a pretty strict writing schedule in order to keep my sanity.
Who is your main character, and how did you choose that name?
Miss Gertrude Cadwallader is my heroine. I found her name in a book about the New York Four-Hundred and knew I just had to have her in a story.
What does a day in your writing world look like?
I'm normally at my computer around 7:30. I take a five-mile walk before that, which seems to get me settled for the day. And then I work until I meet my word-count or chapter goal—which means I do about a chapter and a half a day—sometimes more, sometimes less. When I'm doing a content edit—that's what I get after I've turned in the story and my editors go through it and make…suggestions, my days are a little different and are usually a lot longer. Last week I worked one day from 6:00 am until after midnight because I was on a roll and didn't want to lose that momentum.
What is the hardest part of being an author? Why?
First drafts—facing those pesky blank pages is a little daunting day after day.
What's the best part of your author's life? Why?
The readers—I never even thought about how many people I'd come to know by being an author. But I've made wonderful friends with so many readers, and that's just been the coolest thing ever.
What are you most proud of?
My son.
What is your favorite pastime?
Al (husband) and I love to socialize with our friends.
Do you have other books? We'd love to know.
I do have other books, thank you for asking. From earliest release date to latest –
First Series – Ladies of Distinction – In order
(Gentleman of Her Dreams – e-book only – free novella)
A Change of Fortune – book one
A Most Peculiar Circumstance – book two
A Talent for Trouble – book three
A Match of Wits – book four
Series Two – A Class of Their Own
After a Fashion – book one
In Good Company – book two
Playing the Part – book three
Series Three – Apart from the Crowd
(At Your Request – e-book only – novella – free download)
Behind the Scenes –book one
Out of the Ordinary – book two – releases November 7, 2017
Caught by Surprise – book three – releases late spring 2018
What are you working on now?
I just turned in the content edits for Caught by Surprise, so I'll be returning to a first draft of my next series come Monday. That series is sort of an American Heiress gone rogue thing—the first book is Miss Isadora Delafield's story—and the story concept came about with a What If —What if Consuelo Vanderbilt flatly refused to marry the Duke of Marlborough even though her mother was threatening her with dire consequences if she didn't marry the man—we'll see how it goes.
Website: www.jenturano.com
Link to book: http://bakerpublishinggroup.com/authors/jen-turano/1761
Social media links: https://www.facebook.com/jenturanoauthor/
Twitter – JenTurano@JenTurano
Goodreads – https://www.goodreads.com/author/show/5765468.Jen_Turano
SaveSave
SaveSave
SaveSave
SaveSave
SaveSave
by