Meet Denise Weimer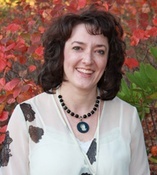 Denise Weimer holds a journalism degree with a minor in history from Asbury University. A former magazine writer, she is a substantive editor for Lighthouse Publishing of the Carolinas as well as the author of The Georgia Gold Series, The Restoration Trilogy, and a number of romantic novellas. Denise is a wife and swim mom of two daughters who always pauses for old houses, coffee, and chocolate!
Tell us about your newest book.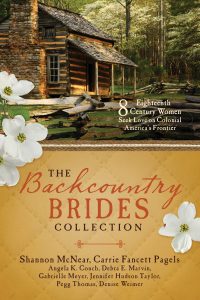 My novella, Across Three Autumns, releases May 1 in Barbour's Backcountry Brides collection. I'm honored to be a part of this anthology with some amazing authors, many of whom are my fellow contributors to the Colonial Quills blog.
Travel into Colonial America where eight women seek love, but they each know a future husband requires the necessary skills to survive in the backcountry. Living in areas exposed to nature's ferocity, prone to Indian attack, and cut off from regular supplies, can hearts overcome the dangers to find lasting love?
Across Three Autumns by Denise Weimer: Fighting Loyalists and Indians, Jenny White settles for strength over love . . .until Scottish scout Caylan McIntosh leads her family on a harrowing exodus out of Georgia's Revolutionary War "Hornet's Nest."
What genre do you focus on and why?
My writing includes historical fiction and contemporary romantic suspense. My preferred technique is to marry these two genres in suspenseful time slip romance. Several of my books, including The Restoration Trilogy and a new novel that my agent is currently working to place with a publisher, contain modern characters who uncover a mystery—and resulting danger—from the past.
Why do you write? What drives you?
Since age 11, when from the back seat of the car I'd scribble stories about the historic sites my parents took me to visit, I've realized my calling to be a writer. Even though the publication journey has been long and challenging, I've never doubted that God gave me a gift He wanted me to use.
Who is your main character, and how did you choose that name?
Jenny White is my main character in Across Three Autumns. Inspired by Georgia's Revolutionary War heroine Nancy Hart, Jenny represents an atypical romantic heroine. She's six feet tall, raw-boned, and freckled. As such, she struggles with self-image and fears no man will ever love her. She considers the two lovely things about her to be her red hair (even though many despise that, too) and her name. Jenny comes from an English settler family, so her name had to reflect that ancestry.
What does a day in your writing world look like?
My writing begins after my family leaves home for work and school and I've done my devotions and checked my e-mail and social media. I try to concentrate on writing from mid-morning to early or mid-afternoon, when I start preparing dinner. Of course, I include a lunch break, and I usually brew a cup of tea to sip while I'm writing in the afternoon.
What is the hardest part of being an author? Why?
Two things come to mind. First, most authors are introverts by nature, but selling one's books requires interaction with the public. Today, a lot of this is done online. I love Facebook parties! But I've also spent a lot of time over the last ten years promoting my books in person. While I adore visiting book clubs, I find all-day festivals exhausting! Second, it usually takes many years to build enough readership for writing to financially move from hobby to career status, especially when one starts in indie publishing. Many unpaid hours are clocked! Sometimes it's hard to keep the vision.
What's the best part of your author's life? Why?
Spending most of my time working in the environment I'm suited to, while doing what I know God has called me to. Then, hearing from readers that the message I included in my books touched and changed them! I love writing about God's healing power in a fictional format.
What is the craziest thing you've experienced as an author?
Craziest … hmm. I'm not sure how to answer this. Maybe having the first publisher I signed with for my Georgia Gold Series fold just as book one came out? But God worked that out. After I put my writing on the altar, He taught me many things about the industry, then led me to another publisher (Canterbury House) for that series. In person, maybe having a lady I'd spent several minutes in good conversation with at a festival throw up her hands and stalk away when she learned my books had a Christian influence. It made me sad for her, because something had obviously hurt or confused her deeply in her past.
What are you most proud of?
My daughters, Emily (18) and Abigail (15). Seeing them become lights for the Lord and find His will for their lives encourages me that the time I invested in them as I worked from home produced an even greater, eternal treasure than the books I've written.
What is your favorite pastime?
Apart from writing? Haha. Over the past years, I'd say I've probably had the most fun cheering for my girls at swim meets. Rich, meaningful time has been spent in fellowship with friends from our Sunday school class and small group.
Do you have other books? We'd love to know.
The Georgia Gold Series (Sautee Shadows, The Gray Divide, The Crimson Bloom, and Bright as Gold) – Eugenia Price-style, mid-1800s romance from the time of the Georgia Gold Rush through the end of the Civil War
The Restoration Trilogy (White, Widow, and Witch) – modern romantic suspense centered on a restoration project, with historical back stories from three different centuries
Holly, Ivy & Intrigue – three novellas of Christmas suspense including mine, A Holiday Intruder
And many more in process!
What are you working on now?
I'm currently working on something very unusual and challenging for me, a modern romance about an injured college swimmer who falls in love with a special needs swim team and their recreation director during her sports marketing practicum. Anna faces many challenges as she attempts to convince the organization that she should coach a group to the Special Olympics—and the rec director that her feelings for him can overcome the obstacles in his life as guardian of his autistic sister. I started this project after a conversation with Hallmark, but since they want books-to-film, the editor decided that creating swim-meet scenes would require too much budget. Somehow, I felt compelled to continue, and hope to find a Christian publisher interested in this theme.
Website: https://deniseweimerbooks.webs.com
Link to book: https://www.amazon.com/Backcountry-Brides-Collection-Colonial-America%C2%92s/dp/1683226224/
Social media links:
https://twitter.com/denise_weimer
https://www.facebook.com/denise.weimer1
Enter a giveaway!
During the month of May, you can enter to win a print copy of Backcountry Brides plus a whole load of goodies related to the stories! Follow this link and the Rafflecopter directions: https://www.rafflecopter.com/rafl/display/aac1581d4
Follow me on social media!