Meet Carrie Turansky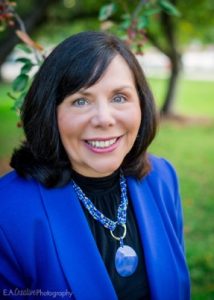 Carrie Turansky has loved writing since she penned her first novel at age twelve. She is now the award-winning author of eighteen inspirational romance novels and novellas. Carrie and her husband, Scott, have been married for more than thirty-five years and make their home in New Jersey. Carrie leads women's ministry at her church, and when she is not writing she enjoys spending time in her flower gardens and cooking healthy meals for friends and family.
Tell us about your newest book.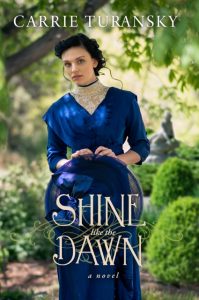 My newest novel is Shine Like the Dawn. In a quiet corner of northern Edwardian England, Margaret Lounsbury diligently works in her grandmother's millinery shop, making hats and caring for her young sister, Violet. Several years earlier, a terrible event shattered their idyllic family life and their future prospects. When Maggie discovers her father's journal she begins to wonder if what happened to her family might not have been an accident.
Maggie's childhood friend, Nathaniel Harcourt, returns from serving in the Royal Navy and inherits his father's estate, Morningside Manor. He also assumes partial control of his father's engineering company and the duty of repaying an old debt to Maggie's family. But years of separation between Nate and Maggie have taken a toll, and Maggie is uncertain if she can trust her old friend, especially when his family may be tied to the tragedy that changed the course of her life. Can Maggie let go of the resentment that keeps her from forgiving Nate–and being reconciled with God? Will the search for the truth about the tragedy draw the two friends closer or leave them both with broken hearts?
What genre do you focus on and why?
I enjoy writing both contemporary and historical romance, but historical is my favorite. All my novels have inspirational themes woven into the story. I'm a romantic at heart, and I believe in happy endings. I love to show how my characters grow in their faith as they go through trials and conflicts.
Why do you write? What drives you?
I love the creative process of writing and using my imagination this way. I also want to encourage readers to see how faith is practical and God is at work in our lives and our world. Storytelling has a way of reaching into people's hearts and minds. God can use a well-written novel to touch people and draw them closer to Him. That's one of my goals when I write.
Who is your main character, and how did you choose that name?
The heroine of Shine Like the Dawn is Margaret (Maggie) Lounsbury. She is young woman who has suffered a great loss, but she is determined to care for her sister and grandmother. I liked writing a character who needed to come to grips with some hard questions and work through those. I chose her first name by looking through the list of popular names for baby girls born the same year as Maggie. Her last name is the English family name of my dear friend and fellow author Cathy Gohlke. Her stories about her English grandmother always touched my heart, and I wanted to use her name for my heroine.
What does a day in your writing world look like?
I'm blessed to be working at home, and we are at the empty nest stage. So my day is my own. I do help my husband with ministry needs, and we both are in touch with our five adult kids most days. After I get my day started, I head for my desk in the corner of our dining room. I check email, then jump into my writing. I use a weekly word count to help me stay on track to reach my deadlines. In the evening I work on promotion and relax with my husband . . . unless I'm close to my deadline and hustling to finish a story.
What is the hardest part of being an author? Why?
One of the challenges is spending so much time alone, focusing on my book projects. Saying no to friends' invitations is hard too. I try to balance it out, but sometimes people don't understand I am working at home even if I'm not away at an office. Fortunately I am blessed with some wonderful understanding friends, and I always squeeze in time with them.
What's the best part of your author's life? Why?
The best parts are the connections I make with other writing friends and seeing my books in print. It's also wonderful to hear from readers who have been touched by one of my novels. That's always a great encouragement.
What is the craziest thing you've experienced as an author?
One time I boarded an airplane in California to fly home to New Jersey, and the women seated next to me was reading one of my books. I was so surprised I said, "That's my book!" She thought I meant she'd taken my book. I laughed and explained I was the author of the book she was reading. We had a fun visit during the flight, and I signed her book for her.
What are you most proud of?
I'm the most proud of my family and the way God is at work in our lives. We have five adult children and five grandchildren. It's great to see them enjoying their own families and careers. My husband is a wonderful guy. I am so grateful for him and the way he has invested in our family all these years.
What is your favorite pastime?
I enjoy reading, gardening, traveling, cooking, and spending time with friends. It's too hard to choose just one!
Do you have other books? We'd love to know.
Yes, I've had several novels and novellas published: Six novella collections, five Love Inspired novels, four English historical novels, and a two Indie novellas. Reading friends will probably be most familiar with my Edwardian Brides Series: The Governess of Highland Hall, The Daughter of Highland Hall, and A Refuge at Highland Hall.
What are you working on now?
I just turned Across the Blue, which is set in Edwardian England and is about an aviation pioneer and the girl who falls in love with him. It's filled with romance, adventure, and faith. Isabella Grayson, the eldest daughter of a wealthy, English newspaper magnate, longs to become a journalist, but her parents don't approve.
When James Drake, an aspiring aviator, crashes his flying machine at the Grayson's new estate, Bella is intrigued. James wants to win Bella's heart, but his background and lack of social standing make it unlikely her parents would approve. If he fails to achieve his dream, how will he win the love and respect he is seeking? Will Bella's faith and support help him find the strength and courage he needs when unexpected events turn their world upside down?
Website: http://carrieturansky.com/
Link to book: http://carrieturansky.com/index.php/books/
Social media links:
Facebook: https://www.facebook.com/authorcarrieturansky/?
Pinterset: https://www.pinterest.com/carrieturansky/boards/
Twitter: https://twitter.com/carrieturansky?
GoodReads: https://www.goodreads.com/author/show/247470.Carrie_Turansky
SaveSave
Follow me on social media!