Meet YA author Carrie Looper Stephens
Carrie Looper Stephens first created the Vickland Trilogy when she was 13 and she's loved telling stories ever since.  She also loves gardening, hiking, reading, and rescuing cats. She lives in South Carolina with her husband Daniel, daughter Elanor, and two cats, Chrono and Marle. The Zenia Wood is the first book in the trilogy.
Tell us about your newest book.
Gwyn has always been focused on fitting in with the popular girls in her idyllic seaside town. But when a hooded stranger alerts her to her parents' danger, survival becomes her goal. After finding her parents murdered in their own home, Gwyn and her brother scramble to escape the killer—the notorious Black Wizard.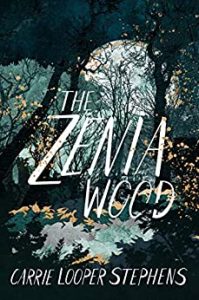 Desperate to break away from his father's scrutiny and criticism, the prince of Vickland—Heron Oakheart—escapes into the mysterious Zenia Wood. There, he meets Bromlin. The eccentric old man tells the prince a dark secret about his father and forces him to question everything he knows.
Thrown together by chance, Heron and Gwyn begin to unravel the dark plots surrounding them. Facing dragons, witches, and dark magic, Gwyn and Heron have no choice but to cling to their courage if they are to survive. Can they outwit their cunning opponents and rescue Gwyn's brother from a castle prison before it's too late?
What inspired you to write The Zenia Wood?
Growing up, I read voraciously and had an active imagination. The Zenia Wood began as a story I told my siblings on rainy days and long road trips, or when I was supposed to be doing homework. As I grew up and started writing down the series, many teachers and parents told me they found it difficult to find clean fiction for their students and children. I realized I had found my calling: writing a well-told, clean, adventure story.
How would you describe this book to someone in a 30-second blurb?
Two siblings, Gwyn and Martin, are on the run from their parents' murderer, the Black Wizard. When Martin is kidnapped, Gwyn must find her way to the Uziel Mountain to rescue him. A runaway prince, Heron, comes face to face with a dark side to his father, the king of Vickland. He and Gwyn are forced to work together to survive, and try to rescue Martin from the clutches of the Blood Witch.
What genre do you focus on and why?
My genre is Young Adult Fantasy. I enjoy this genre because I used to imagine I could escape to magical worlds. I often wanted to run away and retreat into my daydreams, where I created different worlds, worlds where I could be free to be me. Worlds where I was the strong hero, esteemed and popular, and loved and admired.
Why do you write?
I know it's cliché to say I write to express myself, but it's true. During periods in my life when I couldn't make the time to write, I felt bottled up on the inside, words, confusion, and stress swirling in my heart. But when I finally had a chance to write (either through my journal or the Vickland Trilogy), the words poured out on the page, as if they had a mind of their own. After I write, peace and satisfaction fill me. I am so grateful God has given me an outlet to express myself.
Who is your main character, and how did you choose that name?
Gwyn is my main character in the Vickland Trilogy. I have always had a fascination with names and their meanings. My parents had a baby name book, which I often poured over. I kept coming back to the name Gwyn. It sounded strong, mystical, and feminine, but not frilly. Which is Gwyn in a nutshell.
What is your work schedule like when you're writing a book?
I like to think of my title as "Mom by day, Writer by nap time." I write during Elanor's nap times, and sometimes in the evenings after she goes to bed. My husband is also kind to have daddy daughter dates with Elanor some Saturdays, which gives me time to write. I will admit, it is really hard for me to get into what I call "the writing zone" now days. The writing zone is when I get tunnel vision, my fingers flying furiously over the keyboard as I enter the magical world of Alastar. I usually only get about 30-60 minute chunks of time throughout the day, so entering the writing zone is difficult. But I keep reminding myself that my husband and daughter are more important than my book. The writing will get done eventually, but my time with my family is more important.
What is the hardest part of being an author?
Promotion. I know some authors enjoy this, but I am not a salesperson personality. I also do not like social media, because it can suck away time that would be better spent with my family or writing.
What's the best part of your author's life?
Writing and editing. I love falling into Alastar and interacting with the characters, watching them develop on their own. I do not create my characters. They create themselves. I have tried to control and manipulate them, but they only rebel and become who they want to be.
What's one unusual fact about you?
I love rescuing cats. Throughout my life time, I have rescued 4 cats. We currently only have two cats, one whom Daniel and I rescued in 2018. Someone had just thrown her out on the side of the road as a teeny kitten. I have a dream of starting a cat rescue mission someday. I wish all the kitties in the world could have loving, safe homes.
How have you changed or grown as a writer?
I used to be so proud of my writing that I would get defensive when I received critique. But all that changed when I joined a writers' group. In writers' group, a group of people read their stories out loud, and then we comment on the writing pieces. It was quite intimidating, and at least once I cried after I left. But through the loving criticism of my friends, I grew as a writer. I would not be where I am today without being part of my writers' group. A writer cannot write alone. We need input from others.
What is your favorite pastime?
Spending time with my family. I am such a homebody. I love taking walks with Daniel and Elanor, reading books, playing with Elanor, and spending time with Daniel once Elanor is in bed.
What are you working on now?
I am currently working on rewrites and edits for Book 2 in the Trilogy! Of the whole trilogy, Book 2 is my favorite. I love the story, the character interactions, and the journey.
Website: https://www.carrielooperstephens.com/
Link to book: https://www.amazon.com/Zenia-Wood-Carrie-Looper-Stephens/dp/1645262340
Social media links:
https://www.facebook.com/carrielooperstephens/
https://www.instagram.com/thetaleofvickland/
https://www.goodreads.com/author/show/19655477.Carrie_Looper_Stephens
Follow me on social media!