Meet author Lori Hatcher
Lori Hatcher is the author of several devotional books including  Refresh Your Faith – Uncommon Devotions from Every Book of the Bible, and Hungry for God … Starving for Time, Five-Minute Devotions for Busy Women , the 2016 Christian Small Publisher Book of the Year. The editor of Reach Out, Columbia magazine, she's also a blogger, writing instructor, and inspirational speaker. Lori's goal is to help busy women connect with God in the craziness of everyday life.
Tell us about your newest book.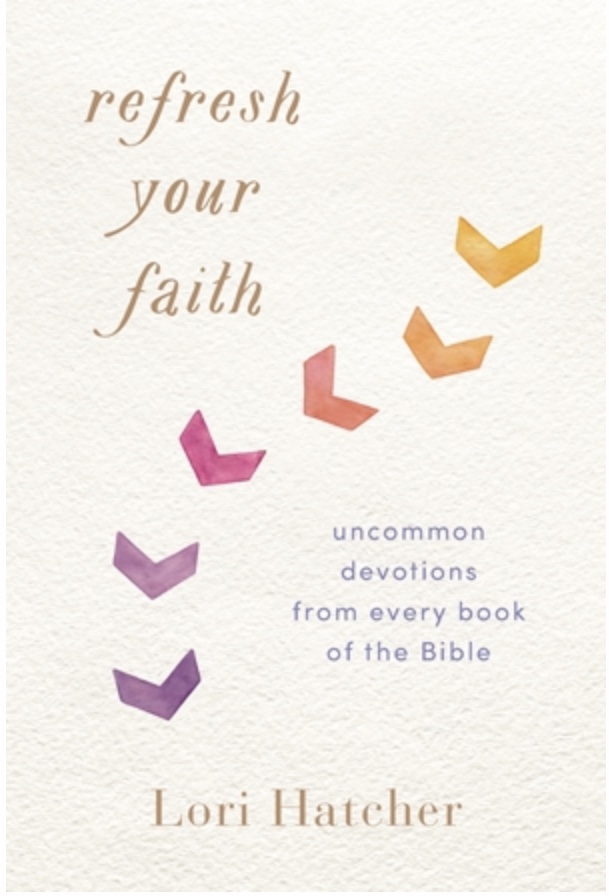 It's called Refresh Your Faith, Uncommon Devotions from Every Book of the Bible.
What inspired you to write Refresh Your Faith?
I knew that a daily quiet time was important to my spiritual growth, but I'd grown increasingly disappointed by most of the women's devotionals. They all seemed to focus on the same 20 or 30 Bible verses, ones I was very familiar with, like the Top Ten of Bible stories. Surely there must be more to the Bible than this, I thought. So I began a journey through the entire Bible looking for uncommon verses pregnant with relevance and truth. The result was a collection of 66 uncommon devotions.
How would you describe this book to someone in a 30-second blurb?
Refresh Your Faith is for people who have become bored with their devotional time. The book contains 66 culturally relevant, story-driven devotions, one from each book of the Bible. Each real-life story spotlights an unusual verse or Bible passage that you may have overlooked in your usual Bible reading. It contains an unusual faith action step and an unfamiliar passage suggestion for additional Bible reading.
When the fabulous has become familiar and your quiet times are more like nap times, it's time to step out of spiritual boredom and ignite the spark that will keep you growing.
What genre do you focus on and why?
I'm a devotional writer. I love to help people discover dynamic truths in the Bible that can change their lives.
What is your work schedule like when you're writing a book?
I work two days a week as a dental hygienist, and I spend at least one day a week with my four grandchildren, so that leaves Mondays and Tuesdays for my writing life. When I'm writing a book, I try to write two chapters (devotions) a week in addition to writing for my blog, freelance writing, and editing the Christian magazine I work with.
What is the hardest part of being an author?
Finding the balance between serving God, serving my family, working, writing, and resting. There are so many ways to spend our lives. I want to spend it in a way that honors God and fulfills His purposes for me.
What's the best part of your author's life?
I love hearing from readers who say that something I've written has drawn them closer to God.
What's one thing your readers should know about you?
I hate coffee. Please don't shun me.
What's one unusual fact about you?
Although I've lived in South Carolina most of my life, I grew up in Bristol, a tiny seaside town in Rhode Island. I began my writing career composing long poems of unrequited love on the shores of Narragansett Bay.
How have you changed or grown as a writer?
I've learned to pray and ask God for everything I need. Direction, inspiration, artistry, opportunities, and skill. Philippians 4:19 tells us He will supply all we need according to his riches and glory. It's exciting to experience that.
What is your favorite pastime?
I love to take long walks in scenic places. Lots of thinking space there.
Do you have other books? We'd love to know.
Yes! Hungry for God … Starving for Time, Five-Minute Devotions for Busy Women , the 2016 Christian Small Publisher Book of the Year
What are you working on now?
A new devotional book called One Word, spotlighting a single word from each book of the Bible and pairing it with a five-minute devotion written especially for women. Simple in format yet rich in content, each reading begins with a life-giving word from God's Word and goes deeper, giving women a singular concept to cling to, meditate on, and apply to their lives.
Social Media Links:  blog, Hungry for God. . . Starving for Time . Connect with her on Facebook, Twitter(@LoriHatcher2), or Pinterest (Hungry for God).
Follow me on social media!