Meet author Diane Stortz
Diane Stortz loves to create engaging books based on the Bible that children want to return to again and again. She lives with her husband of 42 years, Ed, in Cincinnati, OH. They have two married daughters and five young grandchildren—all boys!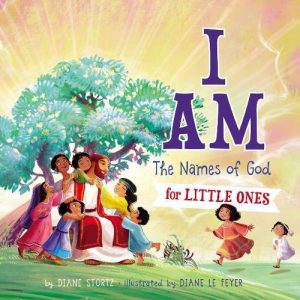 Tell us about your newest book.
I AM: The Names of God for Little Oneshas short Bible stories, verses, and prayers help toddlers and preschoolers get to know God by discovering the meaning of twelve different names for God, such as Creator, Savior, Healer, Teacher, and Friend. It's an 8×8-inch board book with a padded cover.
What genre do you focus on and why?
Mostly Bible-based books for children. I love connecting children with God's Word.
Why do you write? What drives you?
I'm all about making God's wonders known to the next generation. My mission is to help people get to know God through His Word, the Bible. I believe everything about our life with God flows from there.
What does a day in your writing world look like?
I'm not very good with routines, so every day is different. I might get up early to work or stay up late. You might find me in my office or at the kitchen table if I need a change of scene.
What is the hardest part of being an author? Why?
Probably the isolation. I'm an introvert, but even introverts need to be around people sometimes!
What's the best part of your author's life? Why?
I really enjoy meeting parents and children at book shows and other events. I love seeing children's eyes light up when they first spot my books and their beautiful covers.
What is the craziest thing you've experienced as an author?
My grandson's preschool teacher came to my book launch party and signing this summer and bought fifteen books—for the preschool and for family and friends. She had me sign them all.
What are you most proud of?
My books have been translated into Korean, Arabic, Spanish, Finnish, and Africaans. That's pretty amazing to think about.
What is your favorite pastime?
I enjoy being outdoors, and I love spending time with my five grandchildren—all boys!
Do you have other books?
I do! The Sweetest Story Bible and The Sweetest Story Bible for Toddlers(Zonderkidz), Words to Dream On: Bedtime Bible Stories and Prayer, Say & Pray Bible, Say & Pray Devotions, I AM: 40 Reasons to Trust God, I AM Devotional (Tommy Nelson), Baby, Baby!(Worthy Kids/Ideals), Parents of Missionaries(IVP), A Woman's Guide to Reading the Bible in a Year (Bethany House)
What are you working on now?
I'm working on a 365-day devotional through the Bible for women that Bethany House will publish in September 2019.I also have a 52-week devotional for busy families coming out in February 2019, with short, active Bible stories, think-and-talk questions, and fun follow-up activities.
Website: www.DianeStortz.com
Link to book: http://www.dianestortz.com/books/i-am-the-names-of-god-for-little-ones/
Social media links:
https://www.facebook.com/diane.stortz.books/
https://twitter.com/DianeStortz
Follow me on social media!