Let's Meet Addi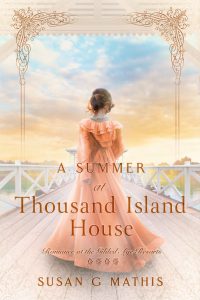 In my latest Thousand Island Gilded Age story, A Summer at Thousand Island House, Addison Bell (Addi), is my protagonist. Here's a little excerpt from the story so you can get to know her a little. Enjoy!
Addi's nerves got the better of her, and her tongue took flight. "I'm sorry I'm tardy, sir. The horse threw a shoe on the way here, and the wagon went into the ditch, and Mr. Stevens didn't know what to do, but then a farmer helped us out, but …"
Mr. Donovan held up his hand to stop her chattering but cast her a kind smile. He took the carpetbag from her and motioned for her to enter the pavilion. "It's all right, miss. This is your day to settle in and prepare for the rest of the summer. You've no children waiting."
"Thank goodness." Addi sighed loudly, adjusting her teetering hat.
Once inside, Mr. Donovan paused in the foyer and tipped his head, assessing her from her still teetering hat to her scuffed boots. "Aye, this is the Thousand Island House recreation pavilion, where you will spend the next several months caring for our patron's children. I must say, your recommendation was quite glowing, especially from my crotchety old friend, Alvin Sanderson. But I didn't expect someone so young to be so accomplished, and from Watertown Center?"
"I'm twenty-four, sir. I've taught up to eighteen children concurrently for the past five years. All ages. All temperaments. And I have to tell you that some of those students, especially the older ones, gave me great consternation. But I overcame their podsnappery with determination and grit." Addi stood as tall as her small frame would rise and lifted her chin.
Mr. Donovan chuckled, wiping the mirth away with the sweep of his hand. "Your enthuzimuzzy is commendable, miss, but quite unnecessary. The former nursery teacher in your position, Mrs. Randolph, barely got off her perch 'cept when it was a matter of life and death. Nevertheless, the parents and children appreciated her grandmotherly ways."
Addi harrumphed, and a small snicker escaped her lips. "I, sir, am not a grandmother, and I believe children are to be given all the fullness of experiences available. Music. Dance. Sports. Nature. Games. Play. And a good dose of God."
"Blathers! You misunderstand. We didn't hire you to teach school. You'll be caring for four-to-seven-year-olds. Mere babes out of diapers." Mr. Donovan sucked in a breath.
"Oh, I don't plan to drill them in the three R's." Addi shook her head. "I simply want to expose them to a wealth of experiences while they're under my care."
She stood her ground and turned her attention to the pavilion signs just beyond them—Game Room, Billiard Room, Bowling Alley, Children's Nursery, Men's and Women's Bathing
Room, Swimming Pool, and Dancing Pavilion. The choices made her head swim. How could one choose from such lavish entertainments?
Follow me on social media!