Janet Bly on Western Mysteries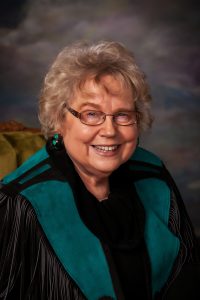 Author and co-author of forty fiction and nonfiction books, Janet Bly is the widow of award-winning western author Stephen Bly. Mother of three married sons; grandmother of four; g-grandma of three. Janet and her sons finished Stephen's last novel as a family project, Stuart Brannon's Final Shot, a Selah Award Finalist.
Tell us about your newest book.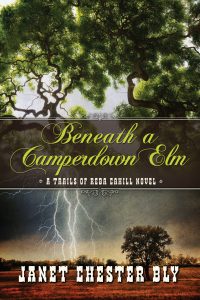 It's 1991. In Beneath a Camperdown Elm, Book 3, Trails of Reba Cahill Series, cowgirl Reba finally completes her most ardent desires. Her scary stalker is locked up in a California jail. She finally found a rancher fiancé and looks forward to her country wedding. And at long last, she's bringing her runaway mother back home to Road's End, Idaho. But is Grandma Pearl about to ruin everything? This contemporary western mystery with more than a touch of romance traces the journeys of the heart of three generations of Cahill women.
What genre do you focus on and why?
My fiction centers on contemporary western mystery, adventure, and a touch of romance, to complement my husband's western genre and to reach out to his base of reader fans.
Who is your main character, and how did you choose that name?
Reba Mae Cahill is a 25-year-old cowgirl, named after the country singer and actress, Reba McEntire. My Reba also has red hair, plays guitar, and sings at her little country church.
What is the hardest part of being an author? Why?
Writing can be challenging, but it's also cathartic and satisfying to create stories from imagination and experiences. I love to write. However, the marketing side of the process can be daunting, draining, and very disappointing. So many books out there. So much competition. And fewer readers than ever. But writing without marketing is like winking in the dark. I know what I'm doing, but nobody else does.
What's the best part of your author's life? Why?
I've often heard from people in various parts of the country and all over the world that they've found some Bly books in out-of-the way stores and waiting rooms, home shelves and libraries, and even places like hospitals, care-homes, and prisons. In addition, what a privilege to leave such an inheritance to our future generations. All the hardship becomes worthwhile knowing we've invested enjoyment and inspiration for untold future readers.
What is the craziest thing you've experienced as an author?
The many times we've almost gotten within an inch of a movie or TV contract or been that close to collaborating with a really famous person.
What are you most proud of?
That we've been able to offer clean, family friendly, yet highly entertaining novels full of various different kinds of gritty or humorous adventures.
What is your favorite pastime?
Music. Singing in and directing the choir, doing solo and duet specials, and being part of worship team at small local church.
Do you have other books? We'd love to know.
Other fiction novels include Wind in the Wires, Book 1, Trails of Reba Cahill; Down Squash Blossom Road, Book 2, Trails of Reba Cahill; The Hidden West Series; The Carson City Chronicles; and The Crystal Blake Series (9-14 yrs). All available at our Bly Books.com website or Amazon.
My family and devotional books include Hope Lives Here, God Is Good All The Time, Managing Your Restless Search, and Awakening Your Sense of Wonder.
What are you working on now?
Re-releasing as many of my late husband's out-of-print books as possible into ebooks, paperback, and audio editions.
Website:  www.BlyBooks.com
Link to book series & free sample chapters:
https://www.blybooks.com/genre/contemporary-fiction/
Social media links:
Facebook Author Page: https://www.facebook.com/BlyBooks/
Facebook Personal: https://www.facebook.com/janetchesterbly/
Twitter: https://twitter.com/BlyBooks
Pinterest: https://www.pinterest.com/janetcbly/
Goodreads: https://www.goodreads.com/author/show/269265.Janet_Chester_Bly
Google Plus: https://plus.google.com/+JanetBly/posts
LinkedIn: https://www.linkedin.com/in/janetchesterbly
Follow me on social media!