Brandy Bruce on disappointment
Brandy Bruce is a writer, a book editor, a mom, a wife, and someone who really loves dessert! She's the author of the award-winning novel The Last Summer, Looks Like Love, After the Rain, and The Romano Family Collection. Brandy, her husband, and their children make their home in Virginia.
Tell us about your newest book.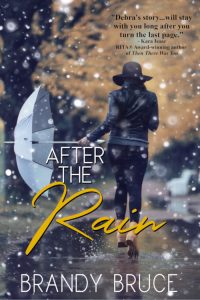 My newest novel is titled After the Rain and releases February 4th! I'm so excited about it. This novel is a follow-up novel to my last release, The Last Summer, but it can stand alone. It's a picture of what it looks like when someone faces a devastating life disappointment and maybe can't move on without help. It's for anyone who's ever wondered, What do I do now?
What genre do you focus on and why?
I write inspirational women's fiction with a heavy dose of romance. And really, I guess I write in that genre because those are the kinds of stories that have come to me so far. I enjoy stories that are female-character-driven, and who doesn't like a good love story? I'm open to writing in other genres if I get an idea for a story I can't let go of.
Why do you write? What drives you?
I've been writing since I was about twelve years old. It stemmed from my love of reading. I'd read stories and want to create my own. The love for it is just who I am. I've been a book lover ever since I can remember, even when my mother would read picture books or children's stories to me.
Who is your main character, and how did you choose that name?
My main character is a woman named Debra Hart. The name came to me years and years ago, when I first got the idea for The Last Summer. That novel is centered around seven friends. All seven of those characters came to me almost at once. Each was important to the story from the very beginning. Only two of the names of that group changed over time, as I wrote and rewrote the story. Debra wasn't one of them. This character has always been Debra.
What does a day in your writing world look like?
I have three kids so life can be busy! And I work as a freelance editor, so when I have a project, my own writing has to wait. But when there's time and I have a good idea, I like to write whenever I can. After the kids go to bed. Mid-morning when my youngest is watching cartoons. Whenever!
What is the hardest part of being an author? Why?
Finding inspiration to write and battling insecurity over whether what you're writing is any good.
What's the best part of your author's life? Why?
Seeing your words in print. There's nothing like it.
What is the craziest thing you've experienced as an author?
I was checking reviews online once for The Last Summer and saw a review from another author I've never met, but I love her books. That was crazy awesome.
What is your favorite pastime?
Binge-watching TV shows with my husband!
Do you have other books? We'd love to know.
Yes! I've mentioned The Last Summer. I also have a three-book series repackaged into The Romano Family Collection. Those are foodie novels, with a side of romance. And my first novel is available as well on Amazon, it's titled Looks Like Love and remains my favorite!
What are you working on now?
Right now I'm just working on promoting After the Rain. I have an idea for a novel but I'm waiting for real inspiration to hit!
https://www.amazon.com/After-Rain-Brandy-Bruce/dp/194601673X/ref=sr_1_2?ie=UTF8&qid=1547246875&sr=8-2&keywords=After+the+rain+brandy
Https://authorbrandybruce.com
https://brandybruce.blogspot.com
https://twitter.com/BrandyBruce
Instagram: @ALittleBitofBrandy
https://www.facebook.com/authorBrandyBruce/
https://www.pinterest.com/brandybruce/
Follow me on social media!