Meet Liz Tolmsa
Liz Tolsma is the author of several WWII novels and prairie romance novellas. She is a popular speaker and an editor and resides next to a Wisconsin farm field with her husband and their two daughters. Her son is a U.S. Marine. She enjoys reading, walking, working in her large perennial garden, kayaking, and camping.
Tell us about your newest book.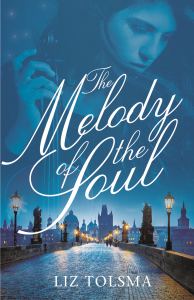 It's 1943 and Anna Zadok, a Jewish Christian living in Prague, has lost nearly everything. Most of her family has been deported, and the Nazi occupation ended her career as a concert violinist. Now Anna is left to care for her grandmother, and she'll do anything to keep her safe—a job that gets much harder when Nazi officer Horst Engel is quartered in the flat below them.
Though musical instruments have been declared illegal, Anna defiantly continues to play the violin. But Horst, dissatisfied with German ideology, enjoys her soothing music. When Anna and her grandmother face deportation, Horst risks everything to protect them. Anna finds herself falling in love with the handsome officer and his brave heart. But what he reveals might stop the music forever.
What genre do you focus on and why?
My passion is for WWII fiction, because there are so many untold stories that are in danger of dying away with the Greatest Generation. My desire is to dig deep and bring these stories to light before they are lost forever. My generation and the generations to come must understand what happened
Why do you write? What drives you?
The stories in my head LOL! Every since I was small, I've loved to make up stories and pretend about far away places. And they keep coming. I don't have enough years left in my life to write all that's in my head.
Who is your main character, and how did you choose that name?
The heroine is Anna Zadok. My mother's family is Slovak, and my great-grandmother's name was Anna. I know much more about my father's side of the family, so when I started to write this book, it also took me on a journey to get to know my mom's ancestors.
What does a day in your writing world look like?
I usually write in the morning with a goal of around 2000 words – about a chapter. After lunch, I work on social media and editing. I try as hard as possible to be done about five when the rest of my family comes home so I can spend some time with them.
What is the hardest part of being an author? Why?
All the social media. I find it hard because I don't understand much of it. I was never taught anything about marketing in school, so I'm having to learn as I go.
What's the best part of your author's life? Why?
The thrill of meeting my readers and hearing how my stories touched their lives. There's nothing better than knowing that your words impacted someone's life.
What is the craziest thing you've experienced as an author?
The first time someone, having recognized me, came up to me exclaiming, "Ooo, Liz Tolsma, you're Liz Tolsma. I love your books. Can we get a picture together?" That was wild.
What are you most proud of?
I'm most proud of not giving up on my dreams, slogging through the times of doubt, and becoming a published author.
What is your favorite pastime?
Reading, of course! I also love walking and gardening. They're right up there. But give me a beach and book, and I'm a happy girl!
Do you have other books? We'd love to know.
I have three other WWII books currently out – Snow on the Tulips, Daisies Are Forever, and Remember the Lilies. I also have four novellas out, another one coming in February, an Amish romance, The Amish Widow's New Love, releasing in May, and the next one in this WWII series, What the Heart Sings, coming out in August. Yes, I've been busy!
What are you working on now?
I'm just starting book three in this series. It has the working title The Music Within and is set in Hungary during the war.
Website: www.liztolsma.com
Link to book:
Social media links:
Facebook: https://www.facebook.com/liz.tolsma.9
Twitter: https://twitter.com/LizTolsma
LinkedIn: https://www.linkedin.com/in/liz-tolsma-64992ab7?trk=hp-identity-name
Pinterest: https://www.pinterest.com/liztolsma/
Instagram: https://www.instagram.com/authorliztolsma/
Book Trailer: https://www.youtube.com/watch?v=aaj5gp7Yvk4
Follow me on social media!