Meet Mary Hamilton
As a child, Mary L Hamilton wasn't afraid of monsters under the bed. But the man she imagined hiding in her closet kept her awake many nights. Since then, she's imagined plenty of other scary situations on which to base her cozy mystery stories. Mary also likes doing non-scary things like knitting, spending time with her family and photography. She and her husband live in Texas in a house with secure closets.
Tell us about your newest book.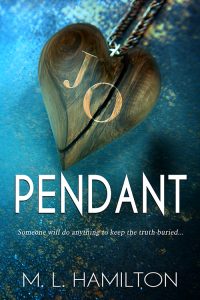 Pendant is a mystery/suspense novel about a Chicago teacher who lost her job, her friends and her confidence when her student disappeared from a field trip and was never found. Years later, she stumbles across a vital clue, and discovers someone is desperate to keep the truth buried. When her life is threatened, she allows the one person she trusts to whisk her away to safety in Texas. But assuming a false identity and hiding among the quirky residents of a retirement home is not what she had in mind. Now she must solve the mystery from afar, as soon as she figures out if her friend is keeping her from danger…or the truth.
What genre do you focus on and why?
While my previous books were middle grade and YA, I'm now enjoying writing cozy mysteries that include a generous amount of women's relationships. The murder/crime angle has been a surprise (especially to my husband), but as a kid, I loved reading mysteries and of course, I grew up on all the 1970s police/detective shows on television. In addition, my mind tends to worry about danger and this is a way for me to work out those fears.
Why do you write? What drives you?
I've never been a conversationalist. I communicate much better in writing than speaking. As to what drives me, it's the way God wired me up. Even as a kid, I'd want to write about the things that happened to me, either to chronicle them or use them as a springboard for a fictional story. It's just the way I am.
Who is your main character, and how did you choose that name?
Elaine Sutterfeld is the main character in Pendant. I wanted a name that could be shortened to a nickname used by her husband, but not a common sort of nickname. Elaine worked, because I could hear him affectionately calling her Laney.
What does a day in your writing world look like?
I tend to rebel against strict schedules so unfortunately, I can't seem to get myself into a definite time for writing. I try to write in the morning, and again in the afternoon, but if I'm building plots and characters and not actually working on a draft, I'm afraid I tend to let grocery shopping and laundry and other things get in the way of working on my story.
What is the hardest part of being an author? Why?
For me, the hardest part of being an author is writing that first draft. I'd like to be an outliner, and be able to see the story from beginning to end as I write it. But I find I'm a bit of a pantser as well, because at times, I need to write to figure out how a character reacts. The first draft takes me a long time to write, but hopefully, I'll become more efficient the more stories I write.
What's the best part of your author's life? Why?
The best part is when readers tell me they enjoyed my book, that they felt like they were right there with Elaine. It makes all the hair-pulling and gnashing of teeth during that first draft worthwhile.
What is the craziest thing you've experienced as an author?
I often do my plotting in my head while exercising in the morning. I'll go out to a park before sunrise and walk/run. The darkness keeps me from getting distracted and the extra oxygen stimulates my thinking. When I was working on my second kids' book, I was out at the park one morning and I "saw" the climax in my head. It played out as if I were watching a movie. I made one little change in characters when I wrote it, but otherwise, it was exactly the way it came to me. I wish that would happen with all my stories!
What are you most proud of?
I am most proud of my family. My three kids are grown and on their own now, but it's such a joy to be with them. They are all very different from each other, but they appreciate each other's talents and I love to hear them banter back and forth.
What is your favorite pastime?
We live near a reservoir lake, and my husband and I often drive over to watch the sunset. We take lots of pictures of the cloud textures and the different shades of light reflecting off the clouds and water as the sun sinks below the horizon. I have way more sunset pictures on my phone than pictures of my kids!
Do you have other books? We'd love to know.
Pendant is my first mystery, but my other three books (Hear No Evil, Speak No Evil, and See No Evil) are a series for ages 10 and up. The Rustic Knoll Bible Camp series is about a group of teens who bring their "baggage" to summer camp and learn better ways to carry it. I grew up at a camp, so a lot of my own experiences went into those books. I like to say they make summer camp so real, you can smell the campfire. No bug spray needed.
What are you working on now?
I'm working on another cozy mystery that will use a shooter situation to bring about racial understanding between two women.
Website: www.maryhamiltonbooks.com
Link to book: http://amzn.to/2phoz1q
Social media links:
www.Facebook.com/maryhamiltonbooks
www.Pinterest.com/mhamiltonbooks
www.Instagram.com/mlhamiltonauthor
Follow me on social media!