Meet Leann Harris

Leann is the author of 20 published novels, 18 with a traditional publishers and 4 books as an Indie author. She is a founder of both DARA and Ready Writers, local writing groups. She is a teacher of the deaf, who taught math to high school deaf students. An active gardener, master composter, who works out plot questions while pulling weeds in her garden. She is also a cancer survivor.
Tell us about your newest book.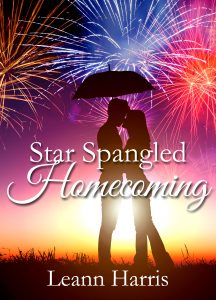 Star Taylor goes home to finish her degree in astronomy at McDonald Observatory in West Texas. The first person she runs into his her high school sweetheart, Bart Hays coming out of her father's barn. Her father had an accident, and Bart drives her to the hospital. Later that day, Bart comes back to the hospital with his 5 year old son, Tanner. Bart's a widower. As Star works on her dissertation, she keeps running into Bart and Tanner. Love blooms again, but Grandma Hays doesn't want her son to take up with his old flame. Can their love survive the obstacles this time? When Star is offered a position in Italy at an observatory, will she take the job or go home and marry the man and she loves? Can she ignore the years she's worked for her degree? Or is there another way?
What genre do you focus on and why?
I do inspirational romance and inspirational romantic suspense.
Why do you write? What drives you?
I have stories I want to share. You can share a truth in fiction that reaches people and shows them that God works in wonderful ways.
Who is your main character, and how did you choose that name?
Star Taylor is my heroine. She was born on the 4th of July and her parents named her Star. Her mother died shortly after Star was born.
What does a day in your writing world look like?
It used to write after breakfast doing half my daily quota, do lunch, then go to the gym. Since 2013 I've gone through two rounds of cancer, Hodgkin's Lymphoma and now non-Hodgkins Lymphoma. I'm 2/3 of the way through chemo. Now I'm just thinking of stories to do after chemo.
What is the hardest part of being an author? Why?
Sitting all the time.
What's the best part of your author's life? Why?
Having lunch with writer friends. My husband is a good guy, supports me, but understands nothing about the writer's life. He keeps up my webpage, but has to wrap his engineer brain around my writing world.
What is the craziest thing you've experienced as an author?
Finding the nerve to go down to the Dallas PD and interviewing several detectives in several locations. If I hadn't taken another writer with me, I don't know what I would've done. I've also interviewed detectives in a small town PD and several suburban police departments around Dallas.
What are you most proud of?
My books, and my grown children.
What is your favorite pastime?
Gardening. I love Irises and have a collection of them.
Do you have other books? We'd love to know.
Yes. I have 7 Love Inspired book and 4 Indie books. You go brain dead at the end of chemo. I remember the day when story came back to me. Years earlier I had a book that occurred to me, and my agent couldn't sell it. I prayed about it and I knew it wasn't that book's time. After the chemo and radiation to my head, I knew that was the time to rewrite the book that book. It's The Last Lie, my first Indie book.
What are you working on now?
I'm working on the story of the sister of the heroine of my last book, The Cowboy Meets His Match. Kai is half Navajo, half German, and is an award winning Cutting champion. When she moves to Fort Worth, she runs into grumpy cowboy who is trying to recover from a career ending injury which keeps him from returning to competing in rodeo. Kai works with his sister.
Website: www.leannharris.com
Social media links: https://www.facebook.com/authorLeannHarris/
Follow me on social media!