Meet author Linda Shenton Matchett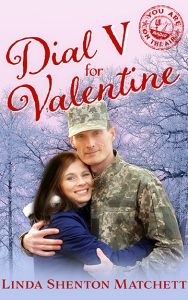 Linda Shenton Matchett writes about ordinary people who did extraordi
nary things in days gone by. A native of Baltimore, Maryland, she was born a stone's throw from Fort McHenry (of Star-Spangled Banner fame) and has lived in historical places all her life. She now lives in central New Hampshire where she is a works as a Human Resources professional and is a volunteer docent and archivist at the Wright Museum of WWII.
Tell us about your newest book.
Being part of the military is not just a job for Fergus Rafferty, it's a calling. He's worked his way up the ranks and doing what he loves best: flying Apache helicopters. The only thing that will make his life complete is marrying Celeste. After he transfers to a unit scheduled to deploy in three months, he's thrilled at the idea of marrying before he leaves so that they can start their new life. Except Celeste wants to wait until he returns. Can he convince her to wed before he leaves?
Celeste Hardwicke has just opened her law practice when she finally accepts Fergus's marriage proposal. Not to worry. She has plenty of time to set a date, then plan the wedding. Until she doesn't. But a quickie wedding isn't what she has in mind. Besides, why get married when the groom will ship out after the ceremony? When she stumbles on her great-grandmother's diary from World War II, she discovers the two of them share the same predicament. At an impasse, Celeste and Fergus agree to call into WDES's program No Errin' for Love. Will DJ Erin Orberg's advice solve their dilemma or create a bigger divide? One they'll both regret.
What inspired you to write Dial V for Valentine?
Last year, I helped curate an exhibit at the museum where I volunteer that included a wedding dress made from a parachute. I've also been archiving a lot of journals and diaries, mostly from servicemen and a few from the home front, so when I was asked to contribute to the series, those two things were still very much in my mind. Knowing I wanted to bring history into my story, I thought about handing down a wedding dress, then I wondered what might be in the bride's diary. During WWII, many couples married before the groom shipped out, but just as many waited until after the war. I decided to explore that dilemma and realized I could set up the same situation in a contemporary setting so my protagonist's situation would mirror that of her great-grandmother.
What genre do you focus on?
I love historical fiction. My two favorite eras to write about are WWII and post-Civil war. War is a pivotal event in history, no matter what era, and it greatly impacts the lives of people. Stories about how people act and react during these time periods intrigues me. To be honest, sometimes I think I was born in the wrong era.
Why do you write?
I've been writing stories since elementary school. My parents gave me a notepad and pens (probably to keep me out of trouble), and I fell in love with making up stories. I'm not sure what need inside me is fulfilled by writing, but it's my happy place. I love the whole process from research to final product. Even if I was never published, I would write.
What is your work schedule like when you're writing a book?
I work a full-time job, so my author life is very regimented. I'm always writing on a story. Monday through Friday, I'm at my computer by 5:30 AM and write until 7:00 when I need to get ready for work. I also write on Saturday mornings, but I start a little bit later. I work on blog posts, story outlines, and research a couple of nights a week.
What is the hardest part of being an author?
It's difficult to juggle all the pieces of being an author with having a full-time job. The marketing aspect, which includes social media, is challenging and time consuming. Sometimes, I feel like I'm meeting myself in the middle.
What's the best part of your author's life?
Immersing myself in imaginary worlds. I love considering the "what if" and the places where my characters live their lives. Holding the finished product is always thrilling, too, especially seeing how the cover designer interprets my story.
What's one unusual fact about you?
As I researched for my WWII mystery series, I took shooting lessons from a retired Army Captain.
What is your favorite pastime?
That depends on the season. During the summer, I kayak and try to get on the water every weekend. During the winter months, I love to snowshoe, but that's weather dependent. As I write this, we're getting the first good snow of the season, so with any luck, I'll be on the trails tomorrow. Any time of year, I love to watch 1930s and 1940s movies, especially ones that feature William Powell.
What are you working on now?
I'm currently writing Dial S for Second Chances, my other contribution to the "You are on the Air" series, that will release in August 2023. It is also contemporary but reaches back to the 1970s because the story revolves around a class reunion. After that, I'll be writing Beryl's Bounty Hunter, a mail-order bride story set in the late 1870s. I'm also working on the outlines for two WWII stories that will go with my book Love at First Flight to create a trilogy.
Website: http://www.LindaShentonMatchett.com
Link to book: https://amzn.to/3J3ijSc
Social media links:
Facebook: http://www.facebook.com/LindaShentonMatchettAuthor
Pinterest: http://www.pinterest.com/lindasmatchett
YouTube: https://www.youtube.com/@lindamatchett
BookBub: https://www.bookbub.com/authors/linda-shenton-matchett
Goodreads: https://www.goodreads.com/author_linda_matchett
Follow me on social media!