Linda Wood Rondeau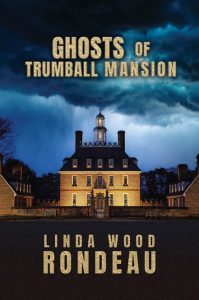 Award-winning author, Linda Wood Rondeau writes stories that grip the heart, inspired by her nearly thirty years of social work. When not writing or speaking, she enjoys the occasional round of golf, visiting museums, and taking walks with her best friend in life, her husband of forty-five years. The couple resides in Hagerstown, Maryland. Readers may learn more about the author, read her blog, or sign up for her newsletter by visiting www.lindarondeau.com.
Tell us about your newest book.
Why do the ghosts attack only him? Or is Henry Fitzgibbons insane? Lana Longstreet is his star author … and the nom de plume of his estranged wife. Though he still loves her, how can he live in a home where ghosts attack him at every turn? Maybe the time has come to officially end any obligation to his wife's Connecticut estate and be free from their torment.
Though she still loves her husband, Sylvia Fitzgibbons is tired of the charade of a marriage. She'd ask Henry for a divorce, but the children are planning an anniversary party in August, and she has a deadline for her Johnny Gallant suspense series in the same month. Then there are the decaying rose gardens, the only allure drawing Henry to the estate and her launch parties.
Henry agrees to help with the garden repair, but his hopes for a quick departure are smashed when Sylvia's housekeeper is injured. Unable to resist her femme fatale wiles, Henry is trapped for the duration. But as the couple draw on each other for support, the malignant forces within the home become increasingly aggressive. Something evil conspires against them that only Faith can conquer. Will they survive?
What inspired you to write Ghosts of Trumball Mansion?
While I personally do not believe in ghosts as the world believes in ghosts, I do understand that there are forces beyond human sight around us. The Christian need not fear as God is our protector. As I pondered how a marriage can disintegrate through neglect, selfishness, and ambition, I thought of Henry and Sylvia. Sylvia's impulsiveness to buy a supposedly haunted house in Connecticut put a strain on their marriage, though she believed the rumors to be false. Henry, however, encountered strange occurrences in the ballroom and his reports were ridiculed. Negativity and belittlement of one's partner can destroy a marriage.
How would you describe this book to someone in a 30-second blurb?
Are the ghosts real or a figment of his imagination? A romance writer and her publisher husband, estranged for fifteen years, spend a summer together in their Connecticut estate, rumored to be haunted. When reconciliation seems possible, the disturbances within the ballroom, previously only observed by Henry, become more aggressive. Is there a malignant scheme to keep the couple apart?
What genre do you focus on?
Most of my writing is fiction. I love to tell stories that inspire, encourage, and teach about the power of God to turn our worst pasts into our best futures. As for subgenre in fiction, I write in various forms. I do write some nonfiction—devotionals or books to encourage a deeper relationship with the Lord.
Why do you write?
Writing is my creative outlet. I've been fortunate to have books published. I write in the hope to inspire and encourage. I write to let readers know there is a God who loves and has purpose for them. I also worship when I write.
Who is your main character, and how did you choose that name?
My two main characters are Sylvia (aka Lana Longstreet) and Henry Fitzgibbons. I chose Sylvia's name as she is classy. She has a good sense of fashion and comes from an upper middle-class background. I chose Henry because, number one … I like Irish last names. Secondly, the name Henry makes me think of a latently strong man … but one who is unwilling to challenge what is. My Henry, though he loves Sylvia, is educated, and a man quieted by his past.
What is your work schedule like when you're writing a book?
That's a magic question. For me, one day is not like another. Married to a man who shoots from the hip and has no concrete plan from day to day, I have learned to plan with flexibility. I spend time in all the areas of importance: marketing, new writing, social media, learning, and mentoring to some degree each day. I will set goals, but I do not obsess on word count. I might set a goal of pages, finish chapter, rewrite chapter, listen on a read-aloud option, or other task depending on where I am in the manuscript. Since I'm retired, I am grateful for the flexibility to fulfil my passion and prioritize the people in my life who matter most.
What is the hardest part of being an author?
For me, I struggle with poor sales, though I do everything I can to market my books, hone my platform, and become more visible. Lately, I've been struck with the importance, however, of letting God take more control. The industry demands writer excellence in marketing. Yet the tasks and advice are based on world formulas. I've been praying for God to show me a different way … a way that glorifies him, not me. I find that marketing hurts my creativity. Failure to meet publisher expectations produces much doubt and feelings of letting God down. Sales are not the evidence of his presence in my work. I have had to learn to trust that he will orchestrate my efforts according to his plans … that the right words become visible to those whom he chooses.
What's the best part of your author's life?
There are many great aspects of my life as a writer. Of course, the best one is the privilege of using the talent God has given me to reach others. There are non-monetary benefits from writing such as a fellowship with other authors who greatly inspire me. This fellowship is like being in a large church of like-minded folks. There are opportunities for me to share what God has done for me. I also am grateful for the opportunities to mentor new and beginning authors.
What's one unusual fact about you?
I went to the same high school as Richard Geer but never knew until I saw a biography of him on television. I checked my old yearbooks. I was two grades ahead so our paths did not cross much. I was in select choir, and he was in marching band. Then there was the time I didn't recognize Michelle Obama when she entered the bookstore where I was doing a signing. I didn't know it was her until after she left. Oh, the missed opportunities.
How have you changed or grown as a writer?
In addition to improving craft, I have become more patient and have learned to trust the long game of my writing career.
What is your favorite pastime?
I enjoy doing many things, but my favorite activity is playing golf with my husband. I love the focus and concentration the game requires. And of course, I love spending time with my man.
Do you have other books? We'd love to know.
At this time, all my available books are with Elk Lake Publishing and are listed there as well as with Amazon. In addition to Ghosts of Trumball Mansion, my recent books include: Wolf Mountain Legacy (An Adirondack Suspense), Hosea's Heart, a contemporary general fiction with suspense elements, Who Put the Vinegar in the Salt (a nonfiction), and Selah-award finalist Miracle on Maple Street, a general fiction set in early 2000.  I expect a release of my devotional book, Lessons Along the Way sometime soon.
What are you working on now?
In addition to the second and third volume of Lessons Along the Way, I am working on another Adirondack suspense, Shadows Along Silver Creek. Sent to live with relatives following the murder of his mother by his father, Edison James returns after twenty-two years to the smalltown of memory at the request of his dying sister. He meets and falls in love with a local girl. He is curious as to why so much property in the town is being sold to an unknown company. Edison's ownership of the family cabin is in question, yet a realtor is suspiciously interested in the dilapidated property. As Edison begins to rebuild the cabin, he is beset by life-threatening occurrences including shadowy figures with seemingly malignant designs.
Website: www.lindarondeau.com
Link to book: https://www.amazon.com/Ghosts-Trumball-Mansion-Linda-Rondeau-ebook/dp/B09SH2LRSH/  or https://www.walmart.com/ip/Ghosts-of-Trumball-Mansion-Paperback-9781649495044/1634835899
Follow me on social media!