Meet author Becky VanVleet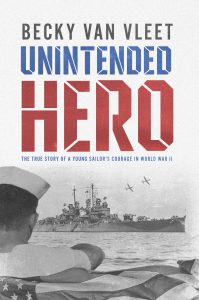 Becky Van Vleet is a retired teacher and principal and award-winning multi-genre author. She and her husband make their home close to Colorado Springs where she enjoys gardening, hiking, oil painting, power walking, and spending time with her family, especially reading books to her grandchildren. Becky has devoted her website to creating and preserving family memories and sharing family stories for the next generations through her blogs and newsletters. You can find her at: https://beckyvanvleet.com.
Tell us about your newest book.
Unintended Hero, my debut adult novel, was published in August 2022. And I'm still basking in the delight and joy of it all because I wrote this book to honor my father and all the other millions of Americans from the Greatest Generation who fought in WWII. My father's story centers around his experiences, adventures, and battles aboard the USS Denver, a cruiser he spent three years on in the South Pacific.
What inspired you to write Unintended Hero?
In 1990 my father, Walter Troyan, and I sat down at my kitchen table while I recorded his WWII stories. He agreed to do this so that we could have the family history for the grandchildren when they studied about the war in school. I never dreamed that my two cassettes would turn into a book 30 years later! With the recordings, ship deck logs, taking two research trips, and researching the war in general, I was able to bring all the pieces together to formulate a complete story, one that other WWII buffs could also read and enjoy and appreciate the history. I have a QR code on my website of a four-minute snippet about the Empress Augusta Bay battle, covered in chapter 21, from my father's original recording. I believe the Greatest Generation WWII stories can still speak to us today.
How would you describe this book to someone in a 30-second blurb? 
Unintended Hero represents the Greatest Generation with an inspirational message of sacrifice, teamwork, and patriotism.
What genre do you focus on?
In truth, I'm a genre hopper. I have written children's picture books, one adult novel, and I'm currently working on a devotional book. An editor friend asked me recently which genre did I like the best, where would I land. I didn't even have an answer for her because so far, I've enjoyed all three genres.
Why do you write?
I write to preserve family stories. That's what I'm passionate about. My published children's books and adult novel are all inspired by true family stories. I believe family stories are inspirational and can be transforming, revealing our roots and culture.
What is your work schedule like when you're writing a book?
I'm fortunate in that I'm retired, so I have plenty of flexibility in this season in my life. Every day is a little different for me. But I would say I mostly utilize the mornings for marketing and social media interactions, while my afternoons are devoted to a specific writing project.
What's the best part of your author's life?
I love it when I can share with friends or family members, actual or online acquaintances, about my writing and encourage them to think about preserving and sharing some of their own family stories.
What's one thing your readers should know about you?
I have a small "tribe" following me around with this passion with my blogs, but I'd certainly love to grow my tribe. I believe it's important for us to share our stories and pass down what we've learned in life to the next generation.
What is your favorite pastime?
I have several pastimes, but hands down, I would have to say spending time with my grandchildren, especially reading books to them.
Do you have other books? We'd love to know.
I have three children's picture books from my "traveling series". The titles are: Talitha, the Traveling Skirt, Harvey, the Traveling Harmonica, and Roxie, the Traveling Rocker. All three books are inspired by actual items in my family, traveling through three generations. Wally, the Traveling Watch is under contract for 2023 and Angelina, the Traveling Angel is coming soon.
What are you working on now?
I am currently working on a unique devotional book that I hope to have published in 2023. I was inspired to write this upon the discovery of a little red notebook I found in my mother's purse upon her death–a notebook filled with wise sayings, Bible verses, quotes, musings, and practical everyday living advice.
Website: https://www.beckyvanvleet.com/
Link to book: https://amzn.to/3zYVqZX
Social media links:
Facebook: https://www.facebook.com/authorbeckyvanvleet/
Linkedin: https://www.linkedin.com/in/becky-van-vleet-ms-806055181/
Instagram: https://www.instagram.com/becky_van_vleet_author/
Pinterest: https://www.pinterest.com/beckyvanvleet/
Amazon Central Author Page: https://amzn.to/3INHIPB
Follow me on social media!