Meet author Jayme H. Mansfield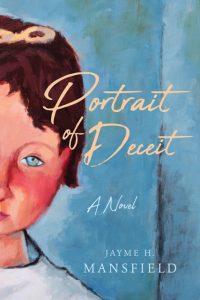 Loosening the reins and leaning into a creative life—that's Jayme Mansfield's sweet spot as an author, artist, and educator. Speaking at book clubs and interest groups, hosting writing and art retreats, and instructing others in their artistic pursuits is the icing on the cake. The transformative power of art and faith are common threads in her award-winning historical and contemporary novels, Chasing the Butterfly, RUSH, and Seasoned. Her new literary suspense, Portrait of Deceit, promises the same.
Tell us about your newest book.
When an anonymous collector approaches the Richard Museum in Washington, DC, with a possible Modigliani portrait, art authentication expert Olivia Danford is called in. Her talents investigating pieces for museums, universities, and private collectors provide a retreat from a past she'd rather forget. But the chemical analysis and mysterious provenance of The Girl in White reveal much more than what lies beneath the layers of paint. Olivia is drawn back into her past, where she must decide if a half-truth is still a whole lie . . . and if a lie eventually reveals the truth.
What inspired you to write Portrait of Deceit?
Portrait of Deceit was a patient story—steadily growing over the course of several years, nourished by a unique friendship with a shared love for art, sprinkled with story-related travel and solid research, and soaked with imagination. The story seed for Portrait of Deceit landed on fertile ground when I heard Dr. Colette Loll, founder of Art Fraud Insights, lecture in Colorado about art forgery. I listened to her share about notorious art forgers and her unique specialization to investigate, prevent, and educate about these prolific criminal entrepreneurs. I was captivated—so much that I introduced myself to Colette after the presentation, told her I was a fiction writer and was already composing a story in my head and suggested we could talk further. Two years later, with her business card coaxing me from my bulletin board next to my writing desk, I picked up the phone and called. The initial discussion confirmed that Colette is not only passionate about her work, but the crème de la crème in the world of art fraud . . . on the good side that is!
How would you describe this book to someone in a 30-second blurb?
Portrait of Deceit, a literary suspense, is an entanglement of truth and deceit. It is steeped in art history and the intriguing world of art forgery. It is literary in that the language is sensory and emotive—taking the reader on an intimate and introspective journey with the protagonist. It is suspenseful in that there is much at stake to decipher truth from lies, fact from fiction, and what really lies beneath the layers of the paint.
What genre do you focus on?
I write in a few different genres—historical, contemporary, and suspense. However, each book contains elements of art, faith, and history and are written with a literary flair. I am driven more by the story seed than a specific genre, although I'm enamored by characters of old and am a sucker for doing deep research whatever the topic may be.
Why do you write?
I am a storyteller at heart—always have been, even as a child (I had quite an imagination!). Now, as a fiction writer, I find myself writing to encourage others, decipher truth, and make sense of life's hills and valleys. God continues to nudge (sometimes shove) me to write—with His guidance, I continue on.
Who is your main character, and how did you choose that name?
Olivia Danford is the main protagonist—intelligent, classy, driven, yet vulnerable and fragile. As crazy as it seems, she told me her name as I visualized her at our initial meeting.
What is your work schedule like when you're writing a book?
I wish I could say I write each day, but I tend to write in long, focused sessions. When I am in the thick of completing a novel, I am all in—the characters, setting, the problems and resolutions are in the forefront of my mind.
What is the hardest part of being an author?
For me, the most difficult part is the consistent time to write all the stories that I want to tell. The good news is I'm at a juncture in my life where some big responsibilities are ending and I plan to shift more effort toward writing.
What's the best part of your author's life?
There is something extraordinary about creating story—it is both intrinsically invigorating and healing. God continually works on my heart, mind, and soul as stories evolve. He is my constant companion at my writing desk. Opportunities to share my books with readers, whether in small groups in the comfort of homes or presenting to large audiences, I am in my happy place! The friendships and comradery among book lovers are priceless!
What's one unusual fact about you?
I have owned and taught art in my private studio for nearly 30 years. The majority of my paintings are big and bold floral abstracts that have earned the description of "being full of joy and hope." That makes me smile!
Do you have other books? We'd love to know.
Chasing the Butterfly ~ A historical fiction set in Paris and Provence from 1928-1960.
RUSH – A historical fiction based on the true story of my great-great grandmother in the 1893 Oklahoma Land Rush
Seasoned – a tender love story about two octogenarians who accept another chance to love
What are you working on now?
The Lesson ~ A poignant, uplifting, and often humorous story of a group of retired teachers who learned more from each other about love, life, and friendship than could ever be taught in a textbook.
Website: www.jaymehmansfield.com
Link to book: (Susan – let me know when you post this. I should have the Amazon link soon.)
Social media links:
FB: https://www.facebook.com/JaymeHMansfieldAuthor/
IG: @jaymemansfield
Goodreads: https://www.goodreads.com/author/show/8432600.Jayme_H_Mansfield
Twitter: @JaymeMansfield
YouTube: https://www.youtube.com/channel/UCHog5qLSIkbF7ZtSEQaVaoQ
Follow me on social media!