Thousand Island Park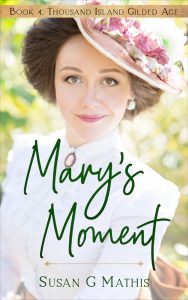 Thousand Island Park has been on my list of places to write about, and I've finally checked off this wonderful story in Mary's Moment. Here's a little about TI Park, the setting for this fiery novel. 
Tell us about Thousand Islands Park on Wellesley Island.
The Thousand Island Park Camp Meeting Association was founded by the Rev. John Ferdinand Dayan, in 1875, as a Methodist summer camp with regular meetings, sermons, and public services. They leased spots for tents or cottages and provided most of the conveniences of city living but without its vices. TI Park was called, "The Chautauqua of the North."
In 1883, the Park moved away from the family-oriented camp and opened it to a more general public. But they still kept several of their rules like observing the Sabbath.
The Park continued to grow, so by 1894, nearly six hundred cottages plus hotels created a summer village that included a library, yacht club, golf course, roque courts, annual tennis tournaments, daily concerts, an art school, its own printer, a needlecraft shop, fishing guides and boats, a book shop, a photographer…and Sunday services.
By the turn of the century, in 1900, the Park had become a full summer community with a library and all the amenities a full-service resort would provide including insurance companies, printer, needlecraft shop, shoe store, hand-blown glass souvenirs, a china maker, hand laundress, hair and manicurist, Japanese bazaar, Persian and Turkish rugs, general store, meat market, milk, ice, plumber, contractors, barber, boat livery, fishing guides, tailor, Indian basket shop, candy store and more. Yet it still retained a tight-knit, small town warmth and vitality.
What kind of housing did TI Park have?
Besides hundreds of lovely Victorian cottages, the Columbian Hotel and the Wellesley Hotel (which still exists today), and smaller hotels made up of various cottages were open to the public. The smaller hotels such as the Geneva, the Pratt House, and the Rochester as well as boarding houses each had a separate function.
What happened in the summer of 1912?
In 1912, the summer population had grown to about 12,000. That summer, three major fires nearly destroyed the Park. In May, eleven boathouses and three launches were destroyed in a riverfront fire. In June, an entire block of new cottages burned down. The cottages were being rebuilt to replace cottages lost in a fire eight years prior. In July, the Great Fire destroyed a hundred homes, businesses and razed the Columbian Hotel. Though devastated, the Park quickly rebuilt.
What's it like today?
Today, Thousand Island Park is still a lovely summer community full of gingerbread Victorians and friendly people. The community retains its homey, small town feel and offers lots of fun things to do. It's a great place to visit in the summertime.
ABOUT MARY'S MOMENT:
Mathis's attention to detail and rich history is classic Mathis, and no one does it better.—Margaret Brownley, N.Y. Times bestselling author
It's the Summer 1912, and the Thousand Island Park's switchboard operator ​Mary Flynn is christened the community heroine for her quick action that saves dozens of homes from a terrible fire. Less than a month later, when another disastrous fire rages through the Park, Mary loses her memory as she risks her life in a neighbor's burning cottage. Will she remember the truth of who she is or be deceived by a treacherous scoundrel?
Widowed fireman George Flannigan is enamored by the brave raven-haired lass and takes every opportunity to connect with Mary. But he has hidden griefs of his own that cause him great heartache. When George can't stop the destructive Columbian Hotel fire from eradicating more than a hundred businesses and homes, he is distraught. Yet George's greater concern is Mary. Will she remember their budding relationship or be forever lost to him?
Readers of Christian historical romance will enjoy this exciting tale set in 1912 Thousand Island Park, NY.
Follow me on social media!