Meet author Danielle Grandinetti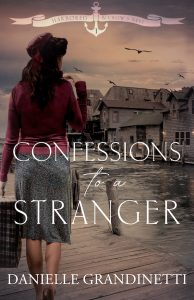 Danielle Grandinetti is author of the Strike to the Heart series and has won the University of Northwestern Distinguished Faith in Writing Award. She's fueled by tea and books, and the occasional nature walk. Originally from the Chicagoland area, she now lives along Lake Michigan's Wisconsin shoreline with her husband and their two young sons. Find her online at daniellegrandinetti.com.
Tell us about your newest book.
Wisconsin, 1930—While fleeing for her life, Adaleigh Sirland's rescue of a child introduces her to a family who provides her safe harbor. When her identity comes under threat of exposure, she must choose between running once more or helping the man who teaches her to hope again.
First mate David Martins is intrigued by the mysterious woman taken in by his grandmother, but she wrestles with a troubled past. When his estranged father is arrested for murder, can David put aside his own struggles in time to discern which secret threatens Adaleigh before it kills them both
She's lost her future. He's sacrificed his. Now they have a chance to reclaim it—together. Welcome to Crow's Nest, where danger and romance meet at the water's edge. Confessions to a Stranger is the first book in the Harbored in Crow's Nest series.
What inspired you to write Confessions to a Stranger?
Have you ever revealed a secret to a stranger? Or struck up a deep conversation with a fellow passenger in the airport? Psychology has studied this idea of sharing private thoughts with people we don't know, that somehow we actually feel safe doing so. There are also those people who attract the telling of secrets and Adaleigh is such a character, though she has a host of secrets of her own.
How would you describe this book to someone in a 30-second blurb?
Confessions to a Stranger is the story of battling one's past in order to have a future.
What genre do you focus on?
Confessions to a Stranger is historical romantic suspense, my three favorite genres all put together. In other words, what better way to have two people fall in love than while in danger and in a historical time period like the Great Depression.
Why do you write?
I love story and firmly believe in the power of story. I also been telling stories since I was a child and can't not write.
What is your work schedule like when you're writing a book?
I'm a mom of young boys, so I write whenever I get a free moment. It means I grab every chance I get to put words on paper.
What is the hardest part of being an author?
The hardest part is putting myself out there and talking about myself. I'm an introvert and reader at heart, so I'm not as fond of the spotlight.
What's the best part of your author's life?
My readers! I love how encouraging and supportive you are! You make this writing journey so fulfilling!
What's one unusual fact about you?
While I haven't canned strawberries, like in the book, I have picked raspberries, which I then helped my mom turn into jam and then can. It was delicious!
What is your favorite pastime?
As cliche as it sounds, reading is my favorite pastime. I usually finish a book every 1-3 days, and blog about most of those.
Do you have other books? We'd love to know.
I do! I have a complete historical romantic suspense series, the Strike to the Heart series available in paperback, Kindle, and Kindle Unlimited. The sequel to Confessions to a Stranger is Refuge to the Archaeologist and releases in July; it's available for preorder. Also, my debut Love Inspired romance will be in stores in September; watch my newsletter for more info.
What are you working on now?
All sorts of things! Different books are in different stages of completion. I'm currently writing a super-secret project.
Website: daniellegrandinetti.com
Link to book: Confessions to a Stranger | Kindle | Paperback
Social media links:
BookBub | Amazon | Goodreads | Instagram | Facebook | Twitter
Follow me on social media!