Meet author Janet Grunst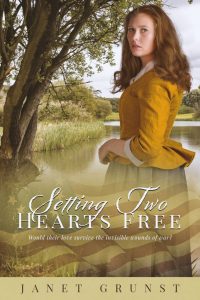 Janet Grunst is a wife, mother of two sons, and grandmother of ten living in Williamsburg, Virginia. Her debut novel, A Heart Set Free was a Selah Award winner. A Heart For Freedom was a Christian Indie Award winner. Her novella is The Highlanders. Her love of history and writing fiction grew out of a desire to share stories that communicate the truths of the Christian faith, as well as entertain, inspire, and encourage readers.
Tell us about your newest book.
Donald Duncan joined the Patriot cause for noble reasons, battling the British while enduring deprivation and hardship on every side. The war has changed him, and now the battle is internal. Returning home to Virginia is in sight where a new life and his Mary wait for him. Mary Stewart spends the war years with her family at Stewarts' Green, helping them operate their ordinary. Daily, she prays for Donald's safe return, eagerly waiting for him … until that day the evil side of war touches her. Two hearts changed by a war that dragged on for six years. Two hearts left hurting and struggling to find the love and trust they once knew. Is there a path for them to rekindle what was lost, Setting Two Hearts Free?
What inspired you to write Setting Two Hearts Free?
Trauma, either from war or other events, can leave people with invisible wounds that need to be addressed mentally, emotionally, and spiritually. This book is dedicated to those who suffer from trauma and those who love them.
How would you describe this book to someone in a 30-second blurb?
This is the third book in my Revolutionary War Series and is primarily about the next generation. The Revolutionary War is winding down but the danger and challenges the characters face haven't—and some will last long after leaving the battlefield. Donald and Mary have both survived significant trauma. Would their love survive the invisible wounds of war?
What genre do you focus on?
Historical Romance. Most people experience romance. I find history fascinating and instructive. Sadly, not enough attention is given to teaching the truth about history in our schools. "Those who cannot remember the past are condemned to repeat it." George Santayana
What is your work schedule like when you're writing a book?
I reread what I wrote at the last sitting to get back into the storyline as well as to edit.
What is the hardest part of being an author?
Marketing and… I'm an introvert and I find social media and promoting my own work very challenging.
What's the best part of your author's life?
I've gotten to know some wonderful and inspirational people, other authors, editors and my agent. Why? I learn so much from them and I've enjoyed the friendships even though we are geographically distanced.
What's one unusual fact about you?
I lived in Spain as a young child when there were very few other Americans. Since the DOD schools were just being instituted then starting with the upper grades, I was educated in a convent, the only blue-eyed, blonde, Protestant there.
Do you have other books? We'd love to know.
A Heart Set Free ~ Selah Award for Historical Romance
A Heart For Freedom ~ Christian Inspy Award for Historical Fiction
The Highlanders: A Smitten Historical Romance Collection
What are you working on now?
A story about a woman who migrates from Ireland to America during the potato famine.
Website:  https://janetgrunst.com/
Link to book: https://www.amazon.com/Setting-Hearts-Free-Janet-Grunst-ebook/dp/B085DRXFZY/ref
Social media links:
​https://JanetGrunst.com                                                                                                                                                                      https://www.facebook.com/Janet-Grunst-Author-385405948228216                                                                                                                                                    https://colonialquills.blogspot.com/                                                                                                                                      https://www.instagram.com/janetgrunst/                                                                                       https://twitter.com/janetgrunst                                                                                           https://www.pinterest.com/janetgrunst/
Follow me on social media!