Meet author Debi Nottingham
Debi Nottingham is a four-time cancer survivor of over 30 years. She loves to hike, especially in Colorado and has hiked in all 50 states. She plays the piano, writes, paints, and leads Bible studies. Debi is a graduate of Indiana University with a BS in Medical Technology and the University of Houston with an MBA. She worked in healthcare in sales and marketing for thirty years and is the author of two books.
Tell us about your newest book.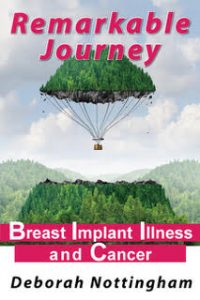 Remarkable Journey: Breast Implant Illness and Cancer details the illnesses and the healing physically, spiritually and emotionally of one woman with two different breast cancers and reconstruction defective implants over a 28-year journey.
It is the story of her breast cancers and the subsequent illnesses from a ruptured silicon implant and a mold-filled saline implant. From her journals, she documents the strange and spiraling illnesses she experienced with no idea they came from her reconstructed breast implants.
The book is written in two voices. The earliest writing is taken from her journals and is a raw expression of her journey from being bucked off a horse and rupturing an implant through her decision to explant or take out her implant. Four years after the explant, she wants to bring help to women in their physical, spiritual, and emotional health journey.
What inspired you to write Remarkable Journey?
My improvement in health has been remarkable after removal of my breast
implant and yet, 300,000 women per year have implants. There are 85,000 women searching for answers on Facebook sites dedicated to the issue of implants and illness.
How would you describe this book to someone in a 30-second blurb?
My 32-year journey surviving breast implant illness and four cancers.
What genre do you focus on?
Non-Fiction. I enjoy reading true stories of other people's lives and how God has impacted them.
Why do you write?
People constantly told me I needed to write a book about my life experiences. So, I did write the story of finding out my Christian husband was bisexual after twelve years of marriage. Now I have written my secondbook about breast implant illness. Both were very personal stories that may help someone else.
What is your work schedule like when you're writing a book?
I write the rough drafts and getting words onto paper for about four hours 4-5 days a week until the project is finished. After it goes to the editor – the marketing process begins. During the whole project, I am connectingwith readers through a blog, website, Facebook, etc.
What is the hardest part of being an author?
Having to settle my mind in order to go into the story or relive hard times. It requires a reexamination of a time past that I really would like to forget.
What's the best part of your author's life?
People's comments are a joy. "I didn't know you went through that. If you can survive with your faith intact, I can."
What's one thing your readers should know about you?
Hiked all 50 states. I have written blogs about Hiking Devotionals
How have you changed or grown as a writer?
Understanding of the industry and I have only touched the surface with one hybrid and one self-published.
What is your favorite pastime?
Hiking in Colorado
Do you have other books? We'd love to know.
Deception: Revelation to Release published 2019
What are you working on now?
Hiking blogs and deciding if I want to put them into a travelogue book.
Website: DeborahNottingham.com
Facebook.com/deceptionrevelation
https://www.amazon.com/Deception-Revelation-Release-Response-Christian-ebook/dp/B07WWKN2ZK/
Instagram: DebDaysDeborahNottingham
Twitter: @Dnottingham
Follow me on social media!