Meet author Jodi Artzberger
Jodi Artzberger writes inspirational romantic suspense stories that are Gospel centered and intertwined with God's love and plan of redemption. She has a passion for the Word and loves to study the Bible, especially with her kids. She's also a homeschool mom and loves most minutes of it. She lives in beautiful Colorado with her wonderful husband, two awesome boys, and rescue dogs. In her spare time, you can find her playing with her latest kitchen gadget and exploring where God has graciously placed her in Colorado.
Tell us about your newest book.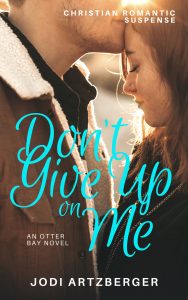 Don't Give Up on Me is a romantic suspense story about God's redemption and a second chance at love. Amanda is left for dead. She's found by the man who walked away eight years ago. As the threats continue, Amanda has to decide if she will accept help from the only man she's ever loved and who left Otter Bay without explanation. Ryker's going to have to use his skills as a trained Army Ranger if he's going to keep the only woman he's ever loved alive. It's a Gospel-centered story about the power of God's love and redemption.
What inspired you to write "Don't Give Up on Me"?
A contest. I entered a contest with a publishing house. They didn't take my title but asked me to submit again. They liked what I wrote but said it wasn't a good fit for them. So, I finished the book myself and published it.
What genre do you focus on?
Christian Romantic Suspense. It's my all-time favorite. I love strong heroes. And I love strong heroines. And I'm a sucker for a happily ever after! The world we live in is crazy enough so when I escape (or help someone else escape), I want to enjoy the ride and know the happy ending is coming.
Why do you write?
God. We all need the gospel. My prayer is that I convey that in my writing. Jesus does change lives.
What is the hardest part of being an author?
Never enough time! There seems to always be more I could do and want to do. I just need more time and a lot of it.
What's the best part of your author's life?
It's fun, it's flexible, and you're always meeting other wonderful writers and readers!
What's one unusual fact about you?
When I was in the eighth grade, I wrote a book for my best friend. She wanted to star in a popular horror movie of the time. So, I wrote it for her! She loved it!
How have you changed or grown as a writer.
This is one of the craziest most fun careers I have ever had! And that's saying a lot since I had my own wedding business in Las Vegas a number of years ago. But I love it! This business has allowed me to use my creative side and my analytical side. It has taught me to be flexible and I'm always learning.
What is your favorite pastime?
Reading. But I homeschool and love that! I also enjoy studying with my sons and playing around in the kitchen – everything from my Instant Pot to canning!
Do you have other books?
I have a novelette available, for free, that can be found on my website. It's a prequel to Don't Give Up on Me.
What are you working on now?
I am working on the next book in my Otter Bay series and planning out a new series. I'm excited about both!
Website: www.JodiArtzberger.com
Link to book: www.JodiArtzberger.com
Social media links:
Facebook.com/JodiArtzberger
Instagram.com/JodiArtzberger
Follow me on social media!