New Release: Katelyn's Choice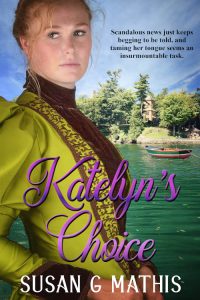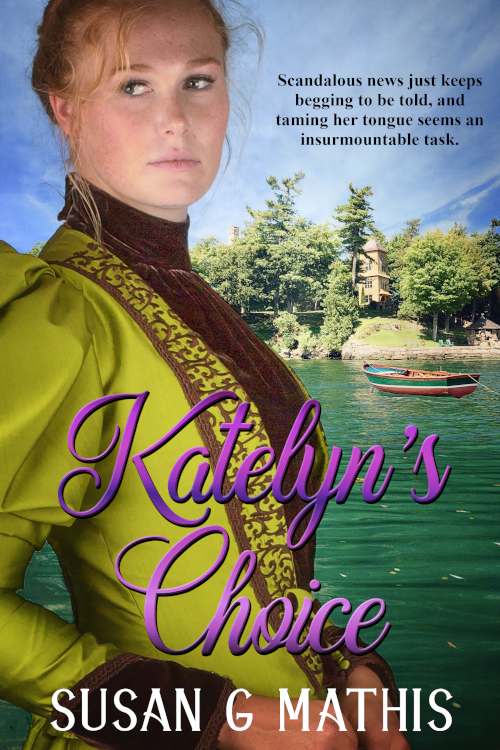 The Gilded Age comes to life in this first installment of the Thousand Islands Series!
Katelyn Kavanagh's mother dreamed her daughter would one day escape the oppressive environment of their Upstate New York farm for service in the enchanting Thousand Islands, home to Gilded Age millionaires. But when her wish comes true, Katelyn finds herself in the service of none other than the famous George Pullman, and the transition proves anything but easy.
Thomas O'Neill, brother of her best friend, is all grown up and also working on Pullman Island. Despite Thomas' efforts to help the irresistible Katelyn adjust to the intricacies of her new world, she just can't seem to tame her gossiping tongue—even when the information she's privy to could endanger her job, the 1872 re-election of Pullman guest President Ulysses S. Grant, and the love of the man of her dreams.
Here's an excerpt from Katelyn's Choice, the first in the Thousand Island Gilded Age series. It releases this Friday, March 15th! Soon, you'll get to read the entire story.
Katelyn got up and ran to her room to watch the storm from the safety of her window. A quick, torrential shower followed. It only lasted a quarter of an hour and left as quickly as it had come. Before long, the sun burst through the dissolving clouds, so she took her place again on the cool, breezy veranda.
She watched as fish broke the water, seeming to play tag in a joyful game. It reminded her of her childhood, of her friends. If she were a fish, she would surely be a wide-mouth bass, ugly and always fighting the desire to jabber, never able to keep her prattling mouth closed. She wished she were a rainbow trout, beautiful and desirable. But no, she was a bass, ever fighting and flapping her jaws.
The steady beat of the waves along the shore assured her that a divine heartbeat pulsed through this beautiful world that she was a part of. She had the power to choose. Right or wrong, she had to choose. It was terrifying to think of such power on the tip of her tongue. She could choose to speak life. She could choose to spread gossip and birth a deadly virus that could bring pain and hurt to many. She had the freedom to love others enough to hold
her tongue or the freedom to hate and bring death. She even had the power to stay silent when faced with unfair accusations, as Jesus had done. Her choices might be terrible right now, but they were hers alone.
A wave of guilt threatened to engulf her. "Help me, Lord. I've been drowning in a sea of words I can't take back, in prattle that has poisoned, in gossip full of guile. And now, in false accusations because of my errant ways. Change me, Creator! Make me a new creation lest I die in the weeds of my own making. Take my tongue, my words, my thoughts, and my deeds, and make them Yours. Please."
Tears stung her eyes, and she allowed the dam to burst. Alone on the veranda. Alone with God. With only the river as her witness, Katelyn wept as she'd never wept before. For the loss of her mother. For the abuse of her brothers and her father. But most of all for her wretched tongue. The tongue that hurt others. That abused others with gossip, tales, and prattle that were untrue, half-true, or outright lies. Oh how she wished she could take them all back, rewind time, and make it all right.
To read the entire story of Katelyn's choice to grow and change and overcome her challenges, click here!
Follow me on social media!