Pat Nichols on following your dreams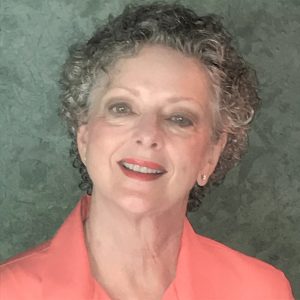 Pat Nichols launched career number two as a novelist after retiring, proving it's never too late to follow your dreams. Drawing on years of corporate experience, she creates stories about women who face challenges in the pursuit of their dreams. She lives in an Atlanta suburb with her husband of fifty plus years, is the mother of two, and grandmother of three.
Tell us about your newest book.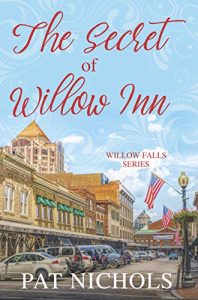 The Secret of Willow Inn, my debut novel, is the story of two women fighting for their dreams, one who's long lost hers, are united by tragedy and a long-held secret.
Pregnant with her first child, Emily Hayes is eager to help her mother finish transforming an estate into the Willow Inn and write a novel about Willow Falls' colorful history.
Sadie Lyles left Willow Falls a murderer who'd killed the town hero. She returns as a despised felon and seeks solace in the town's café. Emily struggles to unite the close-knit community and becomes Sadie's biggest advocate.
To appease her father, Rachel Streetman, a VP in his Atlanta real-estate-development firm, relegates her acting dream to secret performances for imaginary audiences. After meeting charming, flirtatious Charlie Bricker, manager for Willow Falls' future vineyard, she vows to break free from her father's control.
The tragedy and Willow Inn's secret past launch Emily and Rachel on a collision course with destiny and truth.
What genre do you focus on and why?
My decision to write women's contemporary fiction was inspired by my twenty-seven-year corporate career working with amazing women from all walks of life.
Why do you write? What drives you?
The trigger that launched my writing career, which began after I was eligible for social security, was the loss of our Goddaughter. After drifting in and out of our lives for more than thirty years, she succumbed to a long struggle with addiction. I wanted to write a novel based on her life, but with a happy ending.
Who is your main character, and how did you choose that name?
There are two main characters Emily and Rachel. To me Emily seems more down-to-earth, thus the name of my country-girl character, and Rachel more sophisticated. A third key character is a middle-aged quintessential southerner. For her, I chose a southern name, Sadie.
What does a day in your writing world look like?
My day typically begins at 5:30. My goal is to write 1,000 words five sometimes six days a week. In addition, I devote forty-five minutes to marketing and as much time as needed to publishing deadlines. I was accustomed to working sixty hours a week in my corporate career, so long hours come naturally.
What is the hardest part of being an author? Why?
For me, the most difficult part of being an author was learning all the nuances of social media. After all, I'm old enough to remember slide rules, although I never understood how they worked. Fortunately, my daughter and grandchildren have helped me figure it all out.
What's the best part of your author's life? Why?
Two things I love most about writing, first the humbling, heart-warming joy that comes when a reader compliments my novel. It's more exciting and thrilling than getting an A-plus on a term paper. The second-best part in author life is the joy of watching my characters struggle and succeed through life's ups and downs. I've often heard authors say they are intrigued by where their characters take them. Now, I understand what they mean. One benefit of writing a series is following characters on a prolonged journey.
What is the craziest thing you've experienced as an author? One advantage the modern author has is the internet. We can explore any topic with the touch of our fingers. It also triggers some unusual responses. After searching couture clothing, I received some unexpected, not-so-welcome ads.
What are you most proud of?
I am proud of and grateful for my beta readers who have provided incredible insight and feedback through my writing journey. Also, on top of the list is Tim, my husband of fifty-plus years. He's not a reader, yet he listens to my chapters, and finds inconsistencies and errors. He also answers one important question; "Would a man say that?"
What is your favorite pastime?
Tim and I enjoy spending time with family and friends. We've ticked off every destination on our travel bucket list, but still like to take an occasional trip.
Do you have other books? We'd love to know.
Willow Falls Series book two is scheduled for release January, 2020. I have two shelved manuscripts. Whether they ever make it to publication is a question without an answer.
What are you working on now?
My current work-in progress is Willow Falls book three, with more to come.
Website:https://patnicholsauthor.blog
Link to book: https://www.amazon.com/dp/1946016772/
Social media links:
https://www.facebook.com/pat.nichols.52459 https://twitter.com/PatNichols16https://www.instagram.com/patnicholsauthor/
Follow me on social media!