Fiction by Susan G Mathis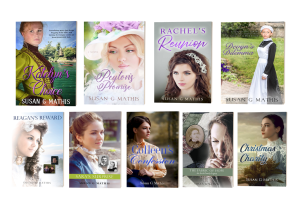 Thanks for being a faithful subscriber/reader to my blog. I often feature author friends and their work, but I thought you'd like a peek at mine this week. I have eleven so far. Which is your favorite? I'd love to know!
Susan G Mathis is an international award-winning, multi-published author of stories set in the Gilded Age Thousand Islands in upstate NY. She's been published more than twenty-five times in full-length novels, novellas, and non-fiction books.
Mary's Moment (coming St. Patrick's Day, March 17)
Mary Flynn is christened the community heroine for calling in a fire and saving dozens of homes. As the first telephone switchboard operator for the Thousand Islands Park, she basks in her fame but hides a secret that haunts her. Less than a month later, Mary must risk her life to call for help when an even worse fire blazes through the Thousand Islands Park Commons. Widowed fireman George Flannigan is enamored by the brave, toffee-haired lass and takes every opportunity to connect with Mary. But he has secrets of his own, and when he can't stop the Columbian Hotel—and almost a hundred cottages—from being burned to the ground, Mary is left homeless, and she withdraws from him. Will she be consumed by her painful past or embrace the future?
A Summer at Thousand Island House (coming July, 2023, with Wild Heart Books)
Addison Bell serves children of the Thousand Island House guests on Staple's Island. Part nanny, part entertainer, she's full of creative energy and endearing love for children. While thriving in her work, Addi's vivacity attracts the attention of the recreation pavilion's manager, Liam Donovan, as well as the handsome Navy Officer Lt. Worthington, a lighthouse inspector, hotel patron, and single father of mischievous little Jimmy. When Jimmy goes missing while in Addi's care and former President Chester Arthur finds the child a stowaway on his fishing boat, her job and reputation are endangered. How can she calm the churning waters of Liam, Lt. Worthington, and the President, clear her name, and avoid becoming the scorn of  the community?
~ ~ ~ Available now ~ ~ ~
Peyton's Promise
Peyton Quinn is tasked with preparing the grand Calumet Castle ballroom for a summer gala. As she works in a male-dominated position of upholsterer and fights for women's equality, she's persecuted for her unorthodox ways. But when her pyrotechnics-engineer father is seriously hurt, she takes over the plans for the fireworks display despite being socially ostracized. Patrick Taylor, Calumet's carpenter and Peyton's childhood chum, hopes to win her heart, but her unconventional undertakings cause a rift. Peyton has to ignore the prejudices and persevere or she could lose her job, forfeit Patrick's love and respect, and become the talk of local gossips.
Devyn's Dilemma
Devyn McKenna is forced to work in the Towers on Dark Island. But when Devyn finds herself in service to the wealthy Frederick Bourne family, her life takes an unexpected turn. Brice McBride, Mr. Bourne's valet, tries to help the mysterious Devyn find peace and love in her new world, but she can't seem to stay out of trouble—especially when she's accused of stealing Bourne's money for Vanderbilt's NYC subway expansion.
Katelyn's Choice
Katelyn Kavanagh finds herself in the service of none other than the famous George Pullman, and the transition proves anything but easy. Thomas O'Neill also works on Pullman Island and tries to help her adjust to her new world, but she just can't seem to tame her gossiping tongue—even when it could endanger her job, the 1872 re-election of Pullman guest President Ulysses S. Grant, and the love of the man of her dreams.
~ ~ ~
Rachel's Reunion
Rachel Kelly serves the most elite patrons at the famed New Frontenac Hotel on Round Island. She has wondered about her old beau, Mitch, for nearly two years, ever since he toyed with her affections while on Calumet Island, then left for the high seas and taken her heart with him. Now he's back, opening the wound she thought was healed. Mitch O'Keefe returns to claim his bride but finds it more difficult than he thought. Returning to work at the very place he hated, he becomes captain of a New Frontenac Hotel touring yacht, just to be near Rachel. But his attempts to win her back are thwarted, especially when a wealthy patron seeks her attention. Who will Rachel choose?
Colleen's Confession
Colleen Sullivan conceals secrets when she works on Comfort Island and awaits her betrothed's arrival. She loves to draw and dreams of growing in the craft. But tragedy strikes and her orphan dreams of finally belonging and becoming a wife and an artist are gone. What will her future hold? Jack Weiss is smitten by the lovely Irish lass. Perhaps introducing her to the famous impressionist, Alson Skinner Clark, will brighten her opinion of him. But rumors of war in Europe means Jack must choose between joining his homeland's army or staying safe in the Thousand Islands as he makes a life with Colleen. If she will have him.
Reagan's Reward
Reagan Kennedy assumes the position of governess to the Bernheim family's twin nephews, and her life at Cherry Island's Casa Blanca becomes frustratingly complicated. Service to a Jewish family and tending to eight-year-old mischievous boys brings trouble galore. Daniel Lovitz serves as the island's caretaker and boatman. When he tries to help the alluring Reagan make sense of her new world, her insecurities mount as her confidence is shaken―especially when she crosses the faith divide and when Etta Damsky makes her life miserable. As trouble brews, Daniel sees another side of the woman he's come to love.
Sara's Surprise
Sara O'Neill works as an assistant pastry chef at the Thousand Islands Crossmon Hotel where she meets precocious, seven-year-old Madison and her charming father and hotel manager, Sean Graham. But Jacque LaFleur, the pastry chef Sara works under, makes her dream job a nightmare. Sean has trouble keeping Madison out of mischief and his mind off Sara. Though he finds Sara captivating, he's jealous of LaFleur and misreads Sara's desire to learn from the pastry chef as love. Can Sean learn to trust her and can Sara trust him—and herself to be an instant mother?
Christmas Charity
Susan Hawkins and Patrick O'Neill find that an arranged marriage is much harder than they think, especially when they emigrate from Wolfe Island, Canada, to Cape Vincent, New York, in 1864, just a week after they marry—with Patrick's nine-year-old daughter, Lizzy, in tow. Can twenty-three-year-old Susan Hawkins learn to love her forty-nine-year-old husband and find charity for her angry stepdaughter? With Christmas coming, she hopes so.
The Fabric of Hope: An Irish Family Legacy
After struggling to accept the changes forced upon her, Margaret Hawkins and her family take a perilous journey on an 1851 immigrant ship to the New World, bringing with her an Irish family quilt she is making. A hundred and sixty years later, her great granddaughter, Maggie, searches for the family quilt after her ex-pawns it. But on their way to creating a family legacy, will these women find peace with the past and embrace hope for the future, or will they be imprisoned by fear and faithlessness?
Follow me on social media!