Julie Cosgrove on family trees
Besides being an award-winning novelist of twelve books, Julie is also a digital missionary with CRU's The Life Project as an editor and writer. Her own blog, Where Did You Find God Today has readership in over 50 countries.
Tell us about your newest book.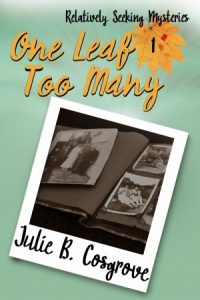 One Leaf Too Many is the first book in the Relatively Seeking Mysteries series. Bailey Edwards becomes interested in genealogy after studying the "begats" in Matthew's gospel.  She discovers hidden photos of a girl who resembles her in her grandmother's photo albums. Determined to find out who she is, Bailey and her friends begin to reveal a family secret that has been buried for over fifty years. Did Bailey turn over one leaf too many on her family tree?
What genre do you focus on and why?
I write suspense and mystery because I personally love that genre myself. People cock an eyebrow when I mention mystery and Christian fiction in the same breath. But mysteries are about discovering justice and truth, good over evil, confession, and involve forgiveness and redemption.
Why do you write? What drives you?
I honestly believe He has given me this talent and wants me to use it for His glory. Whether it provides clean entertainment alternatives, actually helps readers along the path to accept Christ as their Savior, or deepens a believer's faith, is up to Him. I just know I get an itch to write, and I totally enjoy it. He has established this passion in me.
Who is your main character, and how did you choose that name? 
Bailey Edwards is the main character and I honestly do not know why. In my head she seemed like a Bailey because she is modern but from a blue-blood family.
What does a day in your writing world look like?
I carve out time to write fiction because most of my day is spent in editing for twenty six other writers of devotionals or calling out in the Christian community for writers of articles as well as writing devotionals for not only CRU but several other publications and my own blog. But I always meet my deadlines for both nonfiction and fiction.
What is the hardest part of being an author? Why?
The hardest part is marketing. It is so hard to sell copies, whether ebook or paperback, because the market is flooded with so many books—some traditionally published, some self-pubbed by established authors, and then a whole lot by people who have not taken the time to study and learn the craft. Their poor writing and slashed prices hurt all of us.
What's the best part of your author's life? Why?
Creating my characters and plot twists is the best part, but I have to admit when I see five-star reviews, or someone tells me they read one of my books and loved it, it does warm my heart.
What is the craziest thing you've experienced as an author?
I haven't experienced too many crazy things, actually. I guess being in a lockdown for several hours while a gunman was on the loose, which of course I ended up incorporating into a plot for another cozy series, would be an example. We authors are always looking for unique plot twists for our novels.
What are you most proud of? 
Winning Best Texas Inspirational author and Best Cozy set in Texas by the Texas Association of Authors. Also being and INSPY and GRACE award finalist. It's nice it get recognition. But I gleam from the inside out when someone tells me what I write has brought them deeper in their faith. All praise and glory to Him who put the words in my head. It is such a humble honor.
What is your favorite pastime?
Reading and watching clean mysteries, especially British ones. Also playing word games.
Do you have other books? We'd love to know.
Yes, twelve novels and six non fiction,  all faith-based. You can peruse them on my website www.juliebcosgrove.com.
What are you working on now? Book Two – Fallen Leaf is now at the editors. It comes out May 7, 2019. I am beginning Book Three – Leaf Me Alone over the holidays.
Website:  http://www.juliebcosgrove.com
Link to book:  https://amzn.to/2OFXfRU
Social media links:
Facebook: https://www.facebook.com/juliebcosgrove.tx
Twitter: @JulieBCosgrove
Amazon Authors:   https://www.amazon.com/Julie-B-Cosgrove/
Goodreads:   http://bit.ly/2E6ebfi
LinkedIN:   https://www.linkedin.com/in/juliebcosgrove/
Instagram:  https://www.instagram.com/cosgrove_julie_b/
Pinterest:    https://www.pinterest.com/juliebcosgrove/
Follow me on social media!