Meet author Stacy T. Simmons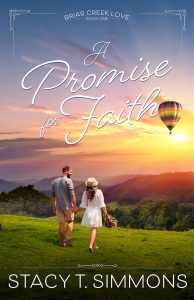 Stacy T. Simmons writes uplifting fiction that delights the reader's romantic sensibilities. Thirty-four years of marital bliss is a great contributor. She is a mom of two grown children, and she and her family have a menagerie of pets she likes to call "Noah's Ark." You can find her writing her next manuscript with a piece of dark chocolate and a cup of coffee nearby.
Tell us about your newest book.
A Promise for Faith is a story about a woman at the crossroads of her life, she faces some interesting choices in her career steps. One of which connects her with an old flame from her past.
What genre do you focus on?
I write contemporary romance—there's something exciting about writing a story which could happen during the time we are here on earth.
Who is your main character, and how did you choose that name?
Faith Fuller is a chef, her nickname, "Faithful." Portrays the journey she undergoes in her own life.
What is your work schedule like when you're writing a book?
I'm an educator, so my summers are super busy behind my desk trying to write a book in a few months.
What is the hardest part of being an author?
Juggling work and family life. Sometimes I must put off participating in fun weekend activities to achieve my writing goals. Thank the Lord my sweet husband is so understanding and patient.
What's one thing your readers should know about you?
I'm an avid reader across all genres, I love a suspense or time-slip novel as much as a beautiful romance or historical fiction story.
How have you changed or grown as a writer?
Six years ago, when I began to write, I knew the barest of things about actually constructing a novel. In attending both local ACFW-DFW meetings and ACFW conferences my "writing craft toolbox" has strengthened. Within any field of occupation, there's always more to learn, and I'm an eager student.
What is your favorite pastime?
Spending time with family and friends, swapping stories, and sharing laughter.
Do you have other books? We'd love to know.
This fall, I have a Christmas castle novella coming out which is part of a collection. As of yet, the title has not been announced. In January of 2023, the second in my Briar Creek Love series will arrive.
What are you working on now?
Currently, I'm working on book three in the Briar Creek Love series, and have my eye on another story to create after this one is finished.
Website: https://www.stacytsimmonsauthor.com/
Link to book: https://www.amazon.com/Promise-Faith-Briar-Creek-Love/dp/1951839471/
Social media links:
Facebook: https://www.facebook.com/stacy.t.simmons/
Twitter: https://twitter.com/stacytsimmons?lang=en
Instagram: https://www.instagram.com/stacy.t.simmons/?hl=en
Pinterest: https://www.pinterest.com/stacyts/_saved/
Blog: https://www.fueledbyfaithandcaffeine.com/
Follow me on social media!