Meet author Mark R. Worden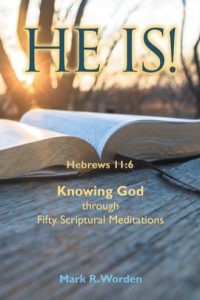 Mark is a student of the Bible, having degrees in Bible and teaching. He served as a missionary teacher in Manaus, Brazil, and pastored a local Montana church before becoming self-employed as a handyman, property manager, and a fishing guide.  He is active in his local church in Dillon, Montana.  The writing of HE IS! was part of God's healing and growth process in Mark's life and occurred over a period of twelve years.
Tell us about your newest book:
I am a first-time published author having started writing "God is" devotionals and posting them on a blog. It is rather a dream come true for this unlikely author. Friends kept encouraging me to turn my devotionals into a book. I kept telling them, "Someday!"  "Someday" came in July of 2022.
What inspired you to write HE IS! Knowing God through Fifty Scriptural Meditations?
While pastoring I became fascinated with Hebrews 11:6. This one verse was the spark that ignited the writing of HE IS! "But without faith it is impossible to please Him: for he who comes to God must believe that He is, and that He is a rewarder of those who diligently seek Him" (NKJV). I set out to find all the 'God is' statements in the Bible and write a short devotional on each one to help myself and others to know God better.
How would you describe this book to someone in a 30-second blurb?
"HE IS! Knowing God through Fifty Scriptural Meditations" can probably be considered devotional that is inspirational in nature. I share from my own stories of life and ministry like a grandpa would tell his grandchildren to make the devotionals relatable to life and practical. At the end of each devotional there are reflection questions and more suggested Scriptures to read for one's personal meditation and spiritual growth.  I want others to take the Hebrews 11:6 adventure that I have taken and be blessed too.
What genre do you focus on and why?
My experience is in teaching the Bible so my genre by default is teaching the Bible in a way that is inspirational, devotional, and practical.
Why do you write?
I write because I have a strong desire to share with others what God is teaching me. Others have told me I have a gift and to keep writing. My calling from God to share His truth drives me to keep ministering the word of God. I love to share what God has done for me because He first loved me. I have never gotten over God's love for me, I hope I never do.
What is your work schedule like when you're writing a book?
I have fit writing into the extra slots of time in my life over many years.
What is the hardest part of being an author?
Now that I have published my first book, I find it hard to not have more time to devote to writing because of my business responsibilities. I hope to retire someday into a ministry of writing.
What's the best part of your author's life?
Writing helps me to grow and think more clearly about my own faith and relationship with God. My writing has been an outgrowth of my own faith journey and part of God's healing process in my life as I learn more about Him and consequently more about myself in the process.
What's one unusual fact about you?
I suffered from dyslexia in my early years in school until a teacher realized I needed extra help. If it were not for the help and attention of some special ed teachers, I may have never liked to read or go on to college. I am still a slow reader and writing is something at which I have to work really hard. I still am a horrible speller. I consider my publishing a book a miracle. My first year at Umpqua Community College, my English 101 professor would write my sentences on the chalkboard and dissect them for the whole class. Thankfully, he never shamed me. He and I were the only people who knew they were my sentences. It was his way of giving me some extra help because he saw potential in me. I needed lots of help. I still need help and am thankful for editors.
How have you changed or grown as a writer?
The whole publishing process has been a huge learning curve for me since staring out to publish a manuscript that I had been working on for over a decade. And then after publication there is the whole world of marketing to let other know you have a book that they should consider reading.
What is your favorite pastime?
Fly fishing and tying flies.
What are you working on now?
I have ideas for more books but have not started writing yet. Having pastored for 6 years and taught in a Bible Institute in Brazil I have a wealth of material that could be turned into books. My one book idea to follow "HE IS!" is possibly, "Who We Are because of Who HE IS!"
Website: He Is!/ Mark R. Worden (heisministries.net)
Link to book:  
https://www.amazon.com/author/mark_r_worden
https://www.amazon.com/He-Knowing-Through-Scriptural-Meditations-ebook/dp/B0B8CBWHM5
Social media links:
He is – Knowing God through 50 Scriptural Meditations | Dillon MT | Facebook
Mark R. Worden (@heisbook) • Instagram photos and videos
Follow me on social media!