Meet author Linda Kozar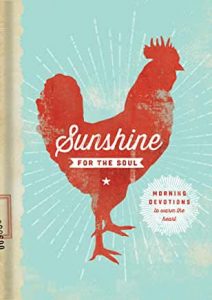 Linda Kozar is an award-winning multi-published author of traditional and indie-published fiction and nonfiction books with a Southern flair. Linda and her husband Michael live in The Woodlands, Texas, and enjoy spending time with their two grown daughters, their wonderful son-in-law, granddaughter Eden, and Gypsy, their rascally Jack Russell Terrier.
What inspired you to write Sunshine for the Soul?
My daily time with the Lord is my greatest inspiration for writing devotional books. Almost every devotion I have ever written was composed from such dedicated time in God's Word.
How would you describe this book to someone in a 30-second blurb?
Start each morning with a powerful devotional mixed with 90 heart-warming devotions, delicious recipes, fun anecdotes, and hope-filled Scriptures with a little humor and lighthearted Southern flair that will bring joy to your soul. Each devotion also includes a Faith Check with a daily reflection for personal application to inspire your day. So, grab a cup of coffee, enjoy the new sunrise and take a quiet moment with God as you reflect on God's promises and His love for you. Sunshine for the Soul is the perfect devotional gift book to encourage anyone in your life.
What genre do you focus on?
I haven't met a genre I don't like, at least so far. I've written cozy mysteries, historical romance, contemporary romance, speculative fiction and plenty of nonfiction titles as well.
Why do you write?
That question depends on the day. On good days, I love to write and there's nothing I'd rather be doing. On bad days, the very thought of writing is like a dead albatross hanging around my neck. And there are some days when I read something brilliant by another author and I wonder why I even bother.
What is your work schedule like when you're writing a book?
Frenetic, but systematic. When writing fiction, if I can write a chapter a day, I'm happy.  When writing nonfiction, if I write five to ten pages, I'd call that a good day.
What is the hardest part of being an author?
Marketing. Most authors hate that part of it. But marketing can be as creative as the writing part of it. Just a different application.
What's the best part of your author's life?
When a new fan finds you and tells you how your book made a difference in their life. Smile time.
What's one unusual fact about you?
I am obsessed with black licorice. I keep my licorice stash next to wherever I'm writing. Helps me think. Helps me focus. Helps me fuel my serious licorice addiction.
How have you changed or grown as a writer?
Recently, I went back to read some of my notes and unpublished works and I see two things: creative promise and unrefined work. Since I started this writing journey in 2005, I have grown in dozens of ways. The main way, however, is not to be so desperate. To wait on God and trust Him for my writing career opportunities and future.
What is your favorite pastime?
Love/Hate pastime is writing. Second, painting in oils, acrylics, or watercolor.
Do you have other books? We'd love to know.
Until the Fat Ladies Sing Mystery series, Food Baby, Calliope's Kiss, and more. PLUS, my nonfiction devotionals: Babes With A Beatitude, Sweet Tea For the Soul, Biscuits, Butter and Blessings, Sunshine For The Soul.
What are you working on now?
A historical romance based on a true story set in Texas close to where I live. Also, a new devotional and a book on caregiving. My agent's going to be so busy.
Website: www.lindakozar.com
Link to book: https://www.amazon.com/s?k=linda+kozar&ref=nb_sb_noss
Social media links:
Website  | Facebook | Facebook Author Page | Twitter | Pinterest | Audible |
| Radio | LinkedIn | Bookish Desires Blog | Beatitude Blog | CAN Author Page |
| Amazon Author Page |Podcasts on iTunes | Chat Noir Mystery and Suspense |
Follow me on social media!