Meet author Kathleen Denly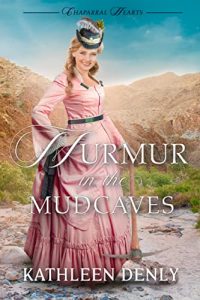 Kathleen Denly writes historical romance to entertain, encourage, and inspire readers toward a better understanding of our amazing God and how He sees us. Award winning author of the Chaparral Hearts series, she also shares history tidbits, thoughts on writing, books reviews and more at KathleenDenly.com.
Tell us about your newest book.
Murmur in the Mud Caves is Book 4 in my Chaparral Hearts series, but can be read as a stand-alone. Here is the official description: He came to cook for ranch hands, not three single women. Gideon Swift, a visually impaired Civil War Veteran, responds to an ad for a ranch cook in the Southern California desert mountains. He wants nothing more than to forget his past and stay in the kitchen where he can do no harm. But when he arrives to find his employer murdered, the ranch turned to ashes, and three young women struggling to survive in the unforgiving Borrego Desert, he must decide whether his presence protects them or places them in greater danger.
Bridget "Biddie" Davidson finally receives word from her older sister who disappeared with their brother and pa eighteen years prior, but the news is not good. Determined to help her family, Biddie sets out for a remote desert ranch with her adopted father and best friend. Nothing she finds there is as she expected, including the man who came to cook for the shambles of a ranch. When tragedy strikes, the danger threatens not only her plans to help her sister, but her own dreams for the future—with the man who's stolen her heart.
What inspired you to write Murmur in the Mud Caves?
The heroine, Biddie, is the grown adopted daughter of Henry and Cecilia Davidson, two characters that appear in every book in this series. As an adoptive parent, the idea of exploring her situation and the emotions which might go with it appealed to me.
The hero, has wounds from his time in the Civil War which have left him without peripheral vision in one eye. He also suffers from frequent and severe ocular migraines that often leave him incapacitated and have lead to dangerous situations. I wanted to explore what it might be like for a man raised to believe that true men were physically strong and able to perform certain tasks, to suddenly be unable to fulfill that role. Despite not being a cowboy of any kind, myself, I resonate with the idea of mistakenly defining my self-worth through my accomplishments and what I can do for others instead of how the Lord defines my true value.
How would you describe this book to someone in a 30-second blurb?
A visually impaired Civil War Veteran sets out to cook for ranch hands, not three single women living alone in the desert. When he can't convince them to return to the safety of civilization, his heart isn't the only thing in danger.
What genre do you focus on?
I focus on historical romance because I enjoy finding lesser-known historical events, people, and details, and sharing them with people through the art of storytelling.
Why do you write?
I write to entertain, encourage, and inspire readers to a better understanding of God and how He sees us. I believe we are surrounded by worldly pressures to see ourselves in ways that are contrary to how God sees us. It is my hope that my stories will help give a weary mind rest, encourage a discouraged child of God, and use God's Truth to push back on the negative and distorted ideas the world would have us believe.
Who is your main character, and how did you choose that name?
Bridget Baker is my heroine, but she is known as Biddie throughout the story because that is what her birth mother called her. I chose her name because of the cultural influences I imagined her parents would have experienced before she was born. Her last name is the last name of my virtual assistant, Jessica Baker, without whom I cannot imagine making it through this writing life. It also happens that her last name fits the cultural background of Biddie's family. I don't go into it in the book, but in my imagination, Biddie's family has its roots in London, England, and by then many Irish would have migrated to that city, which is where the name Bridget and the nickname Biddie might have been encountered.
The name of my hero, Gideon Swift, came from the Bible, historical census records, and a vote by members of my Facebook readers group, the Armchair Adventure Krew.
What is your work schedule like when you're writing a book?
Because I am also a homeschooling mom of four, my schedule often changes along with the developmental needs of my children. Most recently, I have established the pattern of writing in the morning when my brain is clearest, then teaching in the afternoon.
What is the hardest part of being an author?
The amount of time spent on a computer. I suffered a life-altering repetitive strain injury last year as a result of not respecting my body's needs.
What's the best part of your author's life?
Hearing from readers how my stories have impacted them. Whether it is just that a specific quote spoke to them or made them laugh, or it's that a character's journey caused the reader to contemplate their own views, I always treasure hearing from readers. It's part of what keeps me going on the hard days.
What's one unusual fact about you?
If I had to be a food, I would choose to be an apple, because you can bake it, boil it, crush it, slice it, dice it, or even juice it, and it stills serves its purpose and retains its value.
How have you changed or grown as a writer?
I have learned to compare myself to other writers less and to question anything someone says I "should" be doing. Just because something works for someone else, doesn't mean it is best for me.
Do you have other books? We'd love to know.
I have currently published 4 full length novels and 2 novellas as part of my Chaparral Hearts series. There are other books I have written which are yet unpublished. We will see what God plans for them.
What are you working on now?
I am currently working on Book 5 in the Chaparral Hearts series, Shoot at the Sunset. There will be a total of six full length novels in this series.
Website: www.KathleenDenly.com
Link to book: https://kathleendenly.com/murmur-in-the-mud-caves/
Social media links:
BookBub: https://www.bookbub.com/authors/kathleen-denly
Facebook: http://www.facebook.com/KathleenDenly.author
Instagram: https://www.instagram.com/kathleendenly/
Follow me on social media!