Meet author Jean Alfieri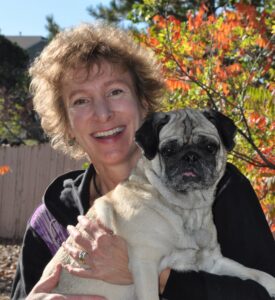 Jean knew when her eyes locked with those of a smooshy-faced little dog who sat inside a kennel at the Humane Society, that it was love at first sight. To capture their many adventures, she self-publishes short story poems starring her often mischievous and always adorable rescue pug named Zuggy. She enjoys visiting schools and community events, sharing "Zuggy the Rescue Pug," a collection of light-hearted and beautifully illustrated books.
Tell us about your newest book.
Recently, there was not one, not two, but three new Zuggy the Rescue Pug books released. They are special edition coloring and activity books that celebrate the holidays of Halloween, Thanksgiving and Christmas. In Costume Crazy, Zuggy isn't sure the kids are on the right track as he must try on many costumes before finding the perfect Halloween outfit. In The Great Turkey Chase, Zuggy is worried that the whole family won't be together for his favorite holiday … until he must save the day (and dinner) in this action-packed adventure. Lastly, Zuggy is sad when gifts are canceled after Mom loses her job. He tries to work some Christmas magic, but will the cat keep his secrets? Find out in Santa Paws Saves Christmas.
What inspired you to write these holiday stories?
The kids I meet, when I visit a school or the Childrens Hospital, are such a joy. It's a delight when they point at a picture and giggle. I love to learn what parts of the story really grab their attention. I learn something new with each visit and leave more inspired to make the next Zuggy book even better.
How would you describe these books to someone in a 30-second blurb?
These stories are for dog lovers of all ages. Written as easy-to-read poems, they share fun Zuggy adventures and make reading fun. With loads of games, puzzles, and coloring pages these books are perfect for school breaks and vacations.
What genre do you focus on?
I've expanded from writing for children to offering self-guided journals to help people capture their fantastic stories. We all have them. Sometimes we just don't know how to get started. Journaling can also be an instrumental tool for healing. A little guidance can make all the difference in getting the pen to paper.
Why do you write?
It started as a way to process the pain of my first pug dying. The thought of losing all our wonderful memories was agonizing. So, I started writing them down. Often it would make me laugh – then cry. After a year of journaling our escapades, I was still laughing and crying, and the journal was almost full. I realized that children would relate to the stories of my mischievous pug, and I started designing books with the kids in mind.
Who is your main character, and why did you choose that name?
Zuggy is a fictitious name based on a real dog. God willing, there will always be a pug underfoot because they are a lovely (if not stubborn!) breed and their expression alone, provides great writing material. The real Zuggy prefers to remain anonymous so he can move freely in public and not be swarmed by his adoring paw-parazzi!
What is your work schedule like when you're writing a book?
There is no schedule, per se, but my goal is to indie-publish at least one Zuggy book and get one other article or story traditionally published each year. This year my flash-story, "How Far is Heaven," was included in the Pikes Peaks Writers Anthology, titled "Journeys into Possibility," which was published in March 2023. I also have a submission accepted for the 2025 publication of "All God's Creatures."
What is the hardest part of being an author?
I want to write for "everyone," but I know, being a Christian author, that no matter how subtle I try to be (to invite non-believers in without making them feel pressured), I'm rarely confident I offer the proper balance.
What's the best part of your author's life?
Being invited to speak. Whether it's a presentation for an auditorium full of kiddos, a reading at the Children's Hospital, a radio program or podcast interview, or an on-line networking group, I enjoy connecting with fellow readers and writers and making new friends.
What's one thing your readers should know about you?
Not many people know that I used to date a hot air balloon pilot and have floated through the skies of four different states (including a morning flight at the Albuquerque International Balloon Fiesta).
How have you changed or grown as a writer?
The Lord continues to put different writing topics on my heart. I've learned that patience makes a better product and to appreciate the importance and power of words. I respect the calling to write more each day and do my best to be mindful of what I put out there. People need love, inspiration, and grace – now, it seems, more than ever.
Do you have other books? We'd love to know.
There are now eleven books in the Zuggy the Rescue Pug collection. I've also been published twice in the Pikes Peaks Writers Anthologies and have a devotional included in "Abba's Heart," published last year by CrossRiver Media.
What are you working on now?
I'm compiling a collection of short stories with a working title of: "Vintage Puppies – God's Gift of Old Dogs." It's about senior pups that have touched my life in very special ways. Some, we were blessed to have live under our roof. Others I met during my work at the Humane Society. The way God uses dogs to shift our perspective, brighten our day, and provide companionship is really incredible and I hope the book will be an inspiration to all the dog-lovers who read it!
Website: www.JeanAlfieri.com
Link to book: Zuggy the Rescue Pug – Happy Howl-idays: Alfieri, Jean Marie: 9781734308686: Amazon.com: Books
Social media links: Zuggy the Pug | Facebook
Jean Alfieri (@zuggythepug) • Instagram photos and videos
Follow me on social media!