Meet author Jayme Mansfield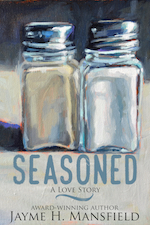 Jayme H. Mansfield is an author, artist, speaker, and educator. Jayme's award-winning books, Chasing the Butterfly and RUSH, are book club favorites. Her newest release, Seasoned, is a vintage love story with a modern day flavor. Her writing is filled with vivid imagery and a passionate voice as she melds inspiring writing and artistic talents.
Tell us about your newest book. 
Seasoned is a vintage love story with modern-day flavor. It is a heartwarming story of friendship, loss, and love. Two very special people navigate the different stages of their lives, from long happy marriages, to the loss of a spouse, and ultimately finding love again.
What inspired you to write (insert title)?
I was inspired to write Seasoned by the special, later-in-life love relationship my mother enjoyed with a wonderful gentleman for over a decade. Both had lost their spouse after long and happy marriages. Well into their eighties, they were fortunate to find and embrace a second chance at love. Their relationship was an inspiration and testimony to the truth that loves knows no age.
How would you describe this book to someone in a 30-second blurb?
Seasoned is more than a love story – it's a human story. Eighty-year-olds, Essie and Lou, are widowed and lonely after long marriages. After online dating brings them together, each must decide if past secrets will keep them from a second chance at love. Through grace, forgiveness, and restoration, it's never too late to start living the truth and embracing that love knows no age.
What genre do you focus on?
I'm fascinated by history. Whether my books are truly set in a historical setting or told from a contemporary point of view, I can't help but weave the influences of past people, places, and events. But whether I'm writing a historical or contemporary book, my stories are really about people – I write books about being human—the trials and tribulation and the joys and celebration.
Why do you write?
It might sound cliché, but I write because my mind is filled with story. Even as a child, I had quite an imagination and was known to tell a story or two (yes, fibs and wildly imaginative concoctions!). When I began to write as an adult, I was hooked! Although one of the most difficult things I've taken on in life, writing is also one of my most natural expressions. It's also my therapy. My stories help me make sense, or at least process, my world.
Who is your main character, and how did you choose that name?
Esther, or Essie White, and Lou Rizzo, aka, Joseph Marino, are the equally important protagonists. Mustering the nerve to try online dating called for aliases for both Essie and Lou. Being Italian, Lou needed two names with that slant. The choice for Esther actually came from noticing a street sign! While on a walk and thinking about the initial story, I saw the name and it simply struck me. Funny where inspiration is found!
What's the best part of your author's life?
I always thought of myself as an extrovert, but the older I become, the more I appreciate, and even yearn, for thoughtful and contemplative time alone. Being an author meets me in both worlds—I have my time alone (albeit, characters are welcome companions) and also energizing and meaningful time with readers and other writers. I love opportunities to present and talk with others about my stories, cheer on other writers, and reach out to readers near and far through social media, my newsletter, and other fun marketing events.
What's one unusual fact about you?
My heaven on earth is riding on horseback across a grassy plain. It's a special escape in Wyoming I treat myself to whenever possible and a dream I hope to make a reality in the not-too-far-off future. Thus, my tagline, "Loosening the reins and leaning into the creative life," is the real deal for me!
What is your favorite pastime? 
I have many, but it's hard to beat painting in my art studio. That is my other passion – one in which, like writing, I become consumed in the creative process – a sort of heaven on earth. My acrylic floral abstractions, often on large canvases, are intuitive, bright and bold. They are often referred to as, "joyful and hopeful", and for me, that is the greatest compliment of all.
Do you have other books? We'd love to know.
My other novels are Chasing the Butterfly and RUSH. Both are historical fiction. The first is set in the turbulent times of WWII in Paris and Provence. The second is based on my great-great grandmother's life and her adventure in the 1893 Oklahoma Land Run. Both stories, and even Seasoned, contain an artistic theme, weaving the transformative influence of art.
What are you working on now?
I'm deep into a manuscript based on art forgery involving early 1900's master painter, Modigliani. Though again fiction, the story is largely based on fact and history with fascinating characters navigating an intriguing plot with all sorts of bumps and hurdles along the way.
Website: www.jaymehmansfield.com
Link to book: https://www.amazon.com/Seasoned-Love-Story-Jayme-Mansfield/dp/1645262758/ref=sxts_sxwds-bia-wc-drs1_0?cv_ct_cx=seasoned&dchild=1&keywords=seasoned&pd_rd_i=1645262758&pd_rd_r=3f9ca9eb-b61c-485f-9cec-e471d44165d3&pd_rd_w=4j2lc&pd_rd_wg=878Ou&pf_rd_p=c33e4373-edb9-47f9-a7e6-5d3d6a7a4ad0&pf_rd_r=5F3ZDPKX54JN35D4A2AP&psc=1&qid=1605668472&sr=1-1-5e875a02-02b1-4426-9916-8a5c26cd5a14
Social media links:
FB: https://www.facebook.com/JaymeHMansfieldAuthor/
FB Group:
Twitter: @JaymeMansfield
IG: @JaymeMansfield
Follow me on social media!