Meet author Holly DeHerrera
Holly DeHerrera grew up as a military brat, traveling the world with her family. The Amish and Mennonite branches of her family tree inspired her Middlebury Mysteries series, highlighting the old stories and recipes of her salt-of-the-earth heritage. Her novel entitled, The Orphan Maker's Sin, grew out of her experiences in Turkey during the Gulf War. Holly teaches creative writing at a local public school and lives with her husband and five kids in Colorado.
Tell us about your newest book.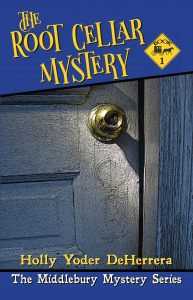 The Root Cellar Mystery, book 1 in the Middlebury Mysteries series is the story of Old Order Mennonite cousins, Poppy and Sadie, who suspect "a re-e-a-a-al criminal" is staying at Aendi Hannah's bed and breakfast. Then a missing dog, a mysterious code, creepy creaks, and a floating light in the dark of night only make Poppy and Sadie more jumpy and suspicious of their strange, elderly guest. Even trusting Aendi Hannah wants to keep an eye on her snowy headed guest. After spotting wads of green bills in Ms. Lindy's large trunk, the sleuthing cousins wonder: Was Ms. Lindy just released from prison and is she a thief? To figure out what this little old, Mennonite grandmother is up to, the junior detectives spy on their mysterious guest. Why has Ms. Lindy come to Middlebury, Indiana, and what is the puzzling stranger searching for in Aendi Hannah's root cellar? Will Poppy and Sadie's snoopery solve the mystery surrounding Ms. Lindy's past in this cozy mystery in the Middlebury Mystery series?
What inspired you to write "The Root Cellar Mystery"?
This story, the first in the series, was inspired by an old, crusty recipe box from my Grandma Yoder.  I loved the idea of weaving old family recipes into a mystery where the actual memories of times spent together, sharing food, became part of a multi-generational story.  I've always been drawn to the old ways still held firmly by Mennonite and Amish people, some of whom make up the branches of my own family tree.  Their focus on hard work, the value of family and putting God first inspire me. 
How would you describe this book to someone in a 30-second blurb?
This is a mystery involving two Old Order Mennonite girls who stumble on a mystery when they spot the elderly guest at the bed and breakfast sneaking around in the root cellar late at night.  What is she looking for and is the family in danger?
What genre do you focus on and why?
Gosh, I seem to hop around! My middle grade mystery series is quite different, written for 7-11 year olds and set firmly in the midwest! My first mainstream fiction novel, geared toward women and a YA audience, takes place in Turkey.  And the novel I'm currently writing is in that same genre, but takes place in another amazing place in the world, Cornwall, England. And then I've written a writing curriculum to be released early next year.  So, basically, I'm a bit scattered.  
Why do you write?
It makes me feel like me.  Writing calms my spazziness and makes me happy.  I also love the idea that something I've written might comfort, encourage or simply entertain another human.  I often think of the one to whom the story is written, picturing them sitting there, curled up with my book.  And I want to make that person laugh and cry and feel hope.
Who is your main character, and how did you choose that name?
My main character in "The Root Cellar Mystery" is Poppy.  Her name is my husband's nickname for me, and honestly, when I think of how Poppy thinks, I remember my own childhood adventures and my own overactive imagination and desire to help people. Inside, Poppy feels a lot like my little-girl self.  
What is your work schedule like when you're writing a book?
I wish I could say I am super disciplined and write every day, but that would be a lie.  I try to write regularly but I am always pulled in different directions as a mom, wife and teacher (directions I LOVE but still, they pull me away from writing).  And so I try to at least write once a week and make it a goal to push through several chapters at a time.  
What is the hardest part of being an author?
Just finding time and space to write and tap into that creative part of myself can be a challenge.  Also, marketing.  That part isn't my favorite.
What's the best part of your author's life?
The writing itself fills me up and grounds me.
What's one unusual fact about you?
I have lived in six different countries and absolutely adore meeting people from other places and diving into their unique cultures.  I was a member of the African American dance troupe in college—despite being white.  The group was very kind and never made me feel dumb for joining.  Aside from loving to dance, I wanted to make a point in a fairly segregated community, that racism and staying separate from other people just because of race causes us to miss so much beauty, opportunity for growth and deep, stretching friendships. I still treasure those memories and the lessons I learned.
How have you changed or grown as a writer?
I am always learning and growing!  As I repeatedly tell my students, if you're open to it, you don't ever stop learning.  And the learning really hinges on making the effort and applying lessons, versus sitting back and being passive.  
What is your favorite pastime?
Reading, writing and watching cooking shows.
Do you have other books? We'd love to know.
Yes. The Orphan Maker's Sin.  Also, books 2 and 3 in the Middlebury Mysteries series will be coming out in September and October.  I'm so excited!  My multi-genre writing curriculum is in the beginning editing phases and should release in 2021.  It is entitled, "Unleash the Pen!"
What are you working on now?
I'm currently about two-thirds of the way through my newest novel about a young woman who buys an English castle on the internet.  I'm having so much fun!  Are you picking up on a theme?  I tend to live out my dreams through my characters.  
Website:  https://hollyyoderdeherrera.wordpress.com
Link to book:  https://www.amazon.com/dp/1683550269
Social media links:  
https://www.facebook.com/AuthorHollyYoderDeherrera
https://twitter.com/HollyYDeHerrera
Instagram:  @hollyyoderdeherrera
Follow me on social media!