Meet author Aminata Coote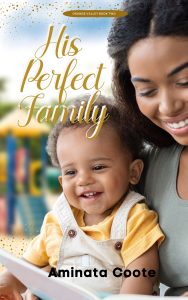 Aminata Coote fell in love with books as a child. She writes stories that point to a God bigger than our failings, who walks with us through our trials. She is also the author of several Bible studies and devotionals for women. Aminata lives in Montego Bay, Jamaica, with her husband and son.
Tell us about your newest book.
His Perfect Family is a contemporary marriage of convenience romance. Theo and Gaby marry to protect her son from his grandparents' custody suit. But Theo and Gaby have a shared past–seven years earlier, they'd met and, if things had turned out how they'd hoped, they would have gotten married. Now they must navigate all those old feelings with their present challenges.
What inspired you to write His Perfect Family?
His Perfect Family is book two in my Orange Valley series which was inspired by the idea of a blue-haired girl (Brianna) falling in love with a pastor. Gabrielle is Brianna's best friend and Theo is her brother. I thought it would be fun to write a story with the best friend's brother trope, especially if the couple had a secret past they'd never shared with anyone.
How would you describe this book to someone in a 30-second blurb?
Second chances, forced proximity, and a marriage of convenience. What more could you want?
Why do you write?
As a teenager, I loved reading. I was into Sweet Dreams, Sweet Valley High, Harlequin, Mills & Boon…when I became a Christian, I didn't have access to any books that showed Christians living and thriving in their faith. They existed, but in my country, I didn't have access to them–wasn't even aware of any Christian fiction authors other than Grace Livingston Hill. I write because I want to provide stories for that person who may be new to their faith and wants to read books about people like them–imperfect people who learn how to exercise their faith every day they remain connected to Christ. They may stumble sometimes, but they keep getting up. They keep trying and pressing forward. Or maybe they've been in the faith for a while, but they need encouragement and examples of what it may look like to walk with God. These are the people I hope to reach.
Who is your main character, and how did you choose that name?
Great question. When I wrote His Perfect Match which is book one in the series, Gabrielle Wright-Wallace was Elisa Donaldson. She was a minor character who worked with Brianna and they weren't close. As I started thinking about book two, I thought about what tropes I wanted to include and the best friend brother came to mind. I decided I didn't like the name Elisa for this character, and the name Gabrielle is one I've always liked.
What is your work schedule like when you're writing a book?
I work full-time so writing happens around my day job. Usually, I set a word count goal of 50 thousand words and a deadline by which I want to complete it. This varies as I use challenges to motivate myself. In most cases, I give myself a month to complete the first draft. Once I have the goal, I put everything in the Reedsy Book Editor which tells me how many words I need to write each day to meet my target. Then I write. I typically write for 2-3 hours in the evening after work and several hours on the weekend.
What is the hardest part of being an author?
The marketing and promotion. I struggle to talk about my books and because so much of the marketing and promotion I do cannot be quantified, I'm not sure how effective it is.
What's the best part of your author's life?
Making up stories. The characters become so real to me. Also, because I'm mostly a pantser, writing is almost like reading because the characters do things that surprise me.
How have you changed or grown as a writer?
For years, I was a writer who didn't write. Now, I've learned how to finish a book. Even if it's not very good, I get it done. That's what the editing is for–to polish and improve until you have a story you can be proud of.
What is your favorite pastime?
Reading. I know it sounds cliché but I love reading.
Do you have other books? We'd love to know.
My Orange Valley series has two published books:
His Perfect Wife (full-length prequel)
His Perfect Match (book one)
His Perfect Family releases on May 26, 2023, and is now available for pre-order. The last book in the series, His Perfect Choice, releases on August 25, 2023.
I also have a series of devotionals and Bible studies for women, including God Sees You: 21 Devotions for the Woman Who Feels Invisible that published on March 31, 2023.
What are you working on now?
My focus at the moment is to get His Perfect Family and His Perfect Choice ready for publication. Once that's done, I hope to start work on my next series which will be a spin-off from the Orange Valley books.
Website: https://aminatacoote.com/
Link to book: https://www.amazon.com/His-Perfect-Family-Contemporary-Convenience-ebook/dp/B0BYQDZS3T/
Social media links:
Facebook https://www.facebook.com/AminataCoote
Instagram https://www.instagram.com/aminatacoote/
YouTube https://www.youtube.com/@AminataCoote
BookBub https://tinyurl.com/AminataCooteBookBub
Goodreads https://www.goodreads.com/author/show/17239871.Aminata_Coote
Follow me on social media!