Meet Ann-Margret Hovsepian
Ann-Margret Hovsepian is a freelance writer and illustrator in Montreal, Canada, and the author of several books. She specializes in devotional and coloring books but has written on a broad range of topics for dozens of periodicals over the last 25 years.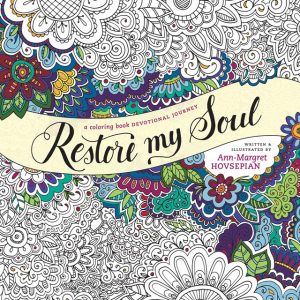 Tell us about your newest book.
Scheduled for release in early October is Inkspirations for Breast Cancer Survivors, a coloring book featuring 32 original illustrations by me. My latest written book is Restore My Soul, which has 40 devotions, each with an accompanying coloring page I drew.
What genre do you focus on and why?
Everything I write is non-fiction, although I'm a big fan of reading fiction. I love to share real-life stories about exciting things people are doing all over the world as well as inspire people through my own experiences and life lessons.
Why do you write? What drives you?
I've always struggled a little bit with calling myself a writer because, unlike many writers, I see writing as something I do, not who I am. I write because I want to share good news with people and that's one of the tools I'm skilled at using. For me, writing is the means to an end, not the end itself.
What does a day in your writing world look like?
Because I also illustrate and work on smaller freelance projects on an unpredictable schedule, I don't have a typical writing day. I'm also quite involved in my church, in a women's ministry and with other projects so one day, week or month never looks quite like another.
What is the hardest part of being an author? Why?
Wondering how much of an impact your book has on those who picked up a copy, and whether you should keep doing what you do.
What's the best part of your author's life? Why?
The flip side of my previous answer: hearing from people (especially young girls) who have been blessed by my books. It reminds me that God does a lot of work behind the scenes that I have no clue about.
What is the craziest thing you've experienced as an author?
This isn't crazy as much as it is cool: The same day I picked up a copy of Lettie Cowman's famous Streams in the Desert devotional book, I received an email from her great-great-niece saying she had a copy of one of my devotionals for preteen girls and loved it. That blew me away!
What are you most proud of?
Launching my freelance business at the age of 24 with no university education or formal training, just four years of experience working at trade magazine, and sticking to it these past 21 years. I love that I can now teach others about writing and freelancing.
What is your favorite pastime?
Anything creative: drawing, sewing, calligraphy, cooking, gardening, decorating. I love to make things come to life with my hands.
Do you have other books? We'd love to know.
Besides my two coloring books, I have three devotional books for preteen girls.
What are you working on now?
I am currently working on a couple of freelance projects and trying to flesh out ideas for a few more books.
Website: www.annhovsepian.com
Link to book: https://www.amazon.com/dp/1496414063/
Social media links: https://www.facebook.com/ann.hovsepian.author/, https://www.instagram.com/annhovsepian/
SaveSave
Follow me on social media!