Linda J. White on "white-knuckle" fiction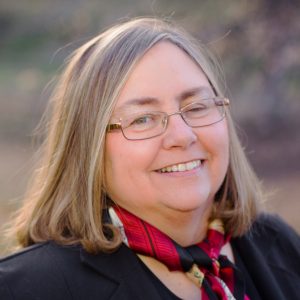 Linda writes "White-knuckle fiction," mystery/suspense novels designed to keep you up all night reading. Her books have won several awards, including the prestigious HOLT Medallion. She's the mother of three grown children and grandmother of five. She also spent fourteen years as a journalist. For fun, she likes long walks with her dog in the woods around her Virginia home. Her late husband worked at the FBI Academy for twenty-seven years.
Tell us about your newest book.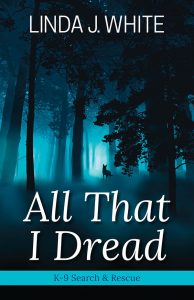 All That I Dread is the story of Jessica Chamberlain, a young woman with trauma in her past. Jess adopts a rowdy German shepherd and starts training with a K9 search-and-rescue group. On their first big test, Luke finds the person he's sent out to find, but then also finds the body of a young woman. Soon, Jess finds herself teaming up with the FBI in search of a murderer—a search which brings her face-to-face with the past she thought she'd left behind.
What genre do you focus on and why?
Mystery/suspense for two reasons: It's what I like to read, and my husband made training films for the FBI for over twenty-seven years, so I have the inside scoop!
Why do you write? What drives you?
I think story is a powerful way to convey truth. Working out the threads of a novel is like completing a puzzle. It's a lot of work, but writing intrigues me.
Who is your main character, and how did you choose that name?
Jessica Chamberlain. My niece is named Jessica, and I've always liked that name. I have no idea where Chamberlain came from!
What does a day in your writing world look like?
I get up early, usually by six-thirty. I feed the dog, take her for a brisk walk, and then write for at least four hours. Later, I'll come back to what I've written and edit it. Copious amounts of black coffee keep me going!
What is the hardest part of being an author?
Marketing. I really dislike the selling part of my job!
What's the best part of your author's life?
I love meeting people who have been touched, informed, and/or entertained by my stories.
What is the craziest thing you've experienced as an author?
Sometimes I'll use my friends' little quirks in my characters. Somehow, my friends never see themselves in my books.
What are you most proud of?
When my husband died two years ago, I wasn't sure I wanted to write again. But six months later, the muse struck, and All That I Dread is the result. Many people say it's my best book. I don't know about that, but I'm thankful I chose to write it.
What is your favorite pastime?
Reading. Of course. Although I must say, I read an awful lot of non-fiction.
Do you have other books? We'd love to know.
Dread is my seventh novel, so yes, there are six others.
What are you working on now?
I'm working on the sequel to Dread, which incorporates equine therapy into the story. Fascinating!
Website: www.lindajwhite.net
Link to book: http://bit.ly/DreadSAR
Social media links:
Facebook: http://bit.ly/LJWBksFB
Twitter: https://twitter.com/rytn4hm
Follow me on social media!