Learning to Discern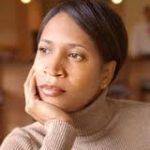 Sometimes it's so hard to discern what's going on in your life emotionally, psychologically, or spiritually. Something is off kilter, but you just can't put your hands on it. You're not quite yourself. You're edgy. You're frustrated. You're tense. Or your marriage relationship isn't quite right. You're distant. Distracted. Touchy.
And then it hits you.
It's been days since you've prayed or spent quality time with God. Or you and your mate have gotten so busy that you've hardly shared a kiss or a conversation. Or maybe you've gotten hooked on a television show or novel that's not good for your soul. Or perhaps you've been hanging out with a friend who loves to gossip and put her husband down. Now what?
Learning to discern such things is a spiritual gift, and a discipline, that you can cultivate in your life. 1 Corinthians 2:10-14 talks about this gift; it's the ability to judge between good and evil, and then it's choosing to live in the light of God's truth. That's what makes the difference.
Discernment comes when you understand what God wants for you personally and for your marriage. But wisdom comes when you choose to obey His truth. Sometimes it's choosing to spend more time in prayer or the word, more time together as a couple, and less time with unhealthy friends or media. Sometimes it's simply applying common sense to something. Other times it takes stepping back and observing a situation and praying, reading God's word, and finding the truth in the matter.
Proverbs 3:21 says, "do not let wisdom and understanding out of your sight, preserve sound judgment and discretion". In our personal lives as well as in our marriages, we need wisdom and understanding more than ever. Our culture has become so tainted with the "wisdom of this world" that it can become difficult to make daily decisions and choose well if we don't have the plumb line of God's truth to anchor us well.
God loves me and wants the best for me. It's not about me. Marriage is for life. Marriage is about us and what God wants to do with us. Marriage is about serving one another, not getting my needs met. Marriage is about growing together in God. And often, marriage is about sacrificing my wants for the good of another.
Discerning between God's truth and worldly wisdom isn't always easy, but learning to discern wisely is the best way to strengthen your personal life and your marriage relationship spiritually, emotionally, and psychologically. It's a good way to go.
How have you learned to discern through the years? I'd love to know!
Follow me on social media!