Kathleen E. Kovach on western romance
Kathleen E. Kovach is a Christian romance author published traditionally as well as indie. Kathleen and her husband raised two sons while living the nomadic lifestyle for over twenty years in the Air Force. Now planted in Colorado she's a grandmother, though much too young for that. Kathleen is a longstanding member of American Christian Fiction Writers. An award-winning author, she presents spiritual truths with a giggle, proving herself as one of God's peculiar people.
Tell us about your newest book.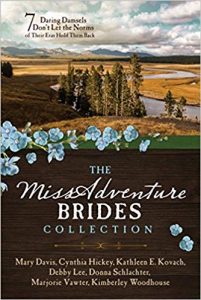 Miss Adventure Brides is a 7-author romance collection from Barbour Publishing, Inc. Seven daring damsels don't let the norms of their eras hold them back. Along the way these women attract the attention of men who admire their bravery and determination, but will they let love grow out of the adventures? My story is "Riders of the Painted Star," a nod to Zane Grey and the singing cowboys of the 1930s. It takes place in 1936 Arizona where New York artist, Zadie Fitzpatrick, is commissioned to go on location to paint illustrations for an author of western novels and while there, she falls for the male model.
What inspired you to write Riders of the Painted Star?
I inherited a love of movies from my mother who once worked in a theater, and western movies in particular from my dad. He also had a set of hardback Zane Grey novels that I wish I had kept. Once I knew I'd be writing a story set in Arizona in the '30s, it wasn't hard to imagine an art-deco heroine meeting a dusty ranch hand and falling in love.
How would you describe this book to someone in a 30-second blurb?
Artist Zadie Fitzpatrick is infatuated with western movies and longs to meet a real cowboy, but she lives in New York. When she's offered the opportunity to paint the book cover and illustrations for her favorite western novelist, she jumps at the chance to stay on his dude ranch in Arizona. While there, she meets Royce Rutger, one of the hands on the ranch. A real cowboy! He agrees to model the book cover, but something seems off. Royce is less than thrilled to become a model—again. New Jersey born and raised, he's only at the dude ranch to learn how to become a cowboy in order to land a choice roll in a movie. Forced by the studio to keep up the façade, even with Zadie, he is guilt-ridden. Will Zadie forgive when she learns the truth? Will Royce cowboy-up and release his chance at stardom to be with the spunky lady he loves?
What genre do you focus on and why?
I cut my teeth on Harlequin romances, back when they were sweet and clean. I guess I'm a romantic at heart. I've written both contemporary and historical romances. Love is the same whether via text message or carrier pigeon.
Why do you write? What drives you?
It's always hard to answer that question. I'm one of those who always knew what I wanted to do. I was born with a pen clutched in my tiny fist and told stories before I could talk. Growing up, I would try to relate something that happened to my mom and she would have to ask if it was a true story or one I made up. I still have problems not embellishing. I don't lie, I just make the tale more interesting. lol
Who is your main character, and how did you choose that name?
I have two main characters as this is 50/50 romance. The heroine is Zadie Fitzpatrick. I usually try to find names with certain meanings, but this time I simply scrolled down the list of baby names on the social security website of popular names per decade, and Zadie popped out at me, maybe because it sounds like Zany. I did the same with a surname site and quickly found one that rolled off the tongue. Zadie Fitzpatrick sounds like a spitfire, a go-getter, someone who knows what she wants. Royce Rutger needed to have a cowboy name but a good one for an actor, too. I see RR and think Roy Rogers.
What is your work schedule like when you're writing a book?
I try to dedicate at least four hours of writing a day, more if I'm on a deadline. I'll usually start around ten in the morning, stop for lunch (or eat while I'm working,) and go until 2:30 when I have to pick the grandkids up at school.
What is the hardest part of being an author? Why?
Probably the marketing. As with other writers, I'm an introvert and prefer to write my little stories and let someone else get them out to the public. But it doesn't work that way anymore.
What's the best part of your author's life? Why?
I can set my own schedule. Be my own boss. I play in my pajamas all day with my imaginary friends. What could be better than that? However, the downside is that I'm not a very good employee and I sometimes have to hold staff meetings with myself to get me back on track.
What's one unusual fact about you?
I'm a ventriloquist. Bet you didn't see that coming. Lol I haven't done it in a while, but I've always had a fascination with puppets. The good kind. Not the ones named Chucky.
How have you changed or grown as a writer?
I've studied the craft intensely for the last two decades. When I first started, I wrote seat-of-the-pants style, not knowing where the story was going to take me. I've now learned plotting and feel I know a little more about structure and flow.
What is your favorite pastime?
I love movies. As an AMC Stubs member, I can see them for $5 on Tuesdays. Reading is also a favorite. I guess anything involving story. I've created a blog called Craft Cinema (www.craftcinema.blogspot.com) I discuss the writing craft as it relates to movies I've seen.
Do you have other books? We'd love to know.
Miss Adventure Brides is my ninth book. The same year it was published, I was in another romance collection, A Bouquet of Brides.  My story is "Periwinkle in the Park." I also self-published a book with my bestie Paula Moldenhauer, Titanic: Legacy of Betrayal. A 100-year-old secret could either sink or save a woman's life. And I wrote a series based in Oregon. All can be found at my website or directly on Amazon.
What are you working on now?
A mystery. True to form, there's a romance in it. It's a series, tentatively titled Sisters Grimm RV Mysteries. Two sisters, believed to be descendants of the Brothers Grimm, use their unique knowledge of fairytales to solve mysteries. The first is Big Bad Wolfe. A girl in a red hoodie goes missing and the sisters believe a chef named Wolfe is responsible.
Website:
www.kathleenekovach.com
Link to book: https://www.amazon.com/MISSadventure-Brides-Collection-Daring-Damsels-ebook/dp/B07D8D27HD/ref=sr_1_1?keywords=Kathleen+E.+Kovach&qid=1565628484&s=books&sr=1-1
Social media links:
Facebook – https://www.facebook.com/kathleenekovach
Twitter – @KathleenEKovach
Pinterest – https://www.pinterest.com/kathykovach
Follow me on social media!