C. Kevin Thompson on his Christian thriller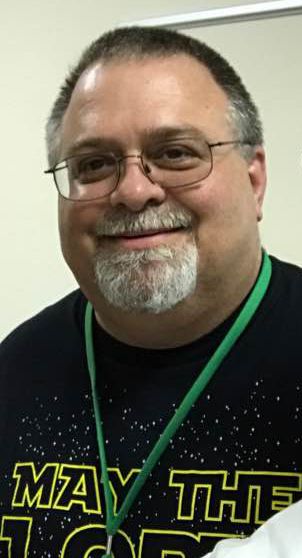 C. Kevin Thompson is married, going on 38 years now, to his wonderful, supportive wife Cindy. They have three daughters, all of which are married now. They have five grandchildren and a rescue dog named Tiny. He's an ordained minister, assistant principal at a high school, loves college football, really likes Need to Breatheand plays percussion (drums, bongos, congas, etc.).
Tell us about your newest book.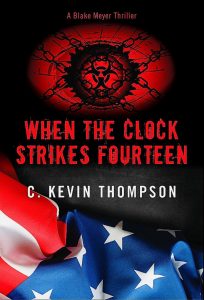 When the Clock Strikes Fourteen (A Blake Meyer Thriller – Book 4)is Book 4 of 6 in this continuing series. At this stage of the story, Blake laments his past, how it is infiltrating his present, and how the future may irreparably harm his family. He has a lead on his family's whereabouts, but they are still captives. Pawns in a deadly game of vengeance. And the plan to release the contagion that threatens to infect America with its own version of the Black Death is being modified by those responsible, making it harder to defend.
How would you describe this book to someone in a 30-second blurb?
I tell people, "Think of the TV show 24, put a Christian twist on it, and you have my Blake Meyer Thriller series." When we say "Christian twist," we're talking about worldview and it being a clean read. But I feel it's just as suspenseful and riveting as any show on TV, like 24or The Blacklist, etc. My readers agree.
Who is your main character, and how did you choose that name?
Blake Meyer is what I call a "tried and true hero for troubled times." He's served his country with distinction. He's been a Black Ops guy, an Army Captain, an undercover agent, and now serves as a Supervisory Special Agent because it was to be a cover so he could keep tabs on a Russian assassin who becomes a popular figure in the story. Blake was a few months away from retiring. He and his wife Sara had agreed to do five more years, then he'd call it quits, or at least take on a desk job of sorts so there would no longer be any field work involved. He had a family to think about now. Little did Blake know his past had other plans.
I chose the name Blake Meyer from a series of questions I asked myself in the planning stages of writing this series. I took the one- or two-syllable idea and started playing around with names. I eventually chose one that didn't seem to be overused but sounded realistic. A little macho, but also someone who knew how to think ahead four moves.
What is your work schedule like when you're writing a book?
When I worked as a middle school AP, I would get up at four in the morning and write for two hours before getting ready for work. Now that I'm at a high school, I have to get almost that early for work! So, my writing diverts to after I get home. However, I find I'm not as fresh in the afternoon and evening as I am in the morning, so I spend more time on Saturdays writing now than I did before. It definitely keeps me out of the pool halls.
What's one thing your readers should know about you?
I've been told by a publisher that I write "smart fiction." I had to ask what she meant by that, and this was her response paraphrased: "You make people think when they read. You make people feel when they read. You make people stop and contemplate when they read." I asked her if that was a good thing, and she said it was a very good thing. It's always good to get comments like that from experienced publishers/editors.
What's one unusual fact about you?
Only close friends and family know this, but I like to sing, and I've been told I'm good at it (and trust me, my family would not say I'm a good singer if they thought otherwise…we're very truthful with one another when it comes to things like that). Being a singer/songwriter was something I always wanted to do. Now, I rock out in my truck on the way to and from work.
What is your favorite pastime?
Besides spending time with my wife and/or family, it's watching college football. The year begins in late August and ends in January for me. Then there's this long drought between January and August with just a hint of promise in April in and around spring games.
Do you have other books? We'd love to know.
I do. I have five published thus far. My debut novel, The Serpent's Grasp, won the Blue Ridge Mountain Christian Writer's Conference 2013 Selah Award for First Fiction (Debut Novel). Then, the first book in the Blake Meyer series, 30 Days Hath Revenge, was a Silver Medalist in the Reader's Favorite-Christian Fiction category in 2013 as well. I also have Books 2 and 3 of my Blake Meyer series, Triple Timeand The Tide of Timesavailable. I also have a standalone novel contracted and scheduled for release in January 2020, titled The Letters.
What are you working on now?
I am currently working on Book 5 of the Blake Meyer series, A Pulse of Time. Then, it will be wrapping things up with Book 6 in the series, Devil of a Crime. Once those are completed, I have three different directions I can go.
Website:  https://ckevinthompson.com/
Link to book: https://ckevinthompson.com/when-the-clock-strikes-fourteen-a-blake-meyer-thriller-book-4
Social media links:
Kevin's Writer's Blog: www.ckevinthompson.blogspot.com/
Facebook: C. Kevin Thompson – Author Fan Page
Twitter: @CKevinThompson
Instagram: ckevinthompson
Pinterest: ckevinthompsonauthor
Goodreads: C. Kevin Thompson
BookBub: C. Kevin Thompson
Kevin is also a regular contributor to Seriously Write!
Follow me on social media!